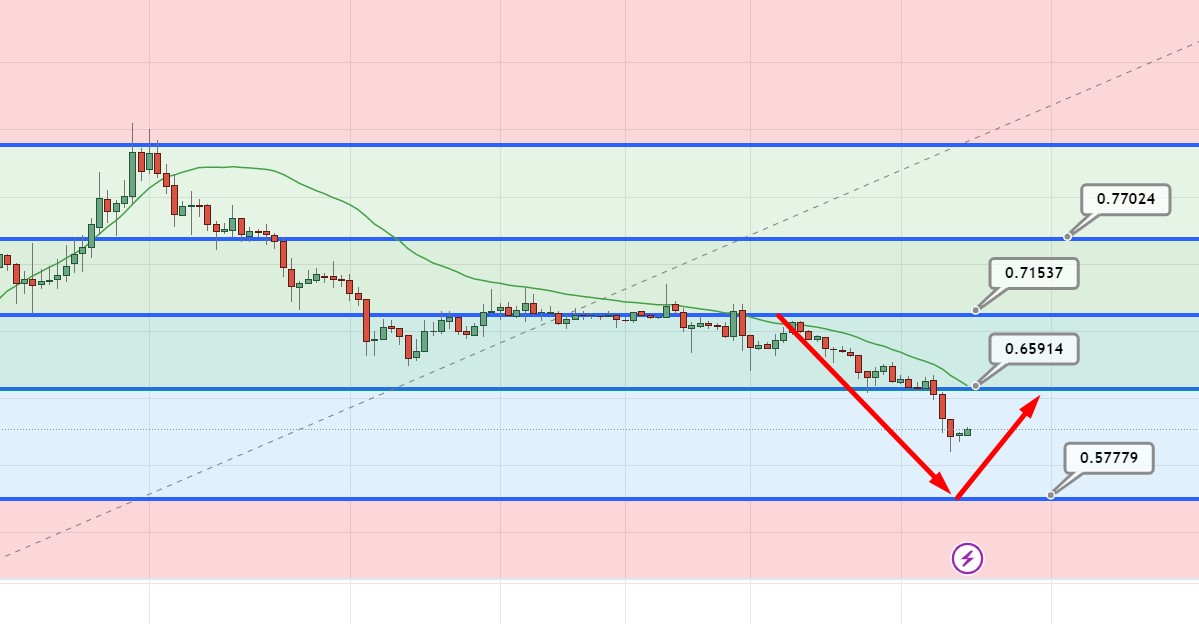 XRP's price has declined by nearly 5% in the last 24 hours, reaching $0.62380. This downturn continues a four-day bearish streak, and the cryptocurrency has reached its lowest point since July 13. 
That date also marks the same day Ripple achieved a partial victory against the SEC lawsuit. 
This recent activity has triggered intense speculation among market watchers, and a trading volume of $1 billion has sent XRP down by 10%. 
Are whales behind this sudden sell-off? The unfolding situation merits a closer look.
XRP Experiences Selling Pressure Amidst Price Decline
Recent data from Santiment reveals that XRP has encountered a hurdle due to the sale of 100 million XRP by large holders. 
This sale occurred after the cryptocurrency experienced a 25% decline in price over a two-week period. 
The major holders, who possess between 100,000 to 1 million XRP, took advantage of the opportunity to profit from the situation after XRP reached its peak of $0.85 in July 2023. 
This change from holding to selling has put pressure on the XRP price rally that was originally triggered by a favorable outcome in the SEC lawsuit.
Global Leaders Embrace Cryptocurrencies, Boosting Optimism for Ripple
According to a recent report by Ripple, more than 70% of financial leaders worldwide have a favorable outlook on cryptocurrencies, indicating a rise in optimism. 
As Ripple is a significant provider of crypto services for financial institutions, it is likely to continue expanding. 
The increase in confidence is due to various factors, including tokenization, which has the potential to transform industries such as stock trading, events, games, and metaverses. 
Blockchain is another significant innovation that enables leaders to innovate, leading to improved operational efficiency, data management, and financial agility.
Ripple has a wide range of services, with more than 300 institutional clients and an on-demand liquidity platform that uses XRP. 
This allows Ripple to take advantage of various areas such as micropayments, cross-border transactions, and easy digital payments. 
However, even with this positive outlook, XRP has faced pressure due to significant profit-taking in the market.
Ripple Gains Clarity and Plans US Comeback After Legal Victory
Ripple has achieved a legal victory against the SEC, which provides clarity for its future operations, confirming that XRP is not a security. 
Monica Long, the President of Ripple, has expressed satisfaction with the ruling, leading the company to re-engage with the US market. 
While other countries such as the UK, Europe, Singapore, and Dubai have provided regulatory clarity, Ripple is now focusing on navigating its resurgence in the US. 
As a result of this development, the price of XRP has increased.
The XRP price in the US has been impacted by the SEC case but there have been a recent increase in its potential for an upward shift. 
This is due to Ripple's renewed focus on partnerships and expansion. Ripple's successful legal outcome and strategic plans to leverage regulatory clarity have contributed to this bullish development.
XRP Price Prediction
Examining the technical aspects of Ripple, the price is currently hovering around the 0.6239 level after breaking below its major support level at 0.6590.
 This particular support level was sustained by the 61.8% Fibonacci retracement level, and any significant move below this level could lead to continued selling. 
This may drive Ripple's price towards the next major support area of 0.5750, extended by the 78.6% Fibonacci adjustment level. 
The continuation of a downward trend might also extend the bearish movement under the 0.5000 level. 
Analyzing leading technical indicators such as the Relative Strength Index (RSI) and Moving Average Convergence Divergence (MACD), both are indicating a sell zone, with potential triggers for support around the 0.6230 level.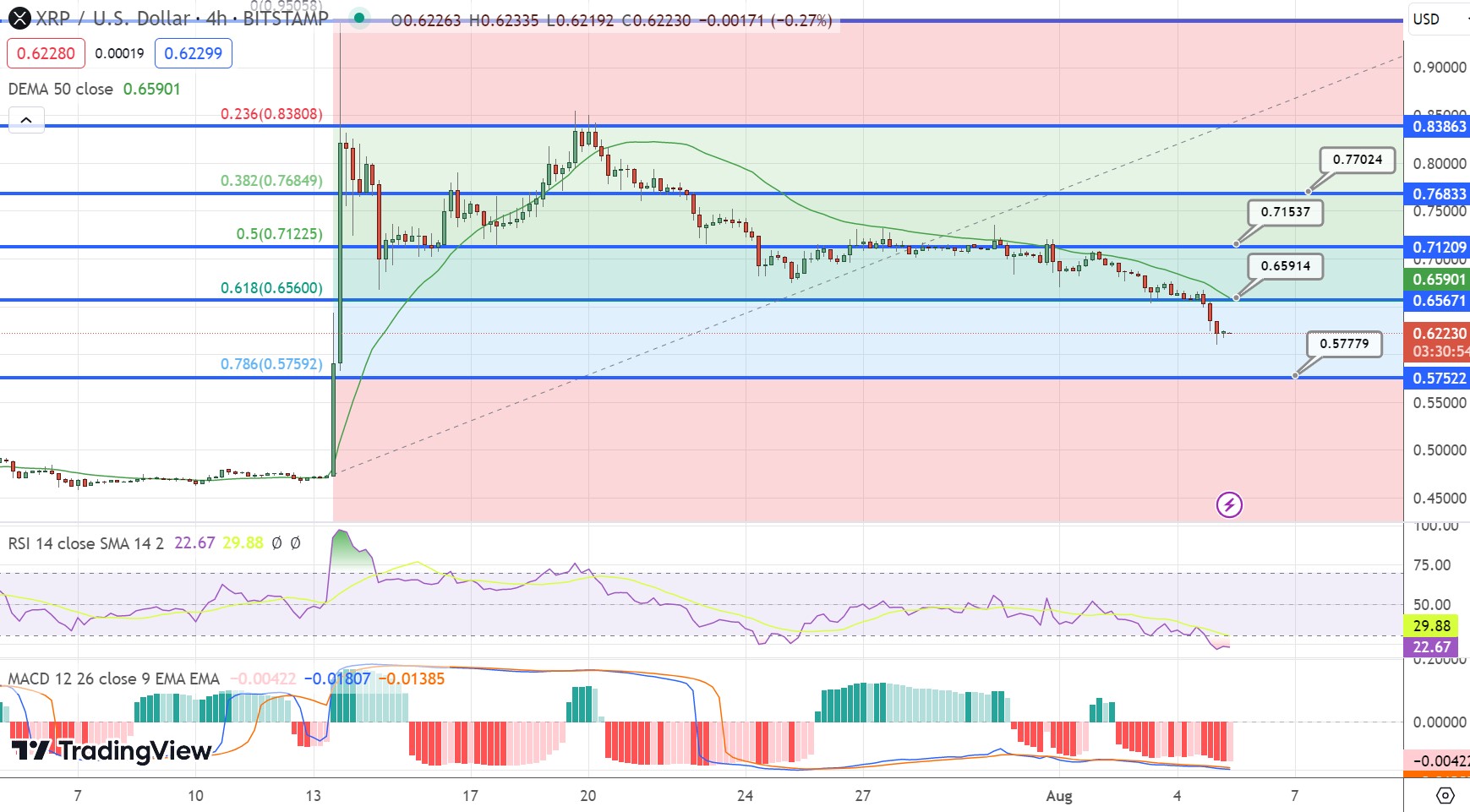 On the upside, substantial resistance is likely to be encountered at the 0.6590 level, which is also aligned with the 50-day exponential moving average. 
This is the same level that previously acted as support and was maintained by the 61.8% Fibonacci retracement level. 
However, now it may act as resistance, and a bullish cross above this level could open room for buying up to the 0.7153 level or even a higher degree at the 0.7700 level.
 For today's trading strategy, keeping an eye on the 0.6590 level is key; falling below this level could mean Ripple has strong chances of continued selling.
New Cryptocurrency Alert: Veternative Coin XRP20
XRP20 ($XRP20) is an innovative proof of stake (PoS) token on the Ethereum blockchain, inspired by the philosophy and tokenomics of Ripple (XRP), yet specifically tailored for retail investors.
While the project draws certain elements from Ripple, it's essential to recognize that XRP20 is an entirely independent and unique initiative, without any direct connection to the widely-known large-cap coin.
The XRP20 presale is now open and will continue until the soft cap is reached. Currently, over $660,000 has been raised towards the goal of $1,850,000. 
This is an exclusive opportunity to participate in the growth of XRP20, with each token priced at just $0.000092. Act now to become a part of this exciting venture, and seize the opportunity before the soft cap is met!"
Disclaimer: Crypto is a high-risk asset class. This article is provided for informational purposes and does not constitute investment advice. You could lose all of your capital.