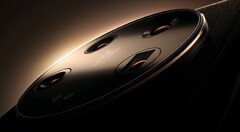 Xiaomi has started to hype the 13 Ultra's impending launch with some juicy details on its rear camera mega-hump, and how it may be an upgrade on that of the preceding 12S Ultra. Both devices will have the same 1-inch main camera – however, the Sony IMX989 will be augmented by no less than 3 additional 50MP lenses in the newer model. Furthermore, they will be exclusive to the 13 Ultra on their debut.
Xiaomi CEO Lei Jun has just dropped the strongest hint yet that the 13 Ultra will indeed debut with the same kind of camera hump as its 12S Ultra predecessor. However, the next-gen massive round module will do one better in that it is now officially backed to launch with quad Leica-branded cameras, all of which will be large-aperture, and all of which will be 50MP.
Then again, only 1 of those will be an IMX989, as before. However, even that advanced sensor might not shine so bright against the arrival of the IMX858 alongside it. This Sony sensor will be introduced in the 13 Ultra not once, but 3 times over, as the 1-inch main camera's back-up.
The new CMOS is currently believed to show what it can do as an ultrawide-angle, 3x and 10x lens simultaneously on its debut. In any case, Xiaomi has revealed that all 4 will "support capture, night scene shooting and 8K video". Lei Jun, weighing in on Weibo from a 13 Ultra, also asserts that they will deliver a "professional" experience with a "full focal length" per camera.
All in all, the Xiaomi 13 Ultra is now backed to give even the triple-50MP OPPO Find X6 Pro a run for its DxOMark ranking on its April 2023 debut.
Buy a Samsung Galaxy S23 Ultra on Amazon
Related Articles
Deirdre O Donnell – Senior Tech Writer – 6211 articles published on Notebookcheck since 2018
I became a professional writer and editor shortly after graduation. My degrees are in biomedical sciences; however, they led to some experience in the biotech area, which convinced me of its potential to revolutionize our health, environment and lives in general. This developed into an all-consuming interest in more aspects of tech over time: I can never write enough on the latest electronics, gadgets and innovations. My other interests include imaging, astronomy, and streaming all the things. Oh, and coffee.
Deirdre O'Donnell, 2023-04-13 (Update: 2023-04-13)