President Joe Biden will invest more than $40 billion into strengthening broadband access across the United States, including in areas that already have widespread access to broadband internet.
Biden announced $42.5 billion in funding on Monday, pledging that every single person in the United States will have access to high-speed internet by 2030 due to the investments that were approved in the bipartisan Infrastructure Investment and Jobs Act signed into law in 2021.
He described access to high-speed internet as an "absolute necessity" rather than a luxury in the modern U.S. economy, noting that the funding will expand access to internet in rural communities, Native American reservations and coastal towns where high-speed internet access still remains more limited.
"It's the biggest investment in high-speed Internet ever, because for today's economy to work for everyone, Internet access is just as important as electricity was or water or other basic services," Biden said at a press conference announcing the funding. "Think of the parents and students sitting outside of McDonald's or outside your office to be able to get on the Internet—in a parking lot just so their child can go online to do their homework."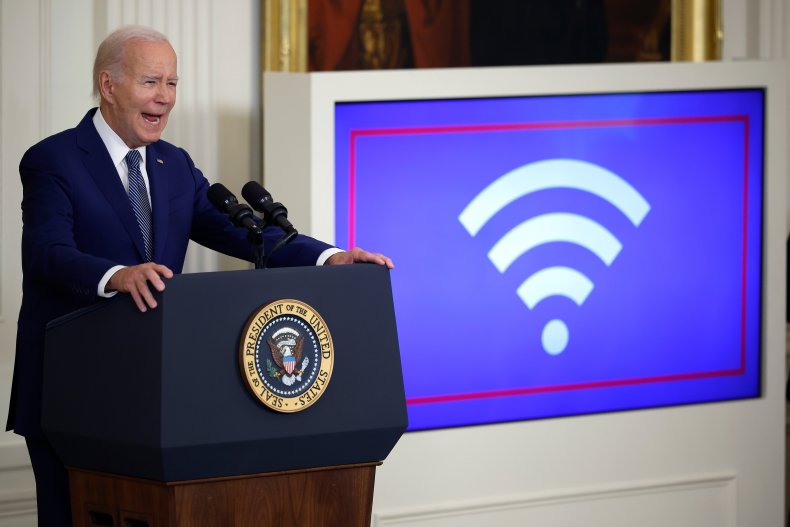 However, the language of the bill requires each state or territory to receive at least $100 million to improve access to high-speed internet. This means that some states or territories that have a low percentage of underserved internet access will receive substantial Broadband Equity, Access, and Deployment (BEAD) funding.
For instance, 0.2 percent, or roughly 184, of residences or businesses in Washington, D.C. are considered to be underserved by the federal government, according to an Associated Press analysis. They are being allocated $100.7 million to improve access to high-speed internet.
Meanwhile, in Delaware, about 2,052 businesses or residences, amounting to roughly 0.5 percent of those across the state, are classified as underserved, according to the AP. The state will receive $107.7 million to ensure these residents and businesses or residences have access to high-speed internet.
The reason these states are still receiving these funds is that language in the bill, which passed the House of Representatives and Senate with bipartisan support, required a minimum initial allocation of $100 million to each state and territory.
The White House addressed how states or territories that will easily meet these goals can use the funding in a statement released Monday. Newsweek reached out to the White House for further comment via email.
"The BEAD funding will be used to deploy or upgrade broadband networks to ensure that everyone has access to reliable, affordable, high-speed Internet service. Once deployment goals are met, any remaining funding can be used to pursue eligible access-, adoption-, and equity-related uses," the statement reads.
Biden addressed why some people in suburban or urban areas, which have high access to broadband, may benefit from these funds during the press conference Monday.
"It also includes suburban communities, even cities, neighborhoods, and—where there's a lot of people—you think it's automatic, but some still have to use dial-up connections to get online," Biden said.