A transgender protester demonstrating for environmental causes and against the Union Cycliste Internationale (UCI) decision to exclude men identifying as women from women's racing brought the men's road race at the Cycling World Championships to a full stop on Sunday.
Five people were involved in the protest in which demonstrators glued themselves to the road. In total, it took authorities 50 minutes to remove the activists.
🚨Protestors have stopped the Men's Road Race at the world championships in Scotland.

UCI: "We are working closely with all relevant authorities to minimise disruption to the race and also to ensure the safety of riders as our paramount concern."#GlasgowScotland2023 #cycling pic.twitter.com/vAT0xnzHW7

— Sanny Rudravajhala 📻📺📝 (@Sanny_Rudra) August 6, 2023
The Telegraph reports that a Scottish climate activist group called This is Rigged took responsibility for the demonstration.
The UCI took a leading role among international sports governing bodies in enacting new restrictions preventing males identifying as females from competing in women's categories. Soon after UCI made its ruling, World Aquatics, the international swimming governing body, enacted similar restrictions.
Rebecca Kerr, a 28-year-old man claiming to be a woman, told the Telegraph that he was there to bring light to the UCI's "hypocrisy."
"At the same time they allow a petrochemical company to field a team showing they have no real care for people. I take to the track to point out this hypocrisy and take a stand for a better future."
Kerr did not comment on the "hypocrisy" of so-called environmentalists using glue, a product produced and tested in corporate labs, to protest the inclusion of corporate chemical companies in a race.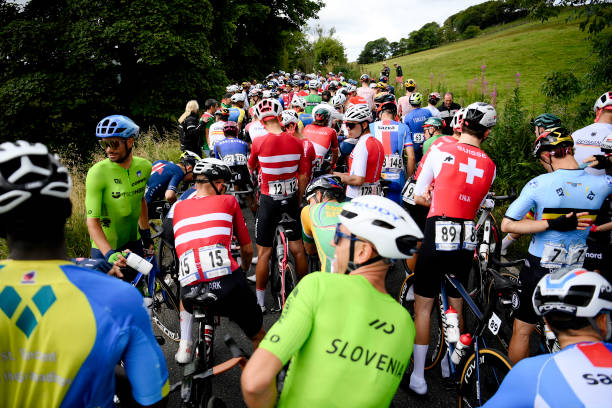 The peloton stopped as the race was temporarily interrupted by protesters during the 96th UCI Cycling World Championships Glasgow 2023, Men Elite Road Race, a 271.1km one-day race from Edinburgh to Glasgow / #UCIWT / on August 06, 2023, in Glasgow, Scotland. (Alex Broadway UCI – Pool/Getty Images)
"This was a dangerous act of disruption which put both the protesters and athletes in this race at risk," said Graham Simpson, Net Zero and Transport spokesman for the Scottish Tories.
"It's utterly nonsensical for a group which claims to stand for environmental protection to target an event promoting active, green travel like cycling – and raises a huge question mark about this publicity-seeking group's true motives."
Simpson continued, "The World Cycling Championships offers an enormous opportunity to advertise Glasgow, Scotland, and the sport itself right across the world. Sadly, this has been marred by the selfish acts of a few individuals.
"People are sick and tired of these childish stunts. The full force of the law should be brought to bear on extremists who disrupt events and people's everyday lives."
Dutchman Mathieu van der Poel won the road race.