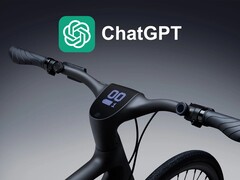 Urtopia has revealed a smart e-bike with voice interaction powered by integrated ChatGPT at Eurobike 2023. Recent YouTube videos show users asking the bike questions, including a suggested sightseeing route with navigation provided. Also shown at the conference was the Fusion e-bike, designed with Hartmut Esslinger of Frog Design.
Urtopia has unveiled a new e-bike with a ChatGPT integration. Demonstrated at Eurobike 2023, the company claims that the electric bicycle is a world first. While the e-bike shown was a demo model, Urtopia confirmed that it is developing a version to sell in the future. A recent YouTube video from the brand shows a user pressing a button on the left handlebar to activate a ChatGPT voice assistant, answering questions about the benefits of cycling.
A second video demonstrating the Urtopia ChatGPT e-bike sees the rider ask for a recommended sightseeing tour of LA, with the voice assistant detailing a route and then asking if the user wants to start navigation. Other Urtopia bike technology includes GPS navigation, which could be used to track your bike in case of theft, riding safety tools and a data log to track your progress. Plus, you can link your Urtopia electric bicycle to platforms like Apple Health or Strava for additional insights and to share your performance with friends.
Also shown at Eurobike 2023 was the new Urtopia Fusion e-bike, designed in partnership with Hartmut Esslinger, founder of Frog Design, which worked on Apple's Snow White design concept. The model weighs under 20 kg (~44 lbs) thanks to a full carbon fiber frame and features the Urtopia smart system; to be clear, this does not currently include the voice interaction powered by integrated ChatGPT. The timeline for Urtopia to release the e-bike with a ChatGPT integration and how much it would cost remains unknown.
Related Articles
Polly Allcock – Tech Writer – 1523 articles published on Notebookcheck since 2021
I've been interested in technology for as long as I can remember. From a young age, I have loved gadgets and understanding how things work. Since graduating, I have worked for several technology companies across FinTech, AdTech and Robotics.
Polly Allcock, 2023-06-30 (Update: 2023-06-30)