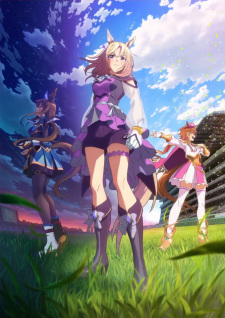 Cygames opened an official website for the Uma Musume: Pretty Derby – Road to the Top original net anime on Wednesday and revealed the main cast, staff, and a promotional video. The anime is set to premiere on April 16 at 9: 00 p.m. on Uma Musume's official YouTube channel.


Cast

Narita Top Road: Kanna Nakamura (Soredemo Ayumu wa Yosetekuru)

Admire Vega: Hitomi Sasaki (Urara Meirochou)

T.M. Opera O: Sora Tokui (Love Live! School Idol Project)

Okita Trainer: Hiroshi Tsuchida (Shingeki no Kyojin)

Rice Shower: Manaka Iwami (Otonari no Tenshi-sama ni Itsunomanika Dame Ningen ni Sareteita Ken)

Curren Chan: Yuu Sasahara (Tensei Oujo to Tensai Reijou no Mahou Kakumei)

Meishou Dotou: Misaki Watada (Bocchi the Rock!)

Haru Urara: Yukina Shutou (Idoly Pride)


Staff

Director: Chengzhi Liao

Scenario Director, Series Composition: Tetsuya Kobari

Character Design, Chief Animation Director: Jun Yamazaki (Koisuru Asteroid)

Character Design Supervisor: Minami Kiyonaga (Umayuru)

Color Design: Ayumi Nakahara

Art Director: Shingo Kanai (High School Fleet Movie), Osamu Hasada (Harmony)

Director of Photography: Si Zhi Song (Kawaikereba Hentai demo Suki ni Natte Kuremasu ka? photography)

3D Director: Yoshinori Nakano (Princess Connect! Re:Dive)

Editing: Kashiko Kimura (Sora yori mo Tooi Basho)

Music Producer: Tetsuya Uchida (The iDOLM@STER Cinderella Girls)

Sound Director: Takaomi Kanasaki (Princess Connect! Re:Dive)

Content Director: Takuma Akitsu

Studio: CygamesPictures


The anime focuses on T.M. Opera O, Admire Vega, Narita Top Road, and other Uma Musume aiming to win the Classic competitions. It is a part of Cygames' Uma Musume: Pretty Derby mixed-media project, where anthropomorphized racing horses as girls with exceptional running capacity aim to win at the "Twinkle Series" sports event. The project includes songs, webcomics, and a smartphone game that was released in February 2021.


PV


Official site: https://umamusume.jp/anime/roadtothetop/


Source: Uma Musume Project