Former President Donald Trump said in an interview broadcast on Sunday morning that Ukraine should receive over $100 billion more in aid from European nations to match what the United States has contributed.
At the outset of Russian President Vladimir Putin's invasion of Ukraine, Trump appeared to speak favorably of the decision to attack the Eastern European nation. The former Republican president—who is currently the frontrunner for his party's 2024 nomination—called Putin a "genius" and "smart," suggesting it was a wise decision to launch the invasion.
In recent months, the former president has repeatedly said that the war would not have happened if he was still president, and that he'd end the conflict in a day if he's reelected in 2024.Trump's comments about the war have garnered significant criticism from Democrats and Republicans who strongly support Ukraine.
In an interview on Fox News' Sunday Morning Futures, Trump was asked by host Maria Bartiromo if he'd "stop the money" flowing to Ukraine. The U.S. Congress has approved over $113 billion in assistance to Ukraine and allied nations since the start of the invasion in February 2022.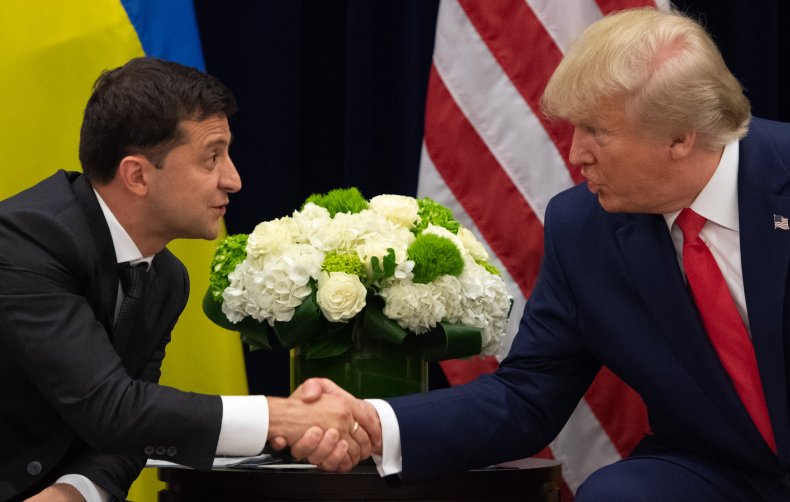 "I'd get the war settled," Trump responded. The former president then went on to point out that European nations have not contributed as much as the U.S., saying that he'd pressure them step up their support.
"Number one I'd tell Europe, 'You're about $100 billion plus short, you gotta pay,'" Trump said. "Europe is smiling all the way to the bank," he continued, saying that European nations are more directly impacted by the war and are "doing very little" compared to the U.S.
"They're right there, we're an ocean apart. Why are we at $150 billion and they're at $20 [billion]?" Trump asked. He added that the European economy is "almost exactly our size if you add it all up."
The U.S. Congress had approved more than $113 billion of aid and military assistance to support Ukraine and allied governments since the start of the invasion, according to a January press release from the Committee for a Responsible Federal Budget. "The Fiscal Year (FY) 2023 omnibus appropriations package included an additional $47.3 billion of emergency funding to provide humanitarian, military, and economic assistance to Ukraine on top of the $65.8 billion of funding already approved in three other emergency funding packages enacted by Congress," the press release said.
However, data from the Kiel Institute for World Economy, a German research institute, shows that as of May 31, the U.S. has sent just north of $75 billion of the allocated assistance to Ukraine. Meanwhile, European Union (EU) institutions have contributed a little more than $27 billion, while the United Kingdom and Germany have each given more than $10 billion. Several other European nations' contributions have totaled in the billions of dollars, while a number of others have given hundreds of millions, according to the research institute.
Trump spokesperson Steven Cheung told Newsweek in a Sunday email that the former president's response to Bartiromo's question was "in the context of Europe not paying their fair share to NATO." In the interview, Trump took credit for getting NATO members to increase their defense contributions during his White House tenure.
Throughout his presidency, Trump repeatedly urged NATO allies to meet their defense spending target of 2 percent of GDP. In 2022, only seven of NATO's 30 members met that goal. NATO has since grown to 31 members, with Finland's admission in April. Sweden is expected to become the 32nd member soon.
Although most Republican and Democratic lawmakers in Congress continue to support U.S. assistance to Ukraine, there is a vocal faction of GOP lawmakers who staunchly oppose any support to Kyiv. Some have used similar rhetoric to that of Putin and other Russian leaders as they've justified their invasion of Ukraine.
In a June 29 Twitter post, Representative Marjorie Taylor Greene, a Georgia Republican and staunch Trump loyalist, slammed Ukrainian President Volodymyr Zelensky by tweeting that he leads a "Nazi army." Greene, along with several other high-profile Republican lawmakers, have repeatedly pushed for ending U.S. support for Ukraine.
Putin and his allies claim that Ukraine is led by Nazis, and have said that their invasion is an effort to "de-Nazify" the country. However, Zelensky is Jewish and was elected in a landslide with nearly 75 percent of the vote in 2019. When Zelensky was elected president, Ukraine's prime minister was also Jewish.
Newsweek reached out to spokespeople for the European Commission via email for comment.
Exclusive polling conducted for Newsweek by Redfield & Wilton Strategies found that 43 percent of Trump voters believe the U.S. has provided too much support to Ukraine, while 20 percent felt it was too little. In addition, 20 percent said it was about right and 17 percent answered "don't know."
The survey also found that 41 percent of Trump voters believe the U.S. "should reconsider our levels of support as the war continues," while 20 percent believed U.S. support should stop now. A further 26 percent said support should continue until Ukraine wins the war and 13 percent didn't know.
The Redfield & Wilton Strategies was conducted on July 15 and 16 among 1,500 registered voters.
Meanwhile, Trump previously told Fox News that he'd warn Putin that U.S. aid to Ukraine would increase if he didn't make a deal to end the war.
"I would tell Putin, if you don't make a deal, we're going to give him [Zelensky] a lot. We're going to [give Ukraine] more than they ever got if we have to. I will have the deal done in one day. One day," the former president said.
Update, 7/23/2023, at 2:03 p.m. ET: This article has been updated with comment from a Trump spokesperson.