Former President Donald Trump packed the house at his South Carolina rally on Saturday, drawing a massive crowd that was significantly larger than the population of the town which hosted it.
The leading Republican presidential candidate barnstormed in Pickens, a town of about 3,400 residents, on Saturday, speaking to more than 50,000 people who gathered at the downtown venue and lined the surrounding streets, according to Pickens police chief Randal Beach.
Beach told The Associated Press on Sunday that authorities were unable to calculate the exact number, but he estimated the rally was attended by "somewhere between 50-55,000" people.
South Carolina's first-in-the-South presidential primary makes it popular among GOP hopefuls, many of whom have already held events in the state. None of the other candidates in the race, however, drew an audience like Trump, who continues to dominate in 2024 polls.
TRUMP LEAD GROWS FOLLOWING INDICTMENT, ONE FACTOR CONTINUES TO BE THORN IN BIDEN'S SIDE WITH VOTERS: POLL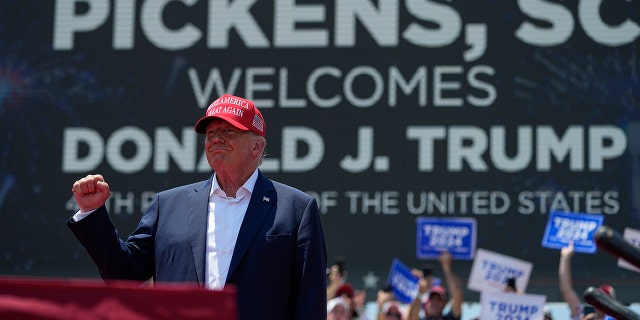 Former President Donald Trump held a massive rally in Pickens, South Carolina, on July 1, marking his first large event of the 2024 campaign since an appearance in Texas in March. (AP Photo/Chris Carlson)
The Make America Great Again Inc. PAC said in a statement that no other candidate can match the enthusiasm seen in Pickens because no one else has "delivered for the American people" in the ways that Trump has.
"The Supreme Court decisions ending racist college admissions, protecting religious liberty, and stopping an illegal student loan forgiveness scheme were a reminder of how President Trump kept the promises he made to voters," CEO Taylor Budowich said in a statement. "Mind you, the tens of thousands of patriots that turned out in Pickens, South Carolina did it on a day with temperatures over 90 degrees. The Trump train has left the station and is not stopping until President Trump is seated behind the Resolute Desk."
Saturday's event marked a return to the large-scale rallies of his previous presidential campaigns, and his appearance effectively shuttered Pickens' quintessential Southern downtown area.
"There's nowhere else I'd rather be to kick off the Fourth of July weekend than right here on Main Street, with thousands of hardworking South Carolina patriots who believe in God, family and country," Trump said Saturday.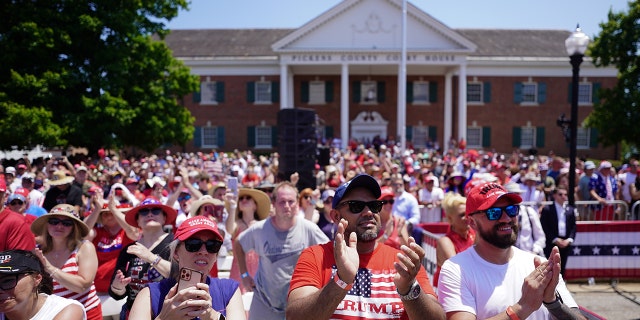 Pickens police Chief Randal Beach estimated at least 50,000 showed up to support the former president in the tiny town of nearly 3,400 residents. (Sean Rayford/Getty Images)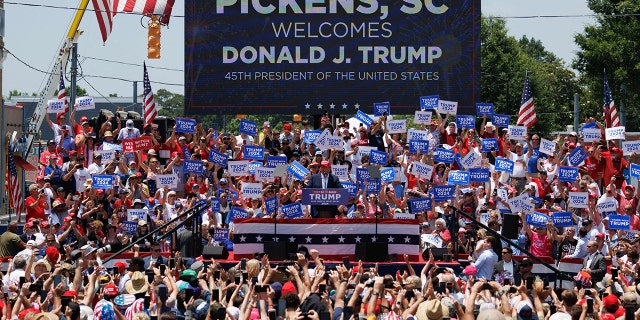 Though many other GOP hopefuls have already held 2024 campaign events in South Carolina, no one has drawn a crowd the size of Trump's on July 1, including former Gov. Nikki Haley and Sen. Tim Scott. (Logan Cyrus/AFP via Getty Images)
The tens of thousands who attended Saturday's rally, which attendees began lining up for the night before, seemed to agree with the president's sentiments.
Greg Pressley and his wife, Robin, said they drove more than three hours from their home in Tennessee to see Trump, a candidate they've supported since his first White House bid in 2016.
"Donald Trump's the best president in history," Greg said. "I love his policies. I love the man. I'm here to support him getting back to where he needs to be, to begin with."
TRUMP SAYS HE'S 'PROUD TO BE THE MOST PRO-LIFE PRESIDENT' IN US HISTORY ON ANNIVERSARY OF ROE V WADE OVERTURN
Florida Gov. Ron DeSantis, former Vice President Mike Pence and entrepreneur Vivek Ramaswamy have all held events in the state. The two South Carolinians in the race, former Gov. Nikki Haley and Sen. Tim Scott, have campaigned there as well.
Shelley Fox, of Spartanburg, who also said she has supported Trump since 2016, said she didn't feel it necessary to even think about any other candidates for next year's election.
"I'd write him in," she said when asked if she would consider another hopeful. "No question – I'd write him in."
Sen. Lindsey Graham, R-S.C., and Rep. Marjorie Taylor Greene, R-Ga., also spoke at the event.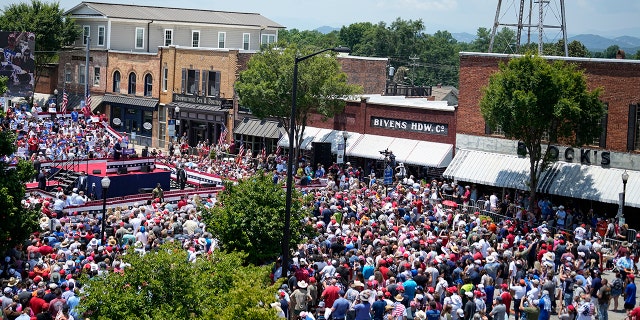 The town of Pickens was overrun by supporters of the former president as tens of thousands attended lined the streets nearby to hear him speak. (AP Photo/Chris Carlson)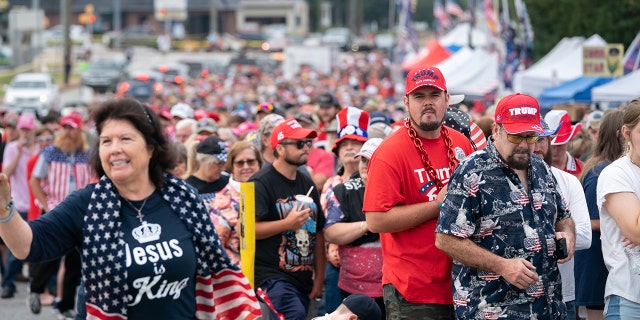 The massive showing at Trump's South Carolina rally reflects his firm lead in the GOP presidential primary. (Sean Rayford/Getty Images)
In 2016, Trump handily won the state during a crowded Republican primary, garnering 32.5% of the vote and earning the state's 50 delegates. Senators Marco Rubio and Ted Cruz were second and third, respectively, both receiving about 22%.
The huge event shows Trump continues to sit firmly in the driver's seat of the Republican Party and that his supporters stand unwaveringly beside him during his third bid for the White House.
Contrasted with his 2016 and 2020 campaigns, which drew thousands to rallies in states across the country, Trump's 2024 effort has been noticeably different. 
HOUSE GOP SEEKING TO EXPUNGE 'SHAM' TRUMP IMPEACHMENTS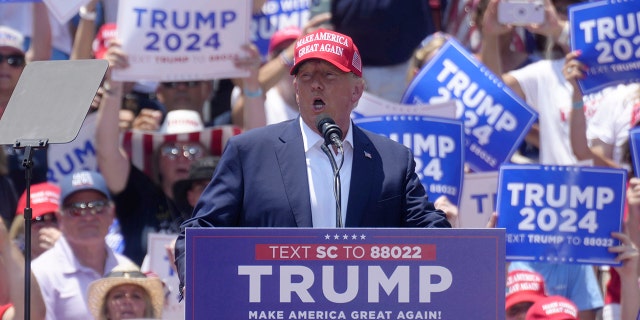 Saturday's appearance in Pickens, South Carolina, was Trump's first campaign event in the early-voting state since January. (AP Photo/Meg Kinnard)
This was only Trump's second large rally of the 2024 campaign – the first took place in Waco, Texas, in March. Another scheduled outdoor rally in Iowa in May was canceled due to tornado warnings.
The former president has mostly focused his efforts on smaller events this go around, including a series of speeches before state party organizations, frequent media interviews and town halls, working relationships with delegates and local officials, and unannounced stops at restaurants in cities he is visiting.
Trump has also appeared at many of the multi-candidate events of the primary season so far, including this past week's Moms for Liberty gathering in Philadelphia.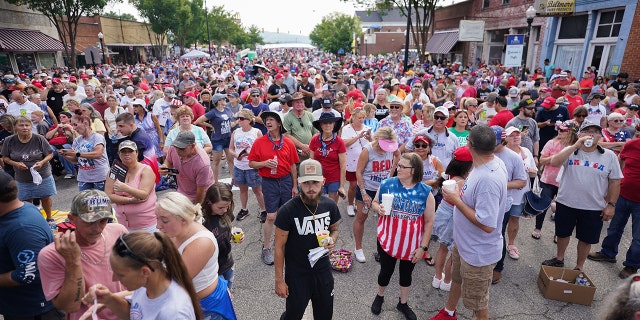 According to The Associated Press, supporters began lining up for the event Friday night in hopes getting front-row seats at Trump's first large rally since March. (Sean Rayford/Getty Images)
CLICK HERE TO GET THE FOX NEWS APP
Saturday's massive showing comes as Trump faces an indictment on hush-money charges in New York, federal charges related to his retention of classified documents after leaving the White House, and several other investigations.
The Associated Press contributed to this report.