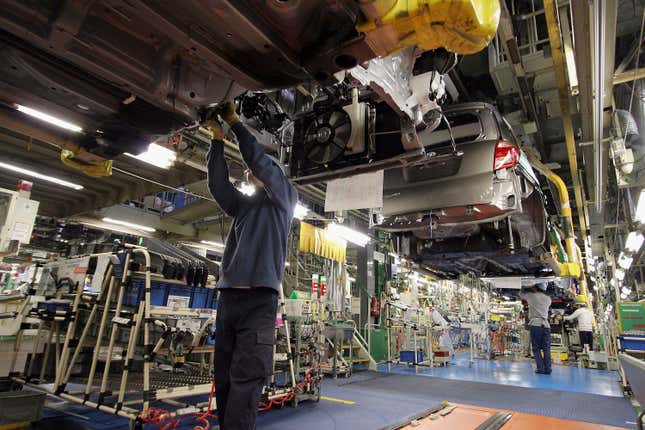 All 14 of Toyota's assembly plants in Japan were shut down on Tuesday (Aug. 29), after an issue with the automaker's computer system that sorts incoming components. The company confirmed the plants would be up and running again by Wednesday morning, Japan Standard Time.
What inspired Elon Musk's design for Tesla's Cybertruck?
The stoppage affected 25 assembly lines accounting for a third of Toyota's global production. The company's Japanese plants make an average of 13,500 vehicles each day, according to an estimate by Reuters.
Toyota apologized for the problem and said it was investigating the cause, though it ruled out a cyberattack.
This isn't the first stoppage of these assembly plants for the world's largest carmaker. Last year, a cyberattack at Kojima Industries—a major Toyota supplier—forced the company to pause all domestic production.
Also, a cyberattack last month at the port of Nagoya (Toyota's main export hub in Japan) saw it suspend operations at an export packaging line for components.
In other news: Japan's largest companies have been flooded by nuisance calls from China
The Japanese government has summoned the Chinese ambassador after companies in Japan received thousands of nuisance calls expressing anger over the release of water from the Fukushima nuclear power plant.
Recordings of some calls have gone viral on Chinese social media, reflecting growing tensions between neighbors Japan and China. Japan, which also reported stones being thrown at the Japanese embassy in Beijing, advised its citizens living in China to keep a low profile and talk softly when speaking Japanese in public.
Last week's decision to discharge treated water from the scene of the 2011 Fukushima nuclear meltdown prompted China to ban all Japanese seafood imports. Meanwhile, Chinese consumers are calling for boycotts of Japanese products. The United Nations and the International Atomic Energy Agency have said that Japan's decision meets international safety standards.
Related stories:
🚗 Toyota is betting that the US will keep buying gas-guzzling SUVs
🖥️ Toyota has been accidentally sharing personal data for millions of Japanese users over the last decade
💰 Toyota and Honda announce broad raises for Japanese workers