"If we don't control inflation now, it could really spiral out of control."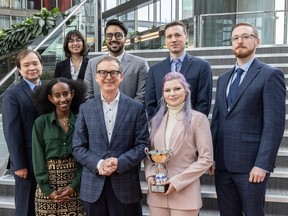 They tackled the topic of the day and for this reason, they were victorious.
REGISTER TO UNLOCK MORE ARTICLES
Create an account or sign in to continue with your reading experience.
Access articles from across Canada with one account
Share your thoughts and join the conversation in the comments
Enjoy additional articles per month
Get email updates from your favourite authors
Economics students at the University of Alberta are celebrating winning a national competition staged by the Bank of Canada. The Edmonton school announced their second Governor's Challenge title in three years on Friday.
Edmonton Journal Headline News
Sign up to receive daily headline news from the Edmonton Journal, a division of Postmedia Network Inc.
By clicking on the sign up button you consent to receive the above newsletter from Postmedia Network Inc. You may unsubscribe any time by clicking on the unsubscribe link at the bottom of our emails or any newsletter. Postmedia Network Inc. | 365 Bloor Street East, Toronto, Ontario, M4W 3L4 | 416-383-2300
Five fourth-year macroeconomic policy students, Selam Abraham, Vivek Gala, James Davison, Kayla Stephanson and Aishwarya Tyagi, travelled to Ottawa and assumed the role of advisers to the bank's governing council. Their unenviable task? Advising that council on whether to change the bank's key interest rate.
Spoiler alert: they said it should stay put at 4.5 per cent.
Recommended from Editorial
Advising the students on how to advise the bank were U of A associate professor Malik Shukayev and assistant lecturer Max Sties.
Article content
Their winning presentation considered the compounding effect of inflation and higher interest rates on the Canadian economy, and its lowest income earners in particular.
As the team got to work, Abraham was put in charge of tracking domestic economic trends. She said staples like food, shelter and transportation are driving inflation, so since low income households spend a larger proportion of their income on necessities, they are being hit hardest.
Their tendency to borrow more also means they are more exposed to interest rate hikes. But that central interest rate is also a key tool to controlling inflation, which pushed the team away from recommending the rate be lowered.
"It's a difficult trade-off, but one that we argued in our presentation is still important," said Gala, who tracked global economic trends for the team. "If we don't control inflation now, it could really spiral out of control."
Article content
Reasons for win kept (mostly) secret
The competition's final round saw the U of A team vanquish squads from Carleton University, Université de Sherbrooke, St. Francis Xavier University and the University of British Columbia in the final round.
It was judged by such BOC heavy hitters as adviser Eric Santor and Maureen Carroll, the managing director of its currency department and Geneviève Verdier, a division chief for the International Monetary Fund.
The teams aren't actually told how the winners and losers are chosen. But the school said they received feedback throughout the process, and Shukayev and Sties heard that their students were energetic, their presentation flowed logically, their charts were impressive and they were well prepared for the question period.
Article content
There was also evidence that their focus on low-income households helped the U of A team stand out.
Past competitors at the Governor's Challenge have gone on to take jobs at the Bank of Canada. Whether this year's winners follow in those hallowed footsteps or not (Abraham spoke up for the whole team — they're sure going to try), Shukayev says they will leave with a basket of soft skills in addition to their degrees that will help them navigate the world of work like the champions they are.
"Sometimes to stand out in the modern labour market, you have to have some things that are really valued by the profession," he said. "Among them are teamwork, communication, and the ability to analyze data and write informative reports or deliver informative presentations."