March 16, 2023 2:05 AM
The movie delivers some romance, but ultimately fails to thrill.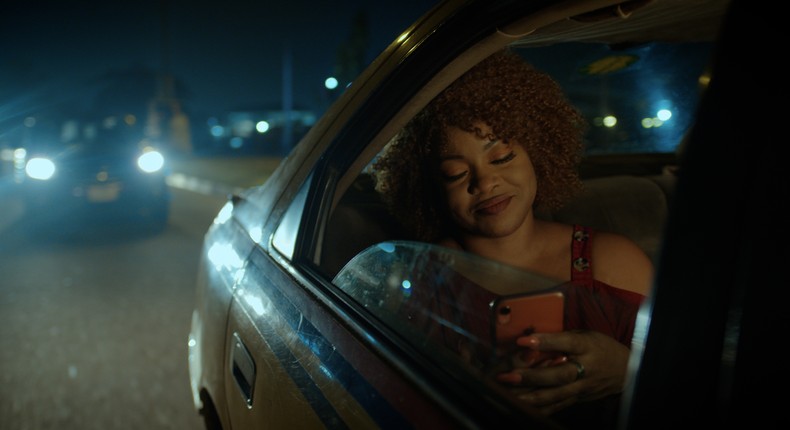 Following a five-year break, Tope Oshin returns with a blend of family drama, romcom, and thriller titled 'Here Love Lies.' The movie is told in two parts; the first in Nigeria and most of the second in the United States.

To my delight, the movie opens with some familiar faces; Sam Dede and Tina Mba. Dede is Amanda's father and a man of the cloth who suffers a cardiac arrest when he discovers that his young daughter has sinned against God and man by getting pregnant – a fate worse than death for most Nigerian religious parents.
In an attempt to save his good name, Dede proposes abortion, which his daughter vehemently opposes. She is cursed and immediately kicked out with no help from her mother or sister.
14 years later, Amanda is the single mother of a teenage daughter. Things are going great for her except in the love department. Her search for Mr Right continuously goes wrong until she meets Michael (Tim Shelburne), a New Yorker and dedicated fan of her travel blog.
What follows is the beginning of a beautiful love story as Prince Charming scores great potential boyfriend points by sending Jollof rice instead of flowers, makes an effort to speak a little Pidgin, and appears to be all in.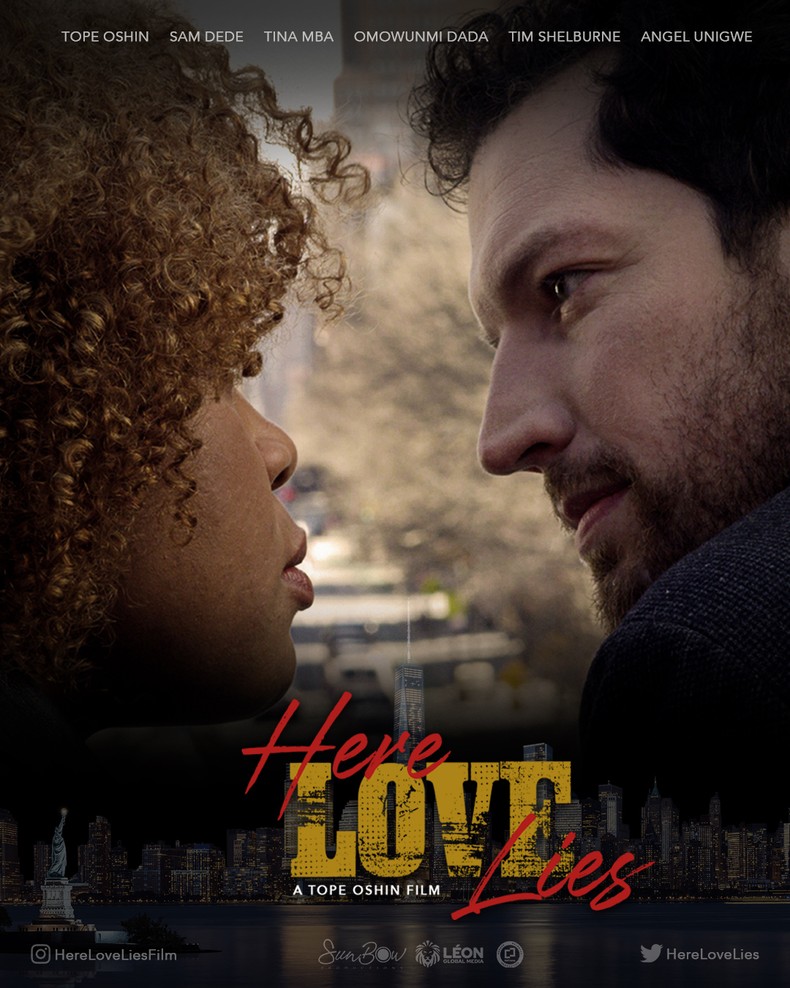 Thanks to the pop-up shots of their conversations, we soon see Amanda's tone go from casual to affectionate, at least until she decides to surprise him on a work trip to New York where things soon go awry.
'Here Love Lies' starts off well with a tale as old as time that most Nigerians can relate to. This family drama sets the foundation for what could have been a simple, straightforward story filled with great subplots.
But this is ruined when we get to the thriller part of the movie. In what could be easily mistaken for scenes from a Tyler Perry movie, we see our Prince Charming turn into an unhinged serial killer who is determined to make Amanda his one and only true love.
The movie drags on the unimportant details, but rushes through important scenes about her family issues. As a viewer, you are almost compelled to fast forward to the good part only to find the supposed good part seriously lacking of any real excitement, making most of the 2-hour-long film a tedious watch.
By the end of the headache-inducing watch, the movie fails to answer several questions about Amanda's reconciliation with her family, her father's curse, or why it took so long to get to the thriller part, which is filled with disappointing fight scenes, horrible acting from most of the American cast, and obviously fake white powder.
While the movie fails to deliver a great story and proper plot progression, it does shines in the cinematography department so there is that.
With Oshin working as a co-writer, executive producer, director and the female lead, her performance leaves a lot to be desired. This makes room for Nollywood legends Mba and Dede to steal the show whenever they are onscreen. Amanda's daughter played by Angel Uniqwe holds her own as an antsy teenager.
Ultimately, 'Here Love lies' is an interesting idea ruined by subpar execution.
Kudos to Tope Oshin for trying something different.
'Here Love lies' is currently streaming on Netflix.
JOIN OUR PULSE COMMUNITY!
Our newsletter gives you access to a curated selection of the most important stories daily.
Welcome to the Pulse Community! We will now be sending you a daily newsletter on news, entertainment and more. Also join us across all of our other channels – we love to be connected!
Unblock notifications in browser settings.
Get our Top Stories delivered to your inbox
Welcome to the Pulse Community! We will now be sending you a daily newsletter on news, entertainment and more. Also join us across all of our other channels – we love to be connected!