Top US mathemetician Ryan 'Skip' Garibaldi broke down ways to increase your chances of winning the lottery in the US – whether with scratcher tickets, on the Powerball or the Megal Millions
Top US mathemetician Ryan 'Skip' Garibaldi explained how you can increase your chances of winning the lottery
(

Image: Youtube/WIRED)
Across the US, many residents throw their hat into the ring in an attempt to win millions, or sometimes even billions, of dollars in the lottery. Some put a lot of thought into their picks, others rely on lucky and significant numbers, while some will just take a more random approach in an attempt to win big.
Now, Ryan 'Skip' Garibaldi, a California mathemetician, has shared his knowledge with different tactics which could help increase your changes of taking home the jackpot. He also shared a common mistake players are making, which could contribute to their misfortune.
Speaking to WIRED, he explained: "There are definitely lotteries that are easier to win than other lotteries. When you gamble normally, a bigger chance of winning means lower payout.
"So, for example, this is familiar from roulette, where if you bet on red or black you get less money in return than if you bet on a single number where you get a lot more in return because your odds of winning with red or black bet is much higher.
Similarly, your odds of winning on a Powerball or Mega MIllions ticket are very low, about one in 300 million."
Garibaldi spoke to WIRED about ways to increase your chances of winning on the lottery
(

Image:

Youtube/WIRED)
Talking about methods of selecting numbers when it comes to lottery tickets, Garibaldi said: "You're not going to increase your chances of winning by some strategy about how you pick the exact numbers that you pick. However, for games like Powerball and Mega Millions what you'd like to do if you win the jackpot is to be the only one who wins the jackpot so you don't have to split it.
"So with that perspective in mind you'd like to pick unpopular numbers. You'd like to pick numbers that other people won't pick.
"Don't pick dates for example, because a lot of people gamble based on dates. Other advice might be if you look at the ticket where you pick your numbers don't just pick a column of numbers on that ticket for example, because some people will do that."
Some players, including repeat winner Richard Lustig who won more than £1 million, believe in playing sequential numbers. However, director for the Center of Communications Research in La Jolla, California, Garibaldi, said: "This won't increase your odds of winning.
"That kind of thing is going to give you the same chance of winning the jackpot as any other method of choosing. However, if you look at a ticket like that it looks weird.
"So maybe sequential numbers help you not share the jackpot, which is good. I don't know, but that's how it strike me as a mathemetician."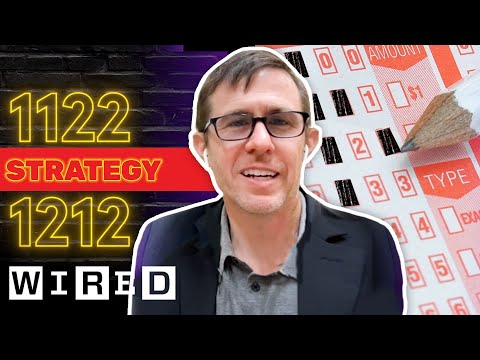 Video Loading
Video Unavailable
Click to play
Tap to play
Looking into various methods for picking numbers, Garibaldi broke them down. Starting with playing every single number combination in the drawing, he said: "So, for Mega Millions and Powerball that's not really a feasible choice, because there's 300 million tickets.
"It's super hard to go to the store and buy that many tickets. You need a whole army of helpers, it's a complicated endeavour," he laughed.
He continued: "But for smaller, state level lotteries, which have fewer tickets that you have to buy and also a smaller jackpot, people have done that. So in particular, in New South Wales, in 1986 a syndicate did that, in Virginia in 1992 and then with the Irish National Lottery.
"Now, in these cases they didn't actually succeed in getting 100 per cent of the tickets but they got enough that they got lucky and they did win the jackpot."
Garibaldi spoke about methods which have a chance of working and those which don't
(

Image:

Youtube/WIRED)
For those looking to explore that as a potential strategy, he warned that people need to "absolutely keep their eyes open", as someone else could also win the jackpot meaning you then have to split it with them.
Garibaldi then went on to talk about whether there was a way to 'guarantee' a lottery win. His advice was: "You find a game where you have to guess a four-digit number and you bet the six-way box.
"That means you're going to bet on a four-digit number with repeated digits like 1122, or 1212, and if you bet a six-way box if that's all the six possible ways of writing a number with two ones in it and two twos in it, and if you do that your odds of winning are one in 1,667, and in most states, if you hit that, if you win that bet, you will get $800 which means you've got to go to a lottery office.
"You probably will lose money, just so you know," he warned. "It is not a recipe for making money but it is a recipe for getting to that lottery office with the least amount of effort."
Read More
Read More
Read More
Read More
Read More