A top Russian general has been killed by a missile strike in Ukraine, a prominent military correspondent reported Monday.
Major General Sergei Goryachev, 52, chief of staff for the 35th Combined Arms Army, was killed "as a result of an enemy missile attack" in the Russian-occupied Donetsk region, south of the village of Velikaya Novoselka. That's according to Yuri Kotenok, a Russian war correspondent, blogger and analyst who runs the Telegram channel Voenkor Kotenok Z.
At least four other Russian generals have been killed since the war began last February. The latest reported death comes days after Ukraine launched a counteroffensive aimed at recapturing territory seized by Russian forces throughout the full-scale invasion. Ukraine's Deputy Defense Minister Hanna Malia said Monday that in the past week, Ukraine has recaptured seven villages spanning 90 square kilometers (35 square miles).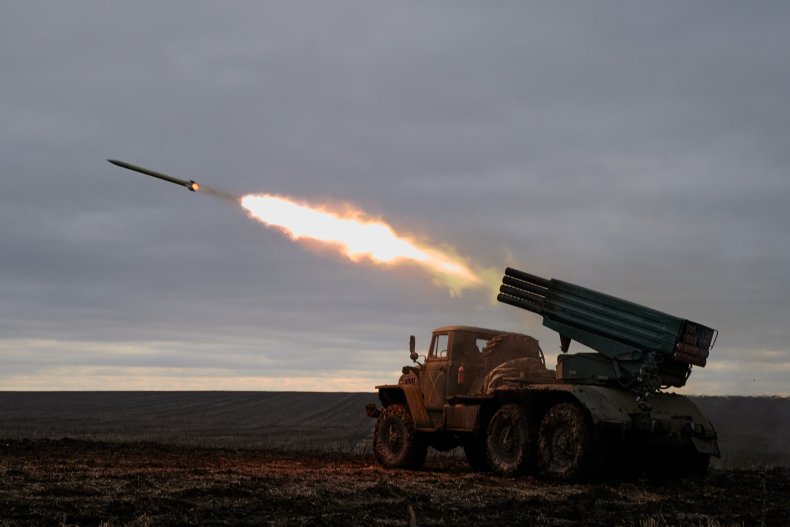 "Heavy fighting all [of] yesterday, June 12, went on almost along the entire line of military contact of the Vostok grouping, especially on the so-called Vremivka Ledge," the military blogger, who has 424,000 subscribers, wrote.
Kotenok said that "according to representatives of the command of the United Group of Forces (S), the army has lost today one of the brightest and most effective military leaders."
According to anti-Putinist Russian-language news outlet Mediazona, as of June 2, at least four Russian generals, 58 colonels and 176 lieutenant colonels have been killed in Russia's full-scale invasion of Ukraine. This includes Major General Kanamat Botashev, Major General Vladimir Frolov, Major General Roman Kutuzov, and Major General Andrey Sukhovetsky.
Last month, Russia's Defense Ministry reported that two Russian colonels were killed in battle near the Ukrainian city of Bakhmut in the Donetsk region.
Russian officials have yet to confirm Goryachev's death. Newsweek has contacted Russia's Defense Ministry via email for comment.
Goryachev graduated from the Ryazan Guards Higher Airborne Command School in 1994 and formerly served in Transnistria and Tajikistan. After Russia launched its full-scale invasion of Ukraine, he became commander of the 5th separate tank brigade and rose to the rank of deputy commander of the 35th Combined Arms Army, where he was appointed chief of staff.
In a nightly video address on Monday, Ukrainian President Volodymyr Zelensky described battles between his troops and Russian forces as "tough."
"But our movement is there, and that is very important," he said.
Maliar said Ukraine's military has liberated the Lobkovo, Levadne, Novodarovka, Neskuchne, Storozhevoy, Makarivka and Blahodatne settlements.
Do you have a tip on a world news story that Newsweek should be covering? Do you have a question about the Russia-Ukraine war? Let us know via worldnews@newsweek.com.