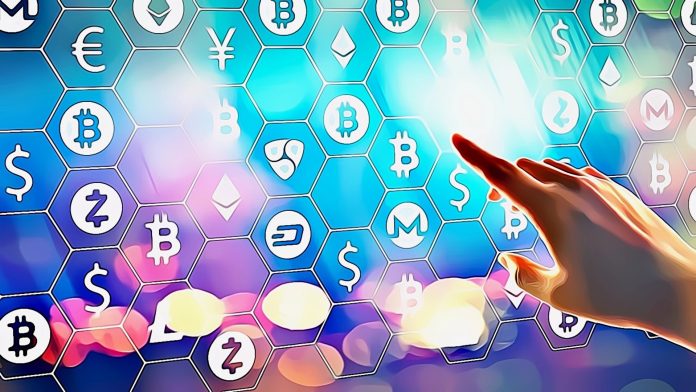 As the phrase implies, a Decentralized Exchange is a platform that allows its users to trade, swap or undergo any form of transaction without the need for any intermediaries. 
Decentralized Exchange Tokens are safer to deal with and by nature, have attracted a steady stream of Funds. Currently, it has a total market capitalization of $12,684,720,343 and total trading volume of $1,319,108,506.
Note: Tokens are sorted by their unit price from lowest to highest
MCDEX Token (MCB)
Unit Price: $3.99
Market Cap: $7,394,932
Distinct Features: Users can trade up to 500ETH or 40BTC without any slippage and up to 25X leverage on Arbitrum.
MCDEX is a futures-focused decentralized exchange (DEX) built on the Ethereum layer-two scaling solution, Arbitrum and the Binance Smart Chain. It's goal is to prioritize censorship resistance, security, and self-custody, according to the MCDEX team. Trading is permissionless, which means that anyone can trade, offer liquidity, or develop new markets whenever they want. Instead of employing a standard order book model, MCDEX uses an automated market maker to offer liquidity for traders.
MCDEX alleviates the liquidity issue by allowing anyone to offer liquidity while earning a decent profit.
The protocol's stated objective is to allow anybody to build and trade in everlasting markets, which is why MCDEX has various market participants: AMMs, operators, liquidity providers, traders, keepers, and delegators.
Exchange: $MCB has a 24-hour trading volume of $157,087, trading on MEXC, FTX, Uniswap (V3), ZT, and PancakeSwap (V2).
CRODEX (CRX)
Unit Price: $4.06
Market Cap: $400,000
Distinct Features: The CRX token is unmineable, with a total supply of 100,000 tokens. This means that its holders have no mint vulnerability issues.
CRODEX Exchange is diligent about being the greatest trading platform for all new projects, using Cronos' lightning-fast speed. CRODEX has the fortunate distinction of being one of Cronos' first and most well-known Decentralized Exchanges (DEX).
Some notable features:
Yield Generation – Users can earn CRX by participating in liquidity pools!
Trading Tools – The Trading Tools site provides access to analytics, portfolio management, charts, liquidity events, and many other key datasets.
Governance – Holders of the CRX Token can participate in the decision-making process for CRODEX's future expansion.
Gamification – Users can use the farming platform to earn limited-supply rewards tokens that can be used to purchase impending NFT-based gaming features.
Exchange: CRX has a 24-hour trading volume of $7,473.88 and it's trading live on CRODEX.
Anyswap (ANY)
Unit Price: $4.61
Market Cap: $85,523,272
Distinct Features: Fusion is the engine that drives Anyswap. To ensure asset security, Fusion Network employs a mechanism known as private key sharding, in which the private key is divided into many pieces and handled by various network nodes.
Launched in July 2020, Anyswap is a completely distributed system that allows tokens from various platforms to be traded. It is one of several networks that have joined the DeFi industry to enable cross-token exchanges and trading.
Anyswap's smart contracts are open source, which improves security through individual audits. Anyswap's open-source nature is crucial since it makes it easy to determine whether a platform is decentralized. The most crucial aspect of Anyswap is that the token allows users to exchange cryptocurrencies instantly.
The ANY token also allows holders to choose which coins should be listed on the Anyswap DEX, its decentralized exchange.
Exchange: With a 24-hour trading volume of $640,763, ANY is trading live on Gate.io, BKEX, Bibox, SpookySwap, and 1inch Liquidity Protocol.
Uniswap (UNI)
Unit Price: $5.46
Market Cap: $4,161,971,819
Distinct Features: The protocol inventifies activities by limiting risk and lowering costs for all participants by automating the market-making process. The technique also eliminates the need for users to provide identification.
Launched in November 2018, Uniswap is a well-known decentralized trading system that facilitates the automated trading of decentralized finance (DeFi) tokens.
Uniswap, an example of an automated market maker (AMM) has grown in popularity this year due to the DeFi craze and concomitant spike in token trading. Uniswap's goal is to keep token trading automated and entirely available to anyone who owns tokens while enhancing trading efficiency compared to traditional exchanges.
Uniswap increases efficiency by using automated ways to solve liquidity difficulties, avoiding the problems that plagued the early decentralized exchanges.
Exchange: With a 24-hour trading volume of $128,743,858, UNI is trading live on Binance, BTCEX, OKX, Bybit, and BingX.
Balancer (BAL)
Unit Price: $5.71
Market Cap: $250,656,587
Distinct Features: Balancer has a unique feature in that many tokens can be added without using ETH.
Launched in March 2020, Balancer is an automated market maker (AMM) that was introduced on the Ethereum blockchain. The Balancer protocol serves as a self-balancing weighted portfolio, a price sensor, and a liquidity source.
It enables users to benefit by contributing to customized liquidity pools using its recently launched token ($BAL). The protocol's distinguishing characteristic is that it allows liquidity providers to hold up to eight assets per market, which are weighted by percentage and automatically rebalanced.
Users of Balancer are not required to deposit 50% of the desired asset but may deposit any amount of a supported asset. Another unique aspect of Balancer Lab is that customers can earn a high return on assets that are in low demand by taking advantage of arbitrage opportunities and reducing slippage.
Exchange: BAL is trading live on Binance, OKX, Bybit, BingX, and MEXC with a 24-hour trading volume of $14,576,462.
Disclosure: This is not trading or investment advice. Always do your research before buying any cryptocurrency or investing in any services.