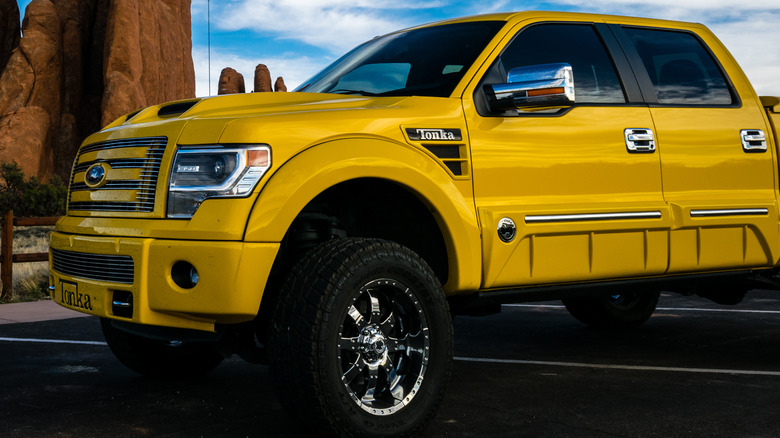 Kyle Brutke/Shutterstock
In 1946, a company called Mound Metalcraft was founded in Mound, Minnesota, near the shores of Lake Minnetonka. Although Mound Metalcraft was primarily fixated on manufacturing garden tools, a former occupant of Mound's production facility, a toymaker, encouraged the company to branch out into metal toys. A decade later, with the toys far outselling Mound's other products, the company name was officially changed to Tonka Toys Incorporated and the rest is history. 
Apparently, someone at Ford is a big fan of the tough, realistic toys, because as far back as 2002, the automaker displayed an enormous Tonka-inspired F-350 Super Duty at various auto shows. The Tonka concept truck was even loaned out to country artist Toby Keith for a starring role in the music video for his hit "Who's Your Daddy."
In 2013, Ford got more serious about making a life-size Tonka a reality for regular folks. After the proper licensing was secured from Hasbro toy company, the current owner of the Tonka brand, Ford pulled in the Tuscany Motor Company from Elkhart, Indiana, to customize the stock trucks that Ford would provide. Not just any fly-by-night custom shop, Tuscany Motor Company is a designated Ford Qualified Vehicle Modifier, which involves an annual review and inspection by Big Blue.
It was nearly as powerful as a Hellcat
So what, precisely, does the Tonka transformation look like? Tuscany starts with a 6-inch suspension lift from Pro Comp to make room for the giant 20-inch wheels shod with BF Goodrich All-Terrain tires in size 325/60R20. More aggressively treaded BFG Mud Terrains are also an option for those who don't mind some extra road noise on the highway. 
Of course, more power is needed to turn those big tires and the Ford F-150 Tonka doesn't disappoint. An optional supercharger and related tuning from Shelby America combine with a performance exhaust system to take the already stout Ford V8 to a level of approximately 700 horsepower, which is Dodge SRT Hellcat territory.
Besides the prerequisite yellow paint, the exterior is adorned with all manner of fender flares, beefy body cladding, a color-matched hard tonneau cover, running boards, and a hood with functional dual scoops. Needless to say, there are Tonka emblems everywhere. Earlier versions of the Ford F-150 Tonka have accessories such as wheels, running boards, and exhaust tips decked out in chrome, but in later years, Tuscany shifted to a blacked-out treatment instead.
[Featuredimagebyartistmacvia[FeaturedimagebyartistmacviaWikimedia Commons | Cropped and scaled | CC BY-SA 2.0]
Production details are murky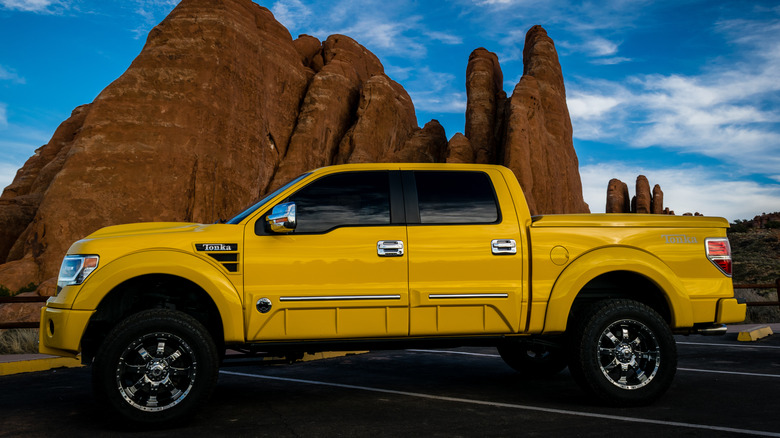 Kyle Brutke/Shutterstock
It's difficult to locate precise information about how many F-150 Tonka editions were manufactured, or even if and when Tuscany stopped churning them out. Some Ford dealerships still list the trucks as available for special order on their websites, but it's unclear if those pages are outdated. The lifesize Tonka F-150s spotted in photos or internet videos all appear to be from the model year 2016 at the latest.
Per Hagerty, Tuscany didn't meet its goal of 200 trucks converted in 2016, with only 128 units completed, so it's plausible that the plug could have been pulled after 2016. The price for the 2016 Tonka edition when new was $96,304, which was more than double the $45,845 base price of a stock 2016 F-150 Lariat 4×4 on which the Tonka was based. But really, is it possible to put a price on getting to act like a kid again? Just ask Toby Keith.