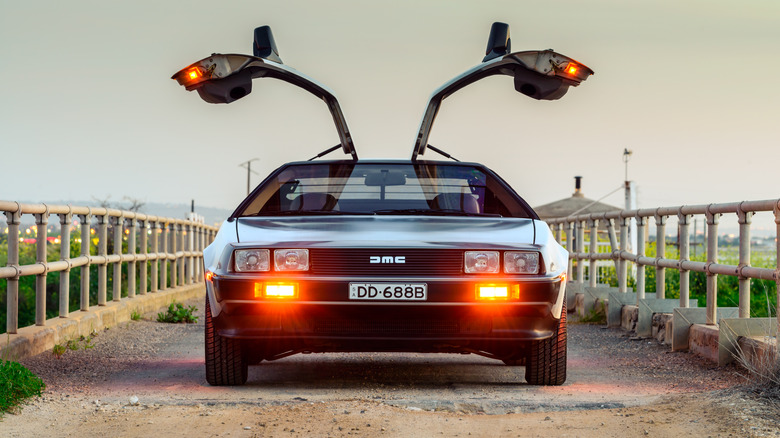 Moisseyev/Getty Images
There's something about cars with gullwing doors that make people reach for their smartphones and take photos. Gullwing doors differ from Lamborghini's scissor doors since the former is hinged on a roof section and opens upwards. Most new vehicles have conventional doors that swing outwards, while luxury brands like Rolls-Royce have reverse-opening suicide doors. But if a particular carmaker wants to make an immediate visual impact with any new vehicle, installing a pair of gullwing doors should do the trick.
The earliest example of a car with gullwing doors is the Bugatti Type 64 prototype. Conceived in 1939 by Jean Bugatti with what the French call "papillon doors," Type 64 was supposed to be the successor to the brand's legendary Type 57. However, Jean Bugatti's untimely death in 1939 and the German invasion during WWII sealed the demise of the Type 64. But before all that happened, the Bugatti factory officially produced a single Type 64 prototype and two chassis models without bodies.
Since Jean Bugatti's prototype, the automotive industry has produced several cars with gullwing doors. Here are some of the coolest and most unforgettable.
Mercedes-Benz 300SL (1954)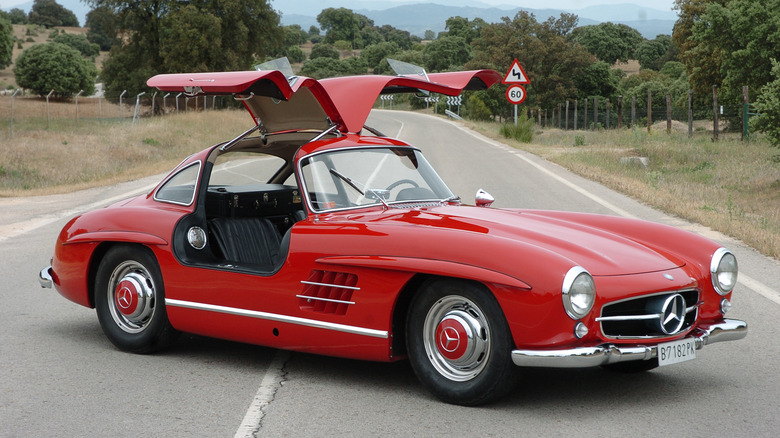 FernandoV/Shutterstock
When auto enthusiasts say "gullwing," it typically refers to the Mercedes-Benz 300SL that debuted in 1954. The German automaker was not the first to produce a car with gullwing doors, but it's safe to assume the 300SL is the first production car with such a feature. Then again, Mercedes engineers created the gullwing out of necessity rather than for art's sake.
The 300SL gullwing coupes have a tube-frame design inspired by the all-conquering W194 racing cars of 1952, leaving little to no space for the driver to enter the vehicle if fitted with conventional doors. The solution was to extend the doors into the roof and hinge it on top, creating the iconic gullwing doors that people still covet today. Mercedes-Benz produced 1,400 300SL gullwing coupes from 1954 to 1957, and you'll need to spend $1.5 to $3 million to own one.
Special mention goes to the Mercedes-Benz SLS AMG, the first vehicle developed entirely by the German automaker's high-performance AMG division. As the successor to the iconic 300SL, the SLS came with "exploding gullwing door bolts" as a precautionary safety feature.
Bricklin SV-1 (1974)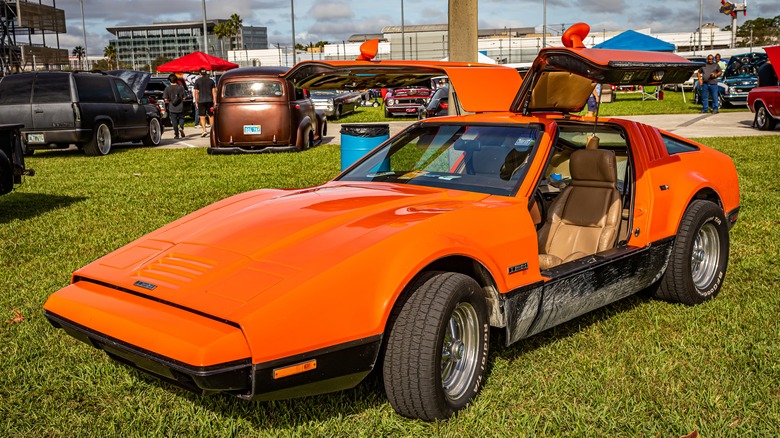 Gestalt Imagery/Shutterstock
We don't blame you if you've never heard of the Bricklin SV-1. It's a Canadian wedge-shaped sports car with gullwing doors and a Corvette-beating resume, equipped with either a 5.9-liter AMC V8 or a 5.9-liter Ford Windsor V8 engine. The Bricklin SV-1 has 175 horsepower, is 130 pounds lighter than a C3 Corvette Stingray, and could run the quarter mile in 16.6 seconds. Moreover, the SV-1 stands for "Safety Vehicle One" and was the safest car on the road with its integrated steel roll cage, side guardrails, fiberglass body, and energy-absorbing bumpers.
However, each of the Bricklin SV-1's gullwing doors weighs 90 pounds, and it opens or closes using a hydroelectric system that takes 12 seconds to raise or lower each door. It also had electrical issues, inconsistent body panels, a cheaply-built interior, and pop-up headlights that failed consistently. But then again, the limited production numbers, safety features, and those gullwing doors make it hard to forget the Bricklin SV-1 despite its inherent flaws.
Aston Martin Bulldog (1979)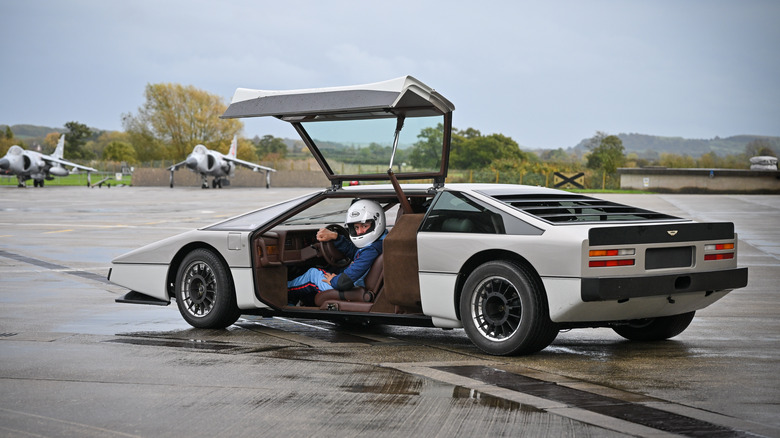 Finnbarr Webster/Getty Images
Aston Martin built the Bulldog concept in 1979 with a single goal: To make it the fastest production car the world has ever seen. It has a wedge-shaped profile typical of sports cars from the same period, and it was unlike any Aston Martin before it. The Bulldog is a mid-engined supercar with gullwing doors and a twin-turbocharged 5.2-liter V8 producing 650 horsepower. However, a changing of the guard at the Aston Martin HQ in 1980 put a screeching halt to the automaker's plans of making 15 to 25 examples of the Bulldog.
Before shelving the project, Aston produced a single Bulldog prototype and sold it to a collector from the Middle East in 1984. It resurfaced in the UK in 1997 and at the Goodwood Festival of Speed in 2009 with a refurbished interior, four Weber carburetors, and fresh green paint. After undergoing a complete restoration, the Bulldog broke the 200-mph speed barrier by clocking 205.4 mph at a former NATO airfield in Scotland.
DeLorean DMC-12 (1981)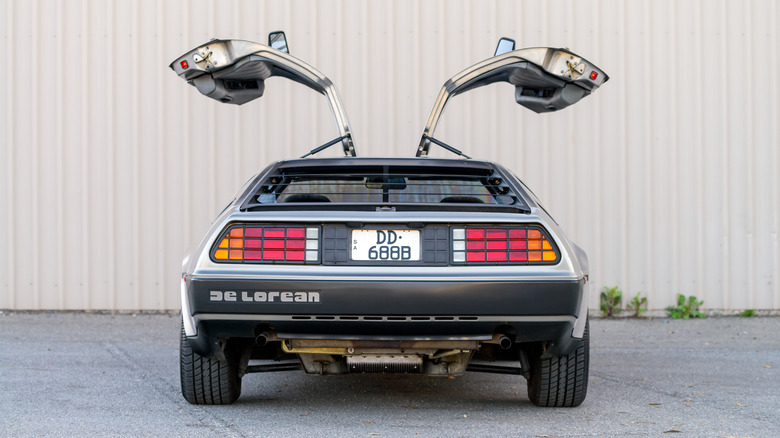 myphotobank.com.au/Shutterstock
The Delorean DMC-12 requires no introduction. It had a starring role in the "Back to the Future" movie franchise as Dr. Emmet Brown's time machine of choice. After leaving a senior executive position at General Motors, John Z. DeLorean established the DeLorean Motor Company (DMC) in 1981 to build his dream car for the masses, the DMC-12. The vehicle has gullwing doors, stainless steel body panels, a rear-mounted V6 from Peugeot-Renault-Volvo, and a Lotus-tuned suspension system.
However, build-quality issues plagued the DeLorean factory in Northern Ireland. Moreover, the V6 engines were tepid at best, and the 35:65 front-to-rear weight distribution made the car oversteer at first sight of a curve. DMC went bankrupt in 1982 after FBI agents arrested John DeLorean in a sting operation, but the mystique of the DMC-12 remains highly coveted to this day. DMC produced 9,000 units of the DMC-12 from 1981 to 1982, and reportedly two-thirds of the original production cars are in the hands of collectors worldwide.
Tesla Model X (2015 to present)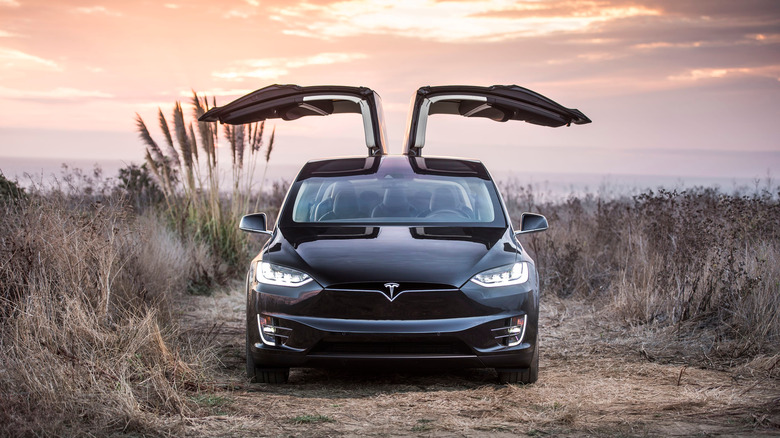 canadianPhotographer56/Shutterstock
The Tesla Model X debuted in 2015 with rear Falcon doors, a company blurb for what are conceivably gullwing doors. The Model X remains a goalpost for most EV makers by offering a sleek design, exhilarating performance, modest range numbers, and many modern features. The base Tesla Model X has dual electric motors, an all-wheel-drivetrain, and 348 miles of range while zipping from zero to 60 mph in 3.8 seconds.
On the other hand, the Model X Plaid is worth every penny of its sub-$110,000 base price. It has three electric motors that produce 1,020 horsepower, enough to push it from zero to 60 mph in 2.5 seconds and a quarter mile in under ten seconds, making the Model X one of the quickest SUVs on sale today. Plus, despite its unbelievable performance merits, the Model X Plaid still achieves around 333 miles of range before recharging. Finally, the Model X is the only modern SUV with rear gullwing doors.