THE MORNING LEAD
The 15-minute city: how Ireland's conspiracy theorists grew to fear an urban planning concept
The concept has become an unlikely flashpoint in a global culture war.
ALMOST TWO MONTHS before bemused observations accompanied dire warnings about the '15-minute city' on social media, Gemma O'Doherty was among the few people in Ireland who openly railed against the concept.
"Marxist Dublin councils are planning to lock you down on a permanent basis through their #15minutecity prison system," the anti-lockdown campaigner and former newspaper journalist claimed on Twitter in early January.
"Tell everyone you know about this and how these criminals want to control your every move."
In the weeks since, conspiracy theories about the '15-minute city' – a trendy but bland urban planning concept – have snowballed in conspiracy communities here and abroad.
Five people were arrested in Oxford last week during a protest against a plan stemming from the idea of a 15-minute city, while Tory MP Nick Fletcher also claimed in the House of Commons this month that the "socialist" idea would reduce personal freedoms.
The concept has now become an unlikely flashpoint in a global culture war, and its popularity is gaining momentum in conspiracy groups that were once dedicated to fighting Covid-19 lockdowns.   
But despite claims by these groups to the contrary, the '15-minute city' concept is neither Marxist in origin nor a form of totalitarian control.
In a nutshell, the 15-minute city is a system of urban planning that would enable every resident in a city to access the daily amenities they might need – work, housing, health, education, and culture and leisure – within a 15-minute walking or cycling distance.
Underlying the concept is the hope that it could enable people to live more sustainably, reducing the need for private vehicles and a wider reliance on fossil fuels, as well as an improvement in local areas and citizens' quality of life.
But just because the idea envisages that all daily amenities can be found within a 15-minute radius, it doesn't mean there is a limit on where citizens can go: people will still be allowed to move freely about if they so choose.
"This is really about enhancing people's quality of life," explains Niamh Moore-Cherry, a Professor of Urban Governance and Development at the School of Geography in UCD.
"If you think about how small towns in Ireland would have evolved: people might have lived over a shop; they would have had their business there; they might have walked to school; they'd have the local library, the post office and the bank. Everything was pretty accessible.
"But the nature of planning has changed. We have these more sprawling cities with developments on the edge, so people are in their cars, traveling longer distances, just to access basic things. And the centres in our towns are dying.
"This is something that the idea of the 15-minute city could really help to tackle, by kind of encouraging the redevelopment of our town centres rather than building more new things that are further and further away."
Covid pandemic
The concept of the 15-minute city is attributed to the Colombian urbanist Carlos Moreno, who is said to have developed the idea in 2015 and then coined the term '15-minute city' the following year.
The idea became particularly fashionable during the Covid-19 pandemic, when remote working became more commonplace and people couldn't travel long distances.
A number of cities across the world, including Paris, London, Melbourne, Buenos Aires and Milan, have since introduced policies based on the '15-minute' concept, while others have signaled their intention to do so.
In Dublin, the idea has been adopted as part of the city council's latest Development Plan, which runs until 2028, with the hope that doing so will "strengthen the connection between people and the places they live by building on local character".
"It means that if you don't want to have long commutes away from your family or where you live to do things you need, you can do it in your local area," Green Party councillor Michael Pidgeon says.
It won't have huge planning implications, and it won't have the implications that groups say it will – if people want to travel outside their local area to do things, they'll be able to do that as well.
However, the broader move to more remote living during the pandemic also acted as a catalyst for conspiracy theorists to band together. 
As well as popularising the idea of remote working and staying local, the lockdowns introduced in response to the spread of Covid-19 united various conspiracy groups in a way that has never been seen before.
Among other theories, the pushback against lockdowns also evolved into a false narrative that Covid-19 measures were a precursor to future lockdowns related to climate change.
Believers in that conspiracy claim that governments will use climate change as a front to prohibit people from using cars, eating meat, or traveling a certain distance outside their area. 
That has led to a wave of post-pandemic conspiracies and protests against measures to protect the climate and ideas that promote sustainable living – like the 15-minute city, which is held up as 'evidence' of impending restrictions on the distance people can travel.
"As populations recover from the trauma of the pandemic, there is greater fear and grievance to capitalise upon, and a broader constituency who could be turned against climate action," a report from the Institute for Strategic Dialogue (ISD), a group that monitors misinformation, warned.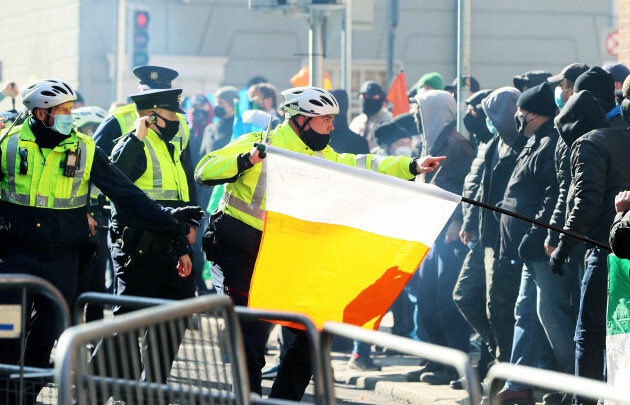 PA
Gardaí and demonstrators during an anti-lockdown protest in Dublin

PA

Oxford protest
Although climate conspiracies – including those about the 15-minute city – remain on the fringes in Ireland, they are the subject of increasing discussion among groups here.
Since the middle of last month, conspiracies about the 15-minute city have gathered momentum among conspiracy influencers and in channels originally set up to protest against Covid-19 lockdowns, 5G technology and other measures.
"Every town and every city throughout the UK and Ireland should declare an all-out ban on 5G, smart meters, 15 minute towns/cities and end this military style takeover of our nation," one post in an Irish anti-5G group on Facebook this week read.
"The people of Ireland, especially Dublin, need to get onto the streets and protest against the 15 minute city farce, they want to restrict freedom of movement," another Twitter user wrote.
The opposition to 15-minute cities here can be traced back to a campaign and protests against a traffic reduction scheme in Oxfordshire in the UK.
The proposal, which would prevent drivers in Oxford from using certain routes at peak times, was incorrectly conflated with the 15-minute city idea in social media posts beginning in December and has gathered pace since then.
The system is already in place in a number of English cities and Oxford was simply going to make it permanent (it had already been implemented during the pandemic), but the news was seized upon by conspiracy theorists who labelled it a "climate lockdown".
Last month, a critical leaflet campaign by a group called Not Our Future claimed that people in the city were "guinea pigs" and that councillors had been "duped" into bringing in the proposal.
The leaflets also falsely linked the plan to United Nations climate change measures – and incorrectly suggested that climate change is a hoax.
An investigation has since found that the campaign by Not our Future is being boosted by "an international network of established climate and Covid science deniers and amplified by right-wing media".
BBC use false claims to try to debunk our (too) successful Oxford leaflet drop. Where next? We're looking at a few places… https://t.co/F36kABs1z5

— Not Our Future (@Not_OurFuture) January 14, 2023
But since the campaign began, posts about 15-minute cities have been shared by Irish users almost daily in what were once anti-lockdown groups on the messaging app Telegram – often forwarded from other conspiracy groups with a UK focus.
One Telegram channel this week claimed that Ireland is "getting ready to launch 15-minute zones', while several channels shared videos of protests in Oxford last week celebrating demonstrators for rallying against 'restrictions' on freedom of movement.
Social media users have repeatedly shared a presentation to Dublin City Council last year outlining how the 15-minute city concept would work in the capital.
And in recent weeks, Irish Telegram users have variously described the 15-minute city concept as "Nazi 15-minute districts", "digital gulags", "prison camps" and "smart city prisons".
The latter term can also be traced back to earlier conspiracies about another concept called the 'smart city', in which electronic methods are used to gather information from citizens, devices, and buildings to help improve operations in an urban area.
Conspiracy theories about this concept claim, among other things, that world governments have linked up with Big Tech firms including Google and Microsoft to introduce mass surveillance via facial recognition and microchips in Covid-19 vaccines.
They also suggest that the plan to introduce smart cities are being ushered in by the World Economic Forum as part of the Great Reset, which conspiracy theorists believe is part of a plan by global elites to introduce a world order and erode personal freedoms.
Death threats
But although the 15-minute conspiracy remains on the fringe here, recent events in Oxford – and in Ireland during the pandemic – show how far things can go if disinformation is left unchecked.
In Oxford, unfounded claims have drowned out the voices of those objecting to the new measures for traditional reasons, such as local businesses who fear a loss of revenue. 
Misinformation reached such levels before Christmas that Oxfordshire County Council and Oxford City Council were forced to issue a joint statement denying that residents would be confined to their own 15-minute areas. 
And staff and councillors working for both authorities reported how they were subjected to abuse, including in the form of death threats.
"I'm still feeling a bit bruised, if I'm honest, and a bit cautious," Duncan Enright, a member of Oxfordshire County Council who experienced threats over the proposal, told the BBC.
"This is something I've never experienced before in many years in local politics."
Ireland, of course, is no stranger to threats from conspiracy theorists railing against what they see as the government's tyranny.
Demonstrations against Covid lockdowns in recent years occasionally turned violent, while senior Government figures were also given security advice after anti-vaccine protesters picketed outside their homes.
The ISD previously warned that the violent rhetoric of Covid-sceptic groups, which now form the basis of those warning about climate lockdowns, should "not be underestimated".
At present, no new marches against the idea are in the pipeline in Ireland. But if disinformation gathers momentum, protests may yet come to pass.
"I've heard this referred to as climate lockdown, but this is not about locking people down," UCD's Professor Niamh Moore-Cherry adds.
"It's not about restricting movement. It's actually the complete reverse. It's about people making people's lives easier and better and giving them more time to do the things they want to do themselves."