Image: Mark Hachman / IDG
At a glance
Expert's Rating
Pros
Solid performance and great battery life
Entry-level RTX 4xxx-series GPU
Gorgeous, powerful OLED screen
A 1080p webcam with Windows Studio Effects
Good interaction with Galaxy device ecosystem and apps
Cons
Average keyboard, trackpad
Audio needs some tweaking
Our Verdict
Samsung's Galaxy Book3 Ultra is Samsung's excellent first entry into the content-creation PC space. This thin laptop packs power and battery life behind a superb screen though at a fairly high price.
Price When Reviewed
From $2,099.99
Best Prices Today: Samsung Galaxy Book3 Ultra
$2,100.00
$2399.99
Samsung's Galaxy Book3 Ultra challenges all comers in content creation, a market Samsung hasn't previously addressed with its Book3 series. But this sleek 16-inch laptop with its stunning OLED screen combines both a 13th-gen Intel Core CPU and a new Nvidia GeForce RTX 4050 GPU, giving you an entry point into the latest PC hardware.
There's a lot to love here. You're getting outstanding battery life, a lovely design, modern Thunderbolt 4 ports, and more. No, the GPU isn't what you'll find in a true gaming notebook and the keyboard is a bit shallower than other productivity laptops. You'll be hard-pressed, however, to find a better notebook PC for content creation.
Looking for more content creator laptops? Check out our top picks on our roundup of the best laptops.
Samsung Galaxy Book3 Ultra: What it offers, where it fits
Samsung's Galaxy Book3 Pro 360 is one of a small family of new Book3 laptops that consists of the Book3 Ultra, the Book3 Pro clamshell, and the Book3 Pro 360 and Book3 360 two-in-one convertibles. (We've reviewed the Samsung Galaxy Book3 Pro 360 separately, and sister site TechAdvisor reviewed the Book3 Pro.) The Book3 Ultra is the new addition to the family, sporting an Nvidia RTX GeForce 4xxx GPU inside a thicker frame that makes it suitable for content creation and light gaming. It's a market Samsung hasn't addressed with its earlier Galaxy Books.
Samsung's Galaxy Book3 Ultra ships with a single 16-inch display option, though you'll have the choice of two performance configurations like the Core i7/RTX 4050 model that begins at $2,399.99, which we test here, and a Core i9/RTX 4070 version, starting at $2,999.99. The former option also offers 16GB of RAM, while the latter ships with 32GB. For either configuration, you can choose between 512GB and 1TB of SSD storage, though Samsung itself currently offers just a 1TB SSD option.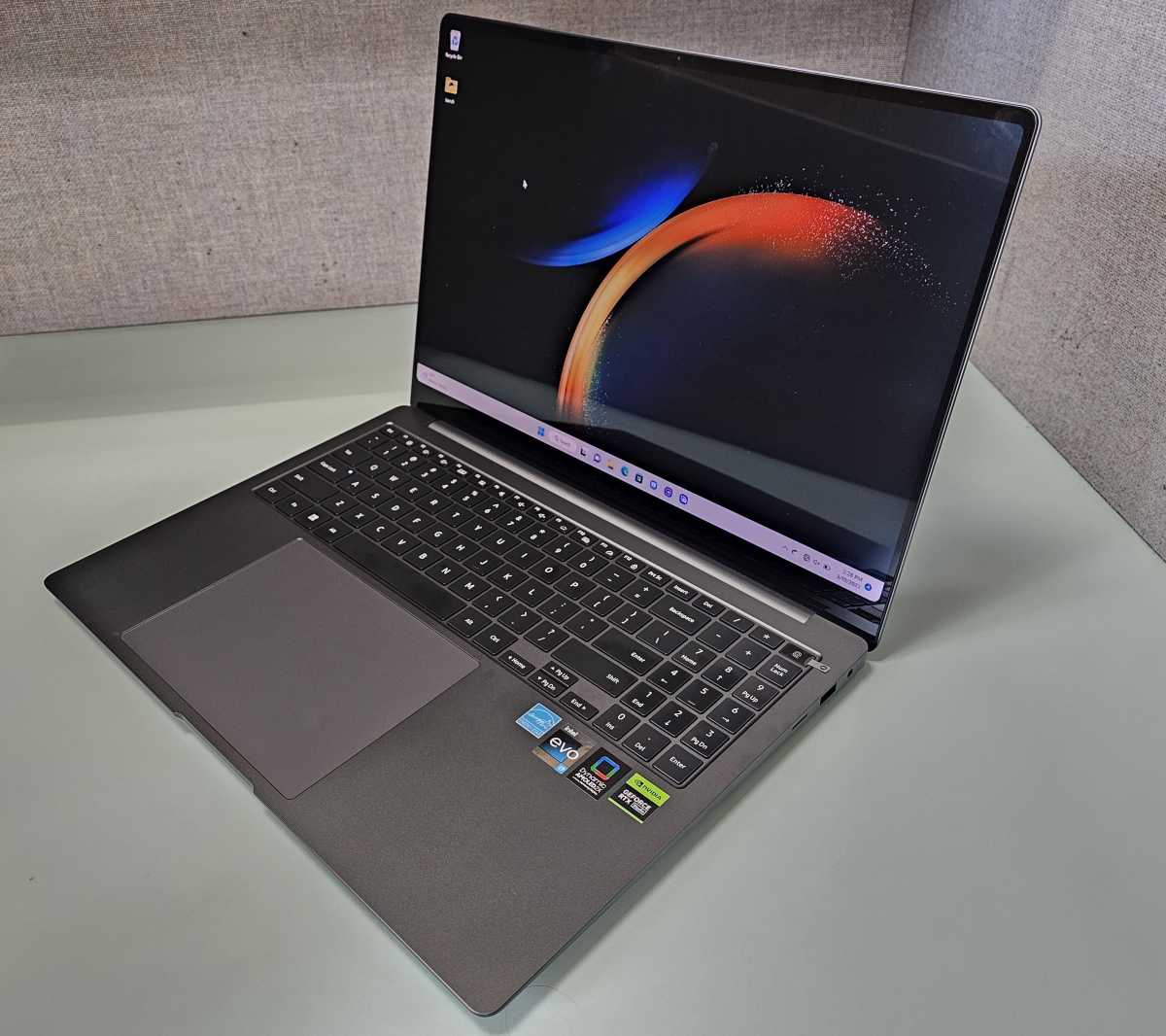 Mark Hachman / IDG
Keep in mind that there's a substantial difference between Nvidia's RTX 4050 mobile GPU and the RTX 4070 mobile GPU, though Nvidia didn't go into too much detail when launching them. Nvidia's RTX 4050 is the least powerful of the RTX 4xxx GPU family. While the 4050 and the 4070 otherwise offer similar features, Nvidia's specifications show that they differ considerably in both memory width and CUDA core count, which will affect gaming performance but may also reduce battery life significantly. As a content creation machine, though, the new capabilities of the GPU's video encoders are just as important.
Put another way, the Book3 Ultra isn't a "gaming" laptop, but a "gaming-capable" laptop. Content creation and consumption is its primary purpose.
Samsung Galaxy Book3 Ultra: Specifications
Processor: Intel Core i7-13700H/Core i9-13900H (Core i7 as tested)
Display: 16-inch non-touch (2,880×1800), 120Hz AMOLED 2X, 400 nits, 120% DCI-P3 color volume
Memory: 16GB/32GB LPDDR5 (16GB as tested)
Storage: 512GB/1TB SSD plus expansion slot (1TB as tested)
Graphics: Nvidia GeForce RTX 4050/4070 Laptop GPU (RTX 4050 as tested)
Ports: 2 Thunderbolt 4, USB Type-A, HDMI 2.0, microSD, Headphone/Mic
Security: Fingerprint reader
Camera: 1080p (user-facing)
Battery: 73.8Wh (rated) / 74.5Wh (actual)
Wireless: Wi-Fi 6E (Gig+), 802.11 ax 2×2, Bluetooth 5.1
Audio: AKG Quad Speaker (two 5W woofers, two 2W tweeters), Smart Amp, Dolby Atmos
Operating system: Windows 11
Dimensions:  13.99 x 9.86 x 0.65in. (16.5mm)
Weight: 3.95lbs (rated)
Colors: Graphite
Price:  beginning at $2,399
After recently reviewing the Samsung Galaxy Book3 Pro 360, the additional weight and thickness that the Ultra offers is a bit of a shock. Like the other Book3 laptops, however, the aluminum chassis attracts fingerprints readily, which show up as smudges on the black Graphite surface. The Ultra doesn't feel especially thick—just more like a traditional laptop than Samsung's ultrathin Book lineup. At 14 inches wide and about four pounds, however, the weight is noticeable.
We said similar things about the Book3 Pro 360, with the caveat that the relatively tiny gallium nitrate (GaN) charger offset those concerns. Here, the charger adds to them, unfortunately. You probably have older devices that combine the power transformer and the plug into the same unit: "wall warts". Here, there's a sizeable power brick (70mm x 75mm, or about three inches on a side) with a plug on one side of it, which can make plugging into the wall or even a power strip a little awkward, depending on the orientation. Samsung might rethink this with its next generation.
The charger does accomplish one thing, though, it powers up the Book3 Ultra quickly. Samsung claims that the Book3 will charge to 55 percent in 30 minutes. That's true, provided that you leave the laptop closed and in a sleep state. When open, we recorded a charge of about 25 percent during the same time.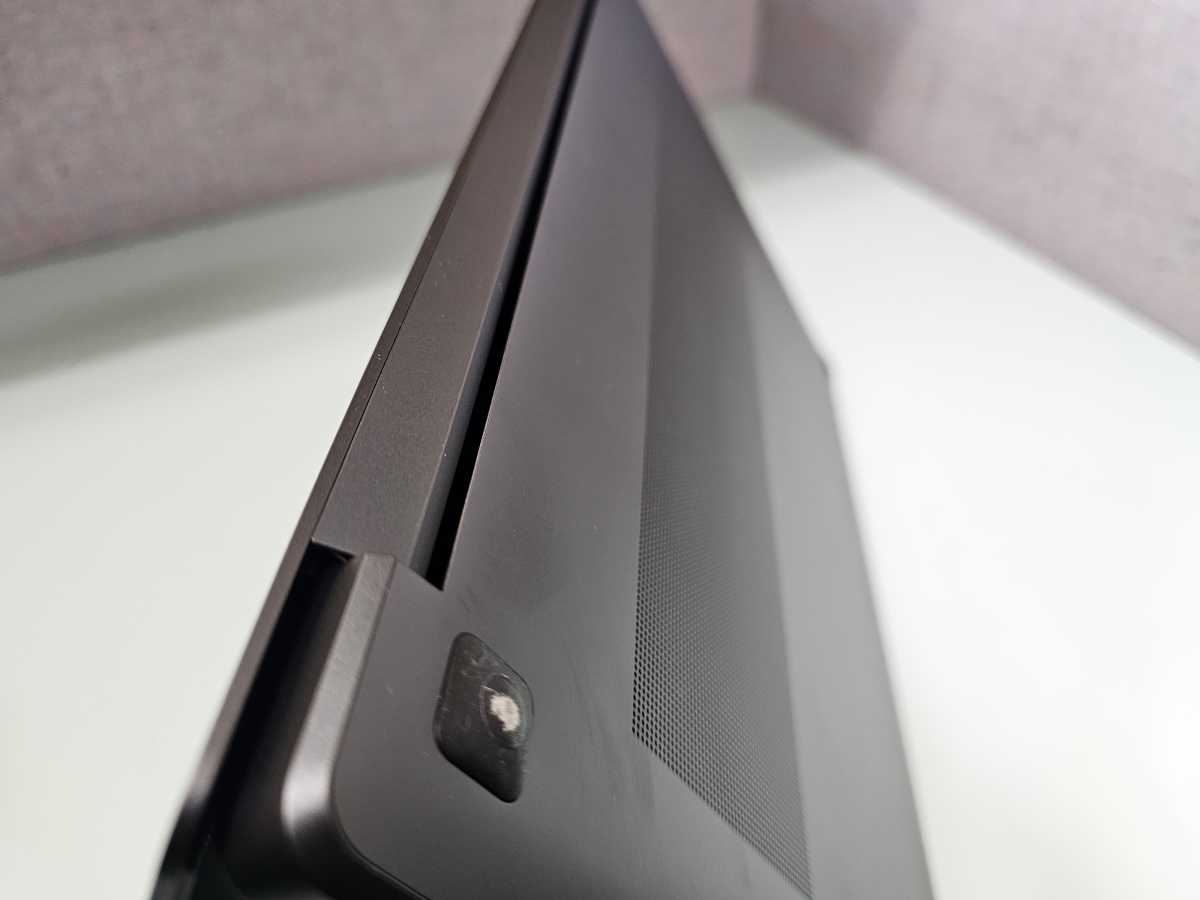 Mark Hachman / IDG
The Book3 Ultra's lid opens up with just the crook of a finger, exposing the gorgeous AMOLED 2X screen inside that fills almost all of the available space; there are no chunky bezels on this device. The new AMOLED 2X OLED is a key selling point of the Book3 lineup and it applies here. OLEDs are simply gorgeous displays, with absolute jet blacks that underscore the terrific contrast ratio.
In the real world, you won't notice as much impact on day-to-day office work, with its multicolored images and light backgrounds. If you prefer dark mode, however, it's a bonus. Movies, though, are where it really shines. Dark scenes appear truly dark, which adds an additional layer of visual fidelity to the experience.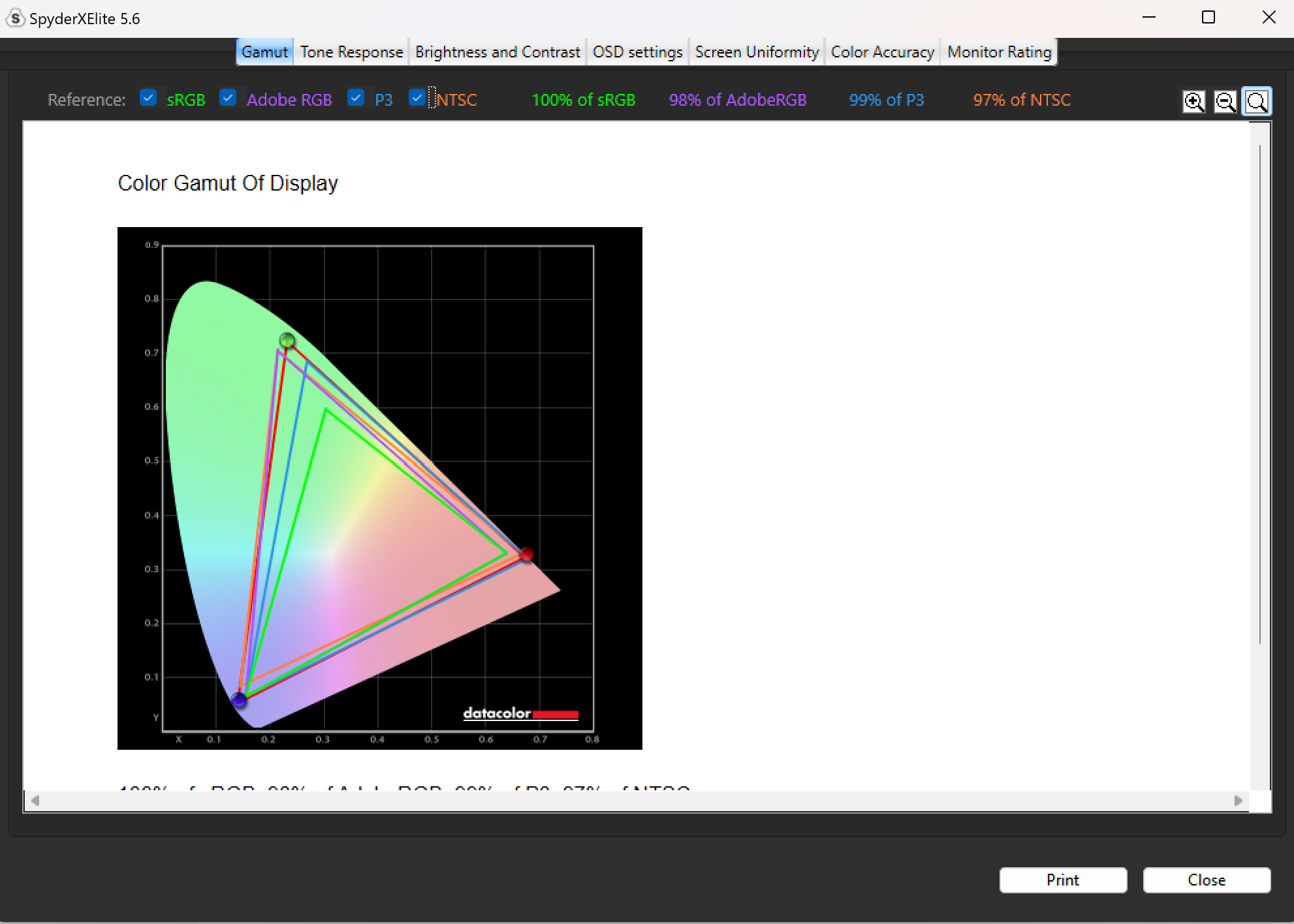 Samsung claims that the laptop produces 120 percent of the DCI-P3 color gamut, which simply translates into brighter, more vivid colors, as well as being rated for VESA ClearMR and DisplayHDR TRUE BLACK 500 certified. The Pro 360 OLED display does feature dedicated modes for DCI-P3, AdobeRGB and sRGB, as well as an "Auto" mode that presumably optimizes itself for the application. Based on our colorimeter, the Book3 Ultra appears to accommodate the full range of the color gamuts we tested under.
Samsung also claims that the display reduces blue light by 78 percent while in dark mode versus its light mode, which we haven't been able to verify. It's an interesting claim, though, because normally laptops reduce blue light while in "light mode," skewing the display towards yellowish tinges. The Book3 Ultra does the latter, too. However, reducing the amount of light hitting your eyeball while in dark mode and lowering the amount of blue light certainly should appeal to migraine sufferers.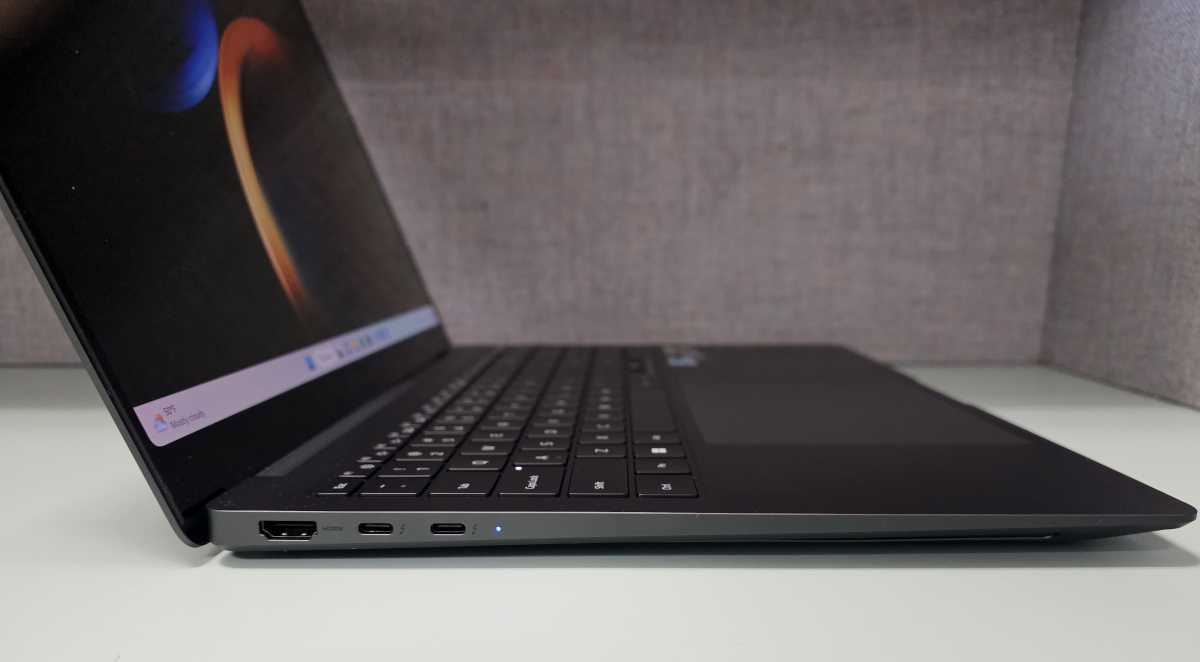 Mark Hachman / IDG
Samsung's new AMOLED 2X offers more than just visual improvements, though. Like the Microsoft Surface Laptop Studio, the Book3 Ultra's display is a "dynamic" 120Hz. When needed, the display can dial down to a more conservative 60Hz when idling, saving power. When necessary the display can increase its refresh rate to 120Hz, offering smoother mousing and gameplay. Normally, this helps inking, too. However, the Galaxy Book3 Ultra does not ship with a touchscreen, or a pen. For that, there's the Book3 Pro 360 instead.
Samsung Galaxy Book3 Ultra: Chassis and ports
When we first opened up the Book3 and began setting it up, we noticed the distinct high-pitched tones that indicate coil whine, when the fans speed up to cool the laptop down. In fairness, however, we haven't heard them since. Instead, the Book3 Ultra sucks in air through a small matrix of holes in the bottom of the chassis and pushes it out the back, though the hinge. The hiss it produces is noticeable though not overwhelming. We'd expect more noise, though, if you opt for the Core i9/RTX 4070 option instead.
On the left side of the Book3 Ultra are a pair of Thunderbolt 4 ports, which can be used to connect to a Thunderbolt dock, including for external storage or a pair of 4K displays. Failing that, the Book3 Ultra also offers a dedicated HDMI 2.0 port, which can project to a single external 4K monitor, as well. On the right side, Samsung includes a microSD slot and a legacy USB-A port for a mouse, plus a headphone jack.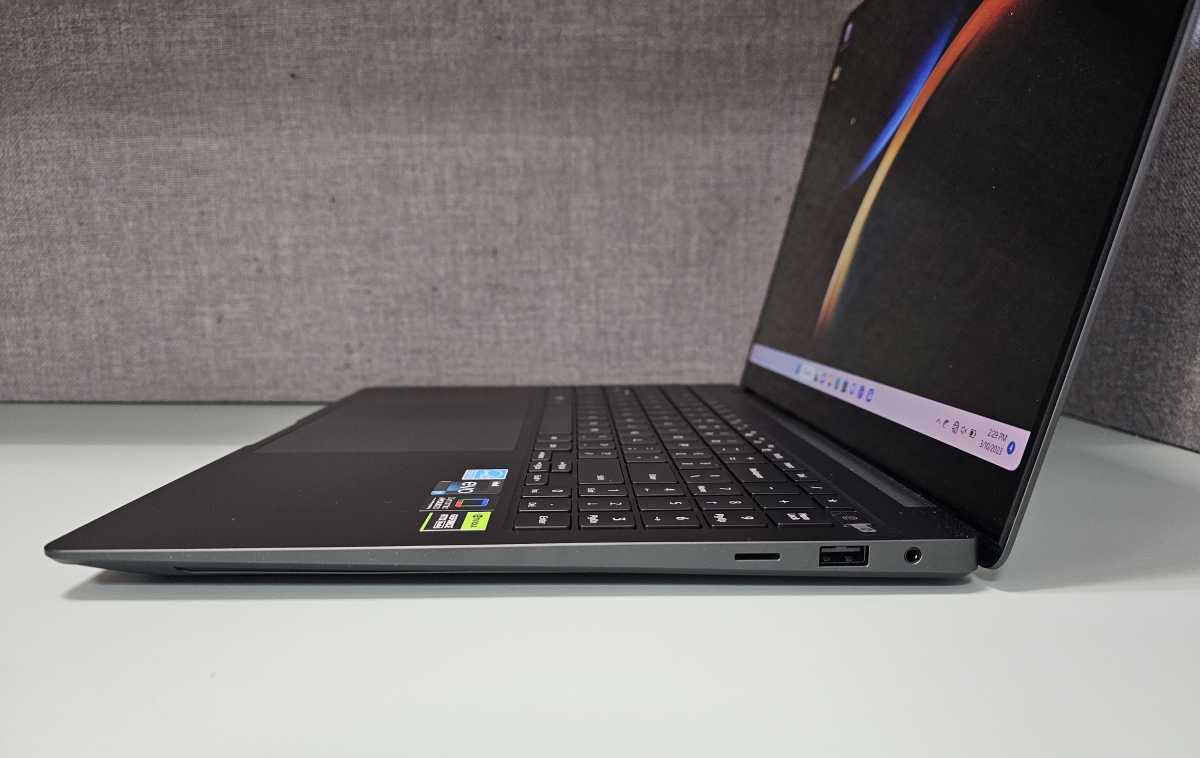 Mark Hachman / IDG
Samsung is a little less pushy than Microsoft in terms of encouraging you to connect your laptop to Samsung's network of apps, services, and devices, but the Book3 Ultra does ask for (but doesn't demand) a Samsung password when you set up the system. Doing so provides some benefits if you own other Samsung devices, and also enables some specific Samsung applications, which we'll talk about later.
Samsung Galaxy Book3 Ultra: Typing experience
Samsung's 1.6:1 display ratio allows for a roomy keyboard, with a narrow number pad to the right-hand side—if you're a right-handed person, that might just be a convenience. As a lefty, though, the number pad is the equivalent of the WASD keys right-handers use, so any laptop with gaming potential earns a plus in that regard. Given that Samsung offers 16-inch options across most of its Book3 line, I would assume that any device you buy in this family will have the same keyboard, and they all should be equally usable.
As I wrote in my Book3 Pro 360 review, Samsung's chiclet keyboards always make me wonder if they'll actually be usable, as their key travel is often shallower than I'd like. While I'm still not sure if I'd prefer them for long-term use, they're comfortable enough. Keyboards have become shallower over time, however, as manufacturers prefer to design thinner systems with less room for deep key travel. That's not a trend I endorse, but Samsung at least has managed a compromise. There are three levels of backlighting.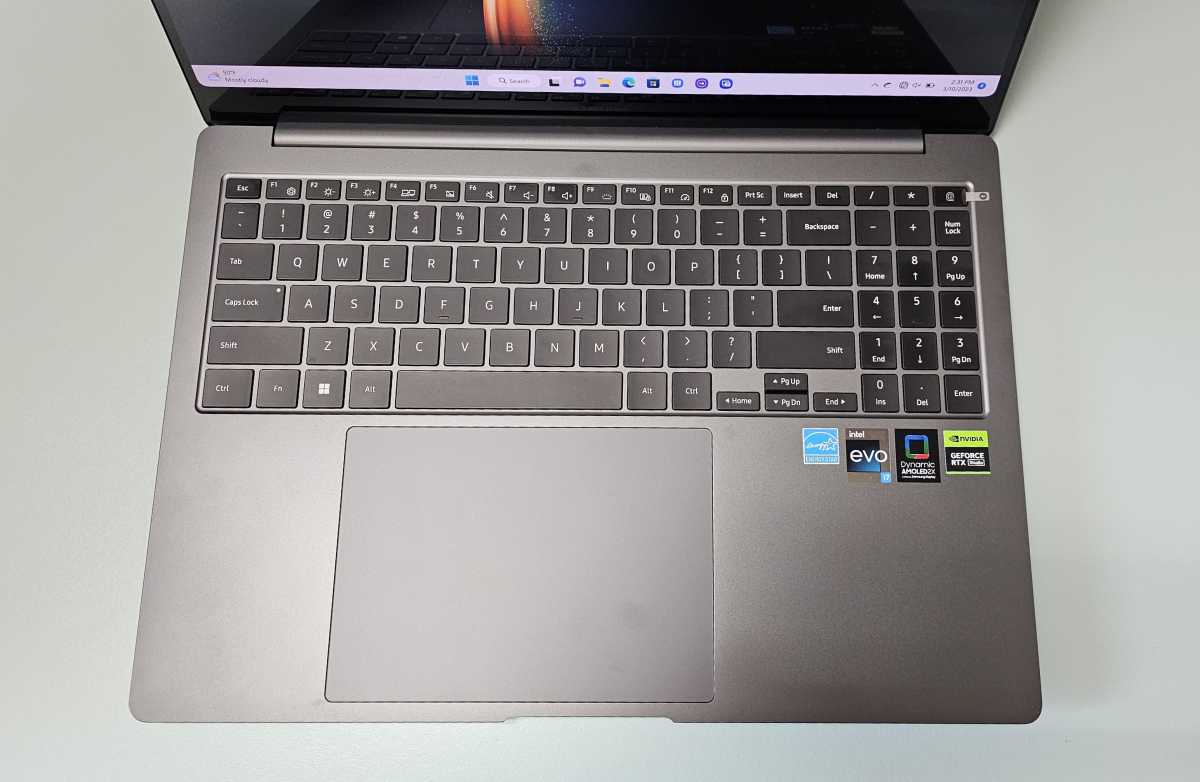 Mark Hachman / IDG
Samsung again chooses to use a fingerprint reader, mounted inside the power button. Pushing it when the laptop is off or in standby allows you to power on and log in at the same time. While depth cameras can log you in quickly, they can become fooled by facial hair, wrinkles, or glasses. The Book3 lineup lacks depth cameras, using the fingerprint reader instead.
Fingerprint readers tend to be more consistent, but they can also become less accurate over time as the sensor becomes smudged. They're also sensitive to schmutz on your finger either during setup or authentication, as the Book3 Ultra was. Put another way, the fingerprint sensor worked acceptably during our time with the Book3, but this means little compared to the long term.
All of the new Book3 models seem to share an additional quirk. The gigantic touchpad at the bottom of the keyboard, which measures a massive 6 inches wide by about 4.25 inches deep. While you can tap upon its full breadth, the upper fifth or so isn't clickable. Even with such an enormous input device, there's still enough room for your palms on either side, though the touchpad is skewed toward the left-hand side. Taken together, the trackpad and keyboard are acceptable, though not outstanding.
Mark Hachman / IDG
I made the mistake of reading TechAdvisor's review of the Book3 Pro right before writing this section and I can't help but agree with Anyron Copeman's take. The Book3 lineup excels at voice playback, whether in terms of music or the spoken word, and falls a bit short everywhere else. Out of the box, the Book3 Ultra and Pro 360 don't sound all that great, and require some tuning of the pre-installed Dolby Atmos app to arrive at an acceptable setting. (As far as I can tell, the Book 3 Pro 360 and the Book3 Ultra produce about the same audio quality.) Otherwise, the audio just sounds a bit distorted, though the volume level is excellent.
The Book3 Ultra uses a pair of downward facing speakers with discrete 5W woofers and 2W tweeters, sufficient to full the room with whatever you're playing back. None of the Book3 lineup provides poor audio; it's just that some other laptops I've heard do better. Again, some tweaking will resolve most issues, and there's a headphone jack, too.
Samsung Galaxy Book3 Ultra: Webcam
When Intel launched its 13th-gen Core chips, the company said that "select" laptops would include a Movidius AI chip inside of them to enable AI effects. To date, the signal for those effects has been the Windows Studio Effects suite, originally launched with the Surface Pro 9 (5G) and its Qualcomm Snapdragon Arm chip. (Arm has integrated AI functions; the current 13th-gen Core chips do not.)
The Book3 includes the AI-powered Studio Effects suite, which includes an on-device replica of the background blurring effects you can find in Zoom, Teams, or Google Meet. HDR effects don't do much. You'll be more impressed with the webcam's ability to automatically pan and zoom, keeping you in frame. Indulge your vanity and turn on Face Effects, which can subtly remove the bags under your eyes from too many late nights.
Otherwise, the 1080p webcam's on the upper end of the spectrum of laptop webcams, with good color balance but a slightly soft focus. Like the Pro 360, Samsung does use AI to help cancel noise in video calls, however, and does so very well via a pair of studio mics.
Samsung Galaxy Book3 Ultra: The Galaxy ecosystem
Samsung developed a suite of its own apps to connect its Galaxy devices such as the Book lineup, Tab tablets, and, of course, its Galaxy phones. These apps supplement and in some cases replace the applications that Microsoft itself provides, like "Link to Windows" as a replacement for Phone Link. This "set bonus" may not justify buying a suite of Samsung devices by themselves. If you do, however, there are benefits, as our tests of the Book3 and the latest Samsung Galaxy phones indicated.
Remember Mouse without Borders? The handy Microsoft app allows you to move a mouse between computers, which is a nifty trick. Samsung's Multi Control app does the same thing, which is a little bizarre—moving your mouse cursor from your laptop to your phone, and interacting with photos and files, even copying them or cutting and pasting—is neat, and useful. It's essentially a return to the old "sneakernet" of just copying files from one device to another. (Yes, you can automatically upload them to the cloud and then re-download them, too, but there's an immediacy to Multi Control which is extremely convenient.) If you own a Galaxy Tab tablet, you can also use a Tab as a second screen via the Second Screen app, too.
In fact, most of the Samsung app ecosystem is all about moving and sharing files. Quick Share can send a file to another Galaxy device and Private Share can be used to securely encrypt and share files to other devices—a bit like sharing a file from the cloud with another user, complete with file permissions and an expiration date. One exception is Clip Studio Paint, which gets around the lack of a touchscreen and pen by allowing you to use a Galaxy Phone with an S Pen instead. All of these apps have their own niches.
Samsung also has an app called Expert RAW Auto Share, which automatically sends photos taken with a Galaxy S23 phone to a nearby Galaxy tablet. As Samsung explains, that's handy for editing RAW photos with Adobe Lightroom—which Samsung provides a two-month trial of.
Samsung Galaxy Book3 Ultra: Performance
Content-creation notebooks represent a small and evolving niche of PCs, somewhere midway between a traditional gaming notebook and a productivity machine. Microsoft set out to help create this niche with its Surface Laptop Studio, and more recently we've seen laptops like the Asus ProArt StudioBook 16 3D OLED (H7604 3D OLED), with a 120Hz OLED display all of its own. (We haven't received that device for testing yet.)
Unlike a pure gaming notebook, the importance of the Nvidia 4-series GPU is put to a variety of tasks such as gaming, 3D content creation, photo and video editing, and encoding. Content creation typically means video encoding, and this notebook seizes upon two emerging trends. First, new video codecs like AV1, which provide smaller file sizes (and less bandwidth for streaming) at the cost of more severe hardware requirements. Secondly, popular encoding software packages like OBS Studio now support AV1, a codec that requires either an Nvidia GeForce 3-series or 4-series GPU. Encoding using the more aggressive codec on cutting-edge laptop hardware should save both time and disk space, both arguments in favor of buying this laptop.
Keep in mind, though, that you're certainly not going to see the surprisingly high battery life when using the Book3 Ultra for content creation, versus the video playback test that we use to measure battery life, or content consumption. It's at this point that you'll see the Book3 echo some of the problems gaming notebooks have—they're great when connected to their power cord, but their longevity can suffer when on battery and under load.
Incidentally, the Book3 Ultra is one of the few that we saw that did not suffer from thermal throttling, at least in terms of 3D performance. (Throttling can occur when the laptop slows down its CPU or GPU to maintain thermal limits, reducing performance for the sake of stability.) Performance dropped 11 percent when our CPU benchmark was looped for 10 straight minutes. However, when we looped the 3DMark benchmark for 20 straight runs, it passed the test, delivering 99.6 percent of the frame rate that it did in the beginning.
Anecdotally, the Book3 Ultra felt laggy when loading applications. But after checking the transfer rates, we changed our tune. Random reads and writes aren't too shabby, but the sequential read and write speeds are outstanding.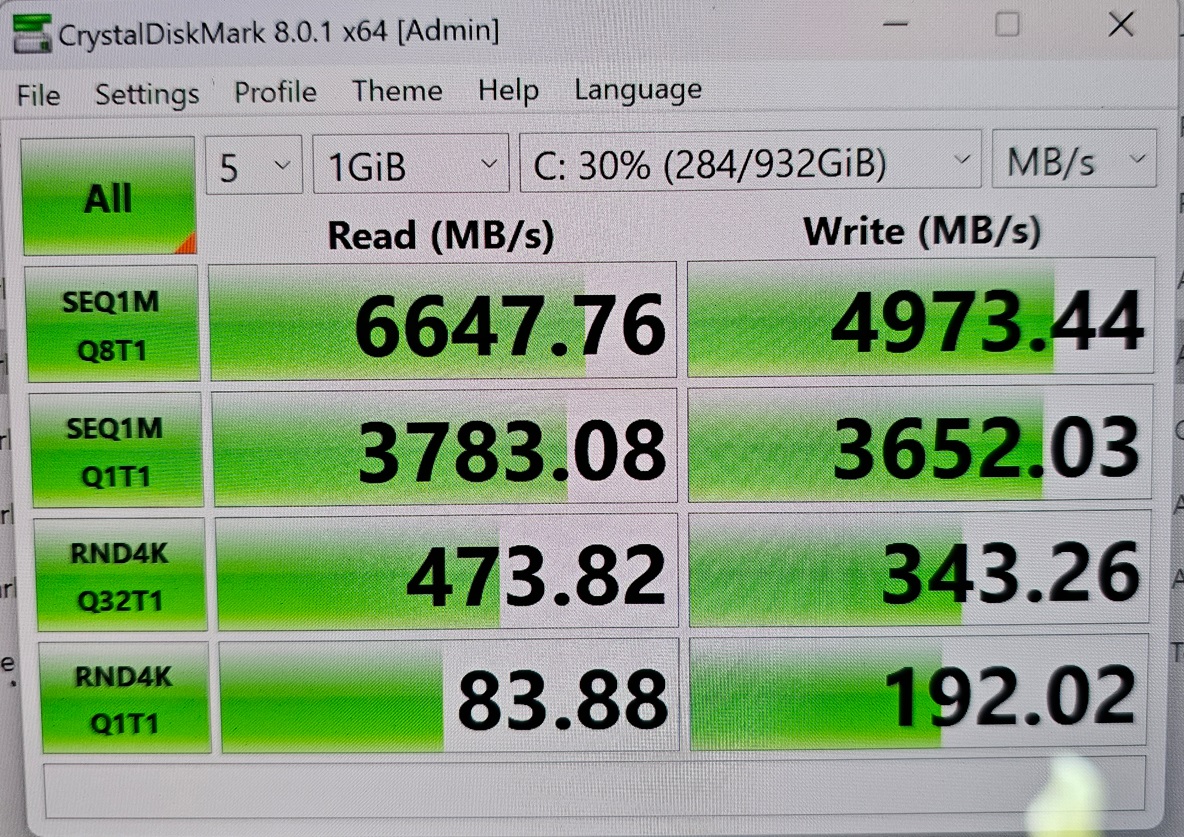 Mark Hachman / IDG
We've compared the $2,399 Samsung Galaxy Book3 Ultra to its stablemate, the Samsung Galaxy Book3 Pro 360, which we highlight in orange. We compare the Book3 Ultra to the mainstream $1,799 Surface Laptop 5 (15-inch) and Microsoft's $2,699 content-creation laptop, the Surface Laptop Studio. To that we add the Lenovo Yoga 9i 14, a $1,449 mainstream OLED laptop. Our main focus, though, is seeking out comparably-sized laptops with discrete graphics. Those include the $1,765 Lenovo Slim 7 Pro X and the $1,599 Asus Vivobook Pro 16X OLED, another content-creation machine.
We round out our testing by adding three "traditional" gaming laptops, all of which could potentially replace the Book3 Ultra. The $1,049 MSI Katana GF66 12UD, the $3,825 Asus ROG Zephyrus Duo 16, a dual-screen laptop aimed at both content creation and gaming, and the MSI Titan GT 77 HX 13V, priced at a "you could buy two Book3's for this" $5,299.
We use four tests to measure performance: UL's PCMark10 and 3DMark; Cinebench R15, and Handbrake.
PCMark10 is an excellent metric of everyday performance, using actual apps that measure everything from office work, photo and video editing to CAD work. Normally, we expect a laptop to perform well here, but there's still room for separation from the pack. The "H"-class processor and discrete GPU help achieve this.
Mark Hachman / IDG
We use the Cinebench R15 benchmark as a metric for a quick burst of CPU performance, stressing all of its cores and threads. With six dual-threaded performance cores and eight single-threaded efficiency cores, the twenty threads chew through our test in a matter of moments. (We also test using the more sophisticated R20 benchmark, with the idea that we'll eventually transition to that metric.)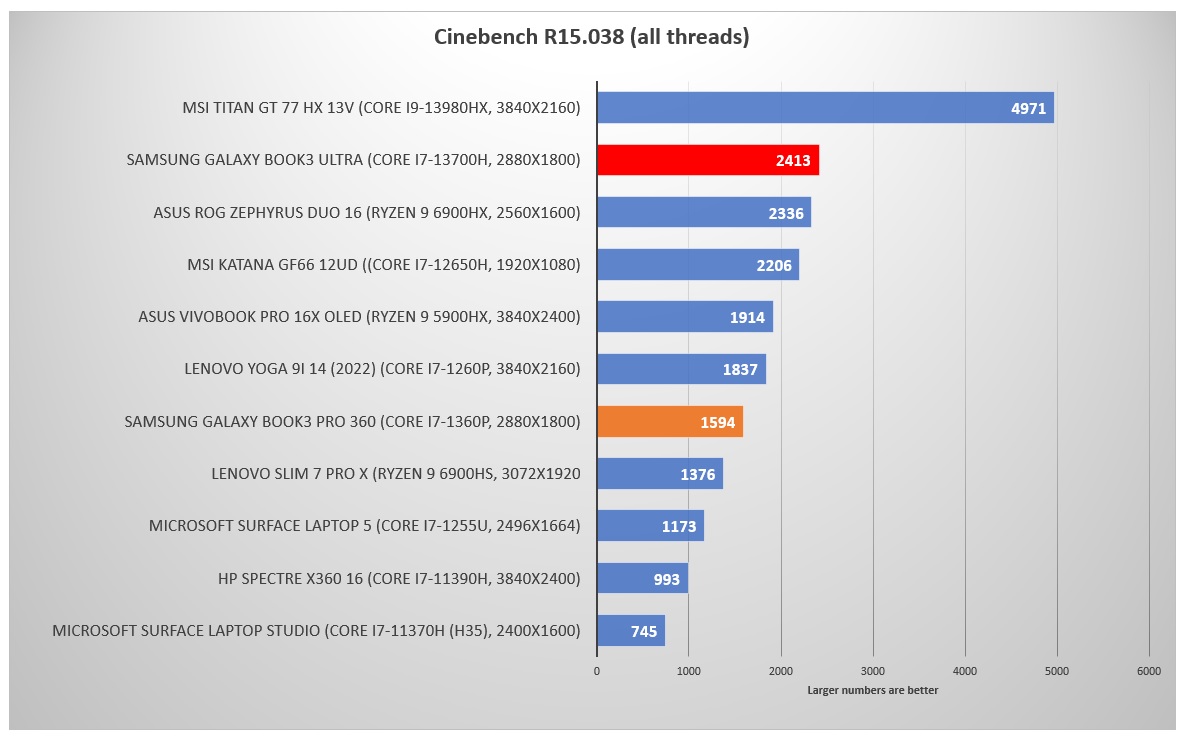 Mark Hachman / IDG
Handbrake measures CPU performance as well, though over a prolonged period of time. We use the open-source app to transcode a movie into a format that could be used by a tablet. This real-world test demonstrates how well a laptop can perform under prolonged load. Since it accomplishes its task in just minutes, it also demonstrates the practical purposes of the app, too.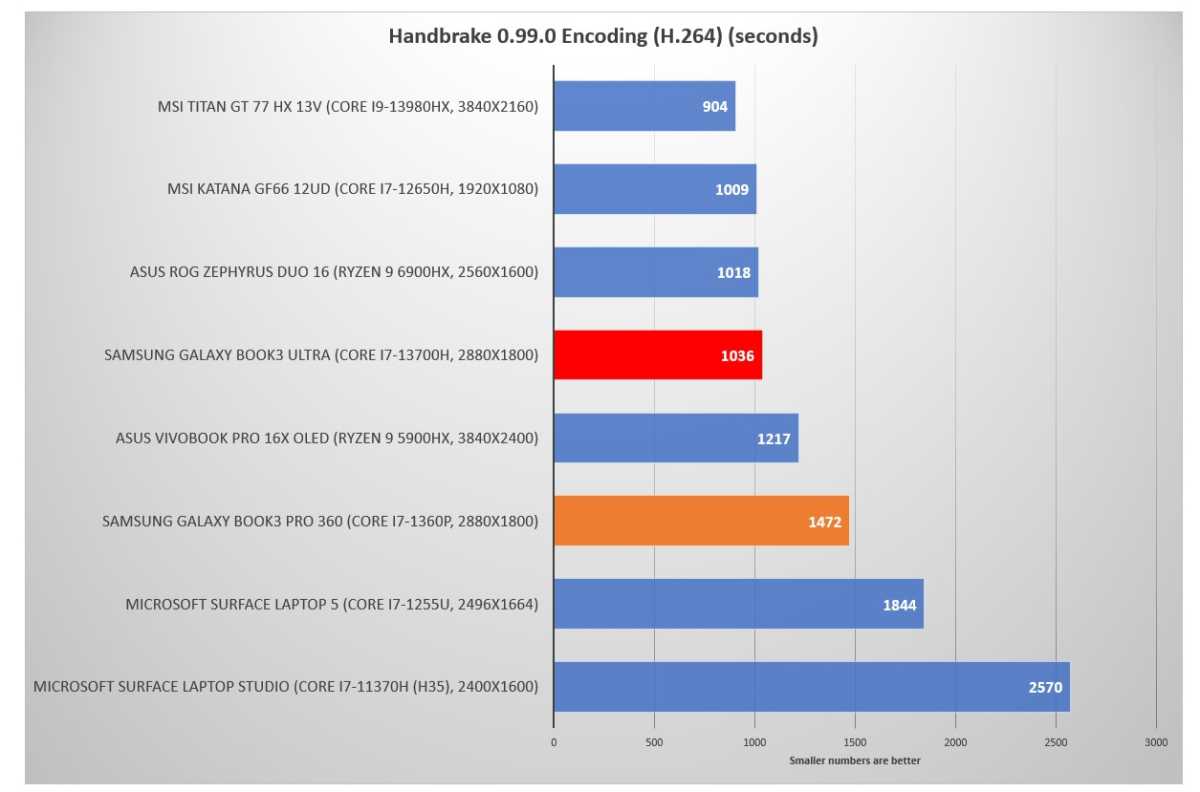 Mark Hachman / IDG
We use the 3DMark Time Spy test to measure 3D performance with an eye toward gaming, as the video-encoding capabilities aren't put to the test. There's a significant gap between the GeForce RTX 4050 and the remainder of the GeForce RTX 4-series GPUs… though even the lowest rung on this ladder is high up.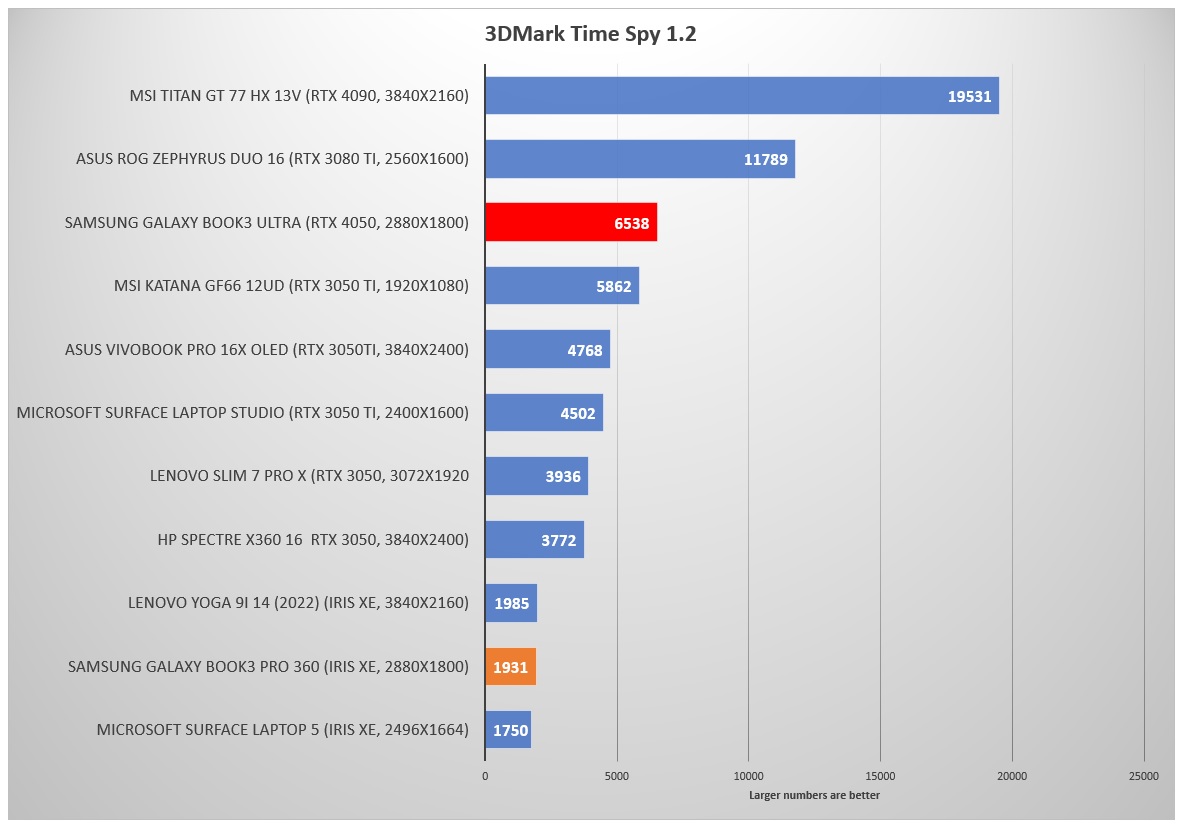 Mark Hachman / IDG
We also tested two games, Forza Horizon 4 and Troy: A Total War Saga, to measure game performance. The Book3 excelled at the default resolution and Ultra settings. It rendered 70 frames per second in Forza, a terrific performance. In the Total War battle simulator, the laptop rendered almost 40 fps at Ultra settings as well.
A real strength of the Book3 Ultra, however, is delivering terrific battery life and fantastic performance. Yes, some of that can be felt on your back as you lug about the Book3's four pounds or so. Still, we often don't see all-day performance in a laptop.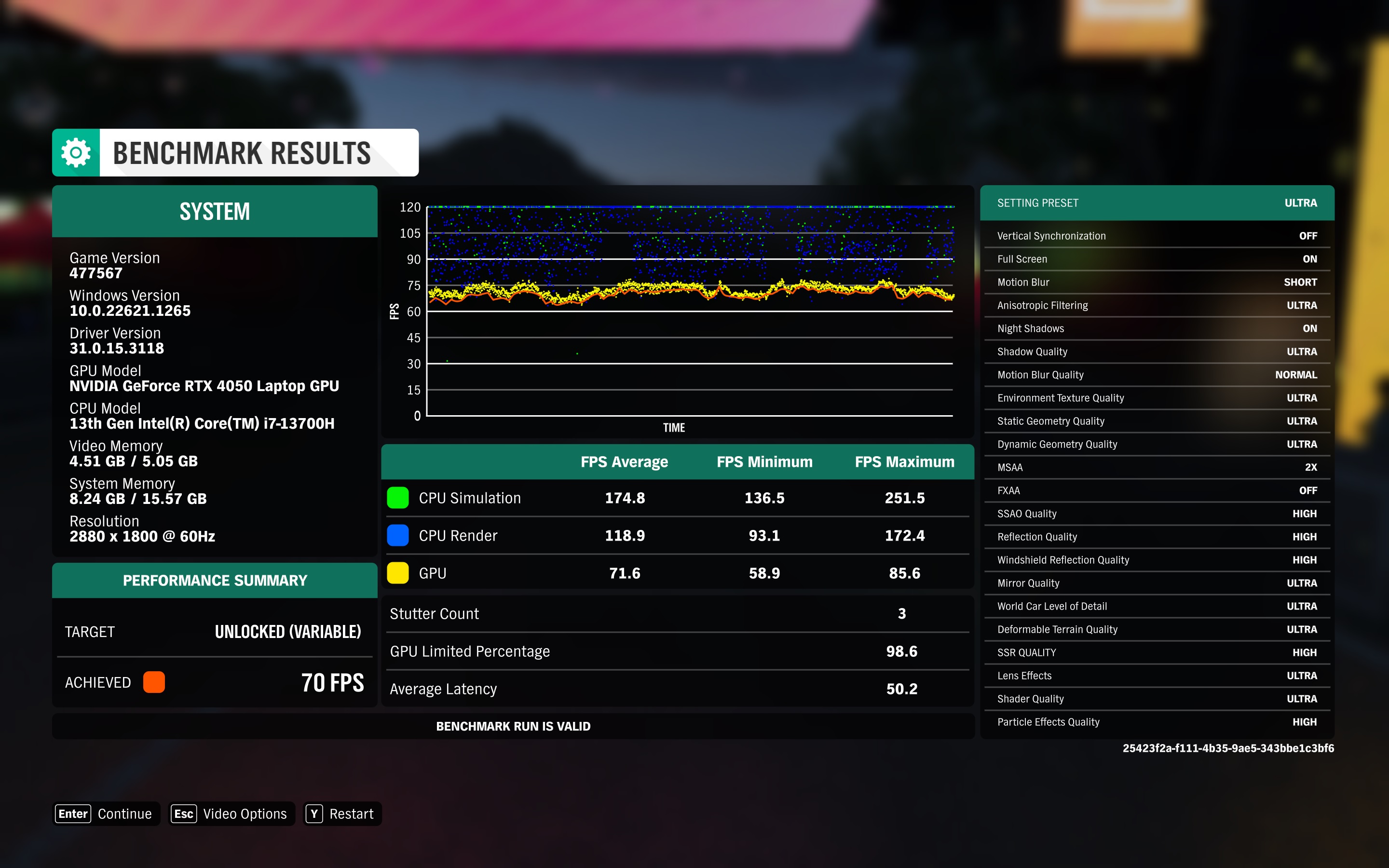 Keep in mind, though, that our video test only really measures how long the laptop can keep the display lit and CPU active; looping a 4K video doesn't really push the laptop hard, if at all. Our tests show that it lasts 786 minutes, or just over 13 hours—that's a full day's work and then some. Looping a 3D benchmark over and over is a good measure of how long you'll be able to play or do strenuous work on the laptop's battery before it expires; there, the laptop only lasted 1 hour and 46 minutes.
That may sound like a huge difference, but it's pretty typical for a gaming notebook and, under load, the H-series CPU and RTX 4xxx GPU essentially act like a gaming laptop.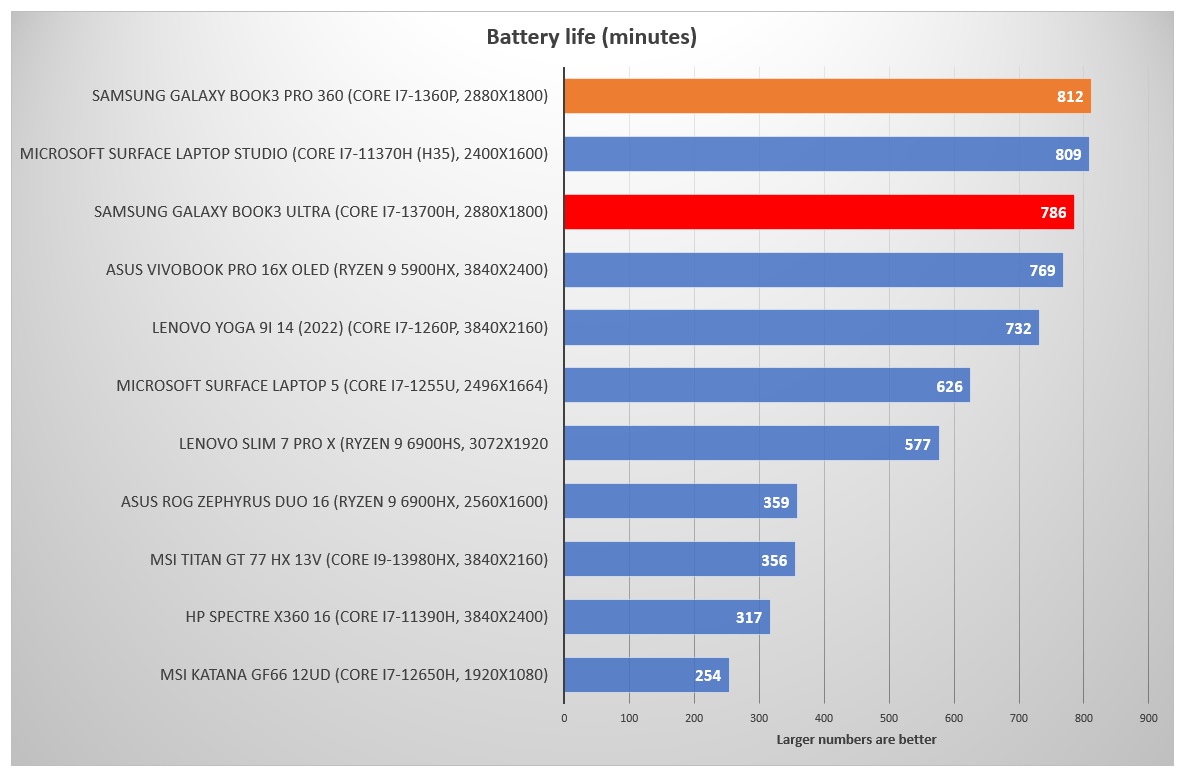 Mark Hachman / IDG
During the benchmark loop, though, the laptop shut off the fan about 50 loops in, dropping the frame rate from about 30 frames per second to 10 fps or so—then down to 3 fps a bit later. That was wholly unexpected. We asked Samsung for comment, but they hadn't yet responded after several days.
Still, there's quite a discrepancy between 13.1 hours of battery life while looping a video and just under two hours while playing a game. Plan accordingly!
Samsung Galaxy Book3 Ultra: Should you buy it?
With more variety in terms of display, processor, GPU, and features than perhaps ever before, it's difficult to compare the Samsung Galaxy Book3 Ultra to anything else currently on the market. The Book3 Ultra holds its own in terms of performance against everything but the MSI Katana, a budget gaming laptop that's comparable on paper but little else.
Samsung compares well in performance, with very little competition in battery life—at least when it comes back to playing back video. And video looks great, too, on the Book3 Ultra's OLED screen. The price certainly leans heavily toward the premium tier, though not too far out of reach for what the Book3 Ultra offers.
Based on what we know of the upcoming Asus Vivobook Pro 16X 3D OLED and last year's VivoBook Pro 16X OLED, we'd say the upcoming Asus Vivobook promises the stiffest challenge to the Book3 Ultra. But it hasn't arrived yet. Right now, the Samsung Galaxy Book3 Ultra is the content-creation notebook to beat—and for the moment, nothing does.
Best Prices Today: Samsung Galaxy Book3 Ultra
$2,100.00
$2399.99