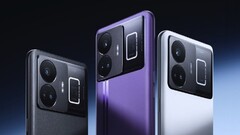 Smartphones such as the OnePlus 11 currently occupy the top end of the Android market thanks in part to the ability to charge their large 5,000mAh batteries at up to 100W. However, according to a prolific leaker, those specs might trickle down in the next wave of devices, although they will be from the brand Realme instead. It is also now tipped to put the currently ultra-premium combination of 16GB RAM and 1TB of internal storage within the reach of more consumers soon.
100W charging remains largely exclusive to flagship smartphones – with the exception of mid-range special editions such as the GT Neo5 SE (not all that surprising in that case, as its maker Realme has access to 240W tech for its flagships). Nevertheless, the SE can also be ordered with 16GB and 1TB of internal storage at a price equivalent to ~US$380 (in China) – although that is its most expensive option.
According to the tipster Digital Chat Station, that may not be the case for the next generation of GT Neo-series smartphones. They may be among the first to drop 8GB or even 12GB as base-model RAM specs so as to make 16GB more of the new normal.
That might drag other once hyper-premium specs right along with it, making smartphones such as the OnePlus 11 or even Xiaomi 13 Ultra of today cheaper tomorrow. Then again, this alleged shift toward potentially sub-flagship 1TB smartphones might push those at the upper end to extremes such as more 18GB RAM options, thereby keeping prices in that tier at least as high as they are now.
Buy a OnePlus 10T from Amazon
Related Articles
Deirdre O Donnell – Senior Tech Writer – 6227 articles published on Notebookcheck since 2018
I became a professional writer and editor shortly after graduation. My degrees are in biomedical sciences; however, they led to some experience in the biotech area, which convinced me of its potential to revolutionize our health, environment and lives in general. This developed into an all-consuming interest in more aspects of tech over time: I can never write enough on the latest electronics, gadgets and innovations. My other interests include imaging, astronomy, and streaming all the things. Oh, and coffee.
Deirdre O'Donnell, 2023-04-16 (Update: 2023-04-16)