The GamesIndustry.biz team selects their favourite indie titles from the past week that deserve more attention
As with every June since 1995, the conversation around the games industry has been dominated by the big budget games. Fable, Starfield, Star Wars Outlaws, Assassin's Creed Mirage — the type of games that already have hundreds, if not thousands, of people behind them, not to mention hefty marketing budgets to ensure they don't escape anyone's notice.
Yet in the past few years we've seen the rise of several showcases that do a great job of presenting everything happening in the indie space, from Wholesome Direct and Guerrilla Collective to the veteran-run Day of the Devs.
Sadly, these tend to be somewhat drowned out by the noise surrounding the AAA titles, so the GamesIndustry.biz team wanted to do our part to help elevate some of the titles we believe deserve to be on people's radars. Below are each of our picks, plus a handful of honourable mentions, as we look at the most interesting titles that caught our attention in the past week.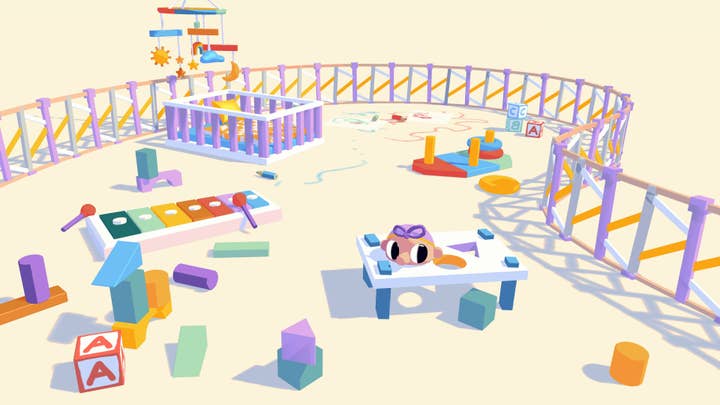 Marie Dealessandri, deputy editor

In our first podcast of the year, I said I wanted 2023 to bring more weird, silly games with very loose goals. Henry Halfhead from Swiss developer Lululu Entertainment seems to fit that brief perfectly. Unveiled a couple of months ago and given an in-depth spot at last week's Day of the Devs, it appears to be Kirby and the Forgotten Land meets Untitled Goose Game and is poised to bring me uninterrupted joy as a half head turning off their alarm, making their bed, or pretending their toilet seat is a singing mouth. Honestly not sure what else you'd want from your weird silly video games.
For many years I felt like there were so few games to appeal to the (very) non-competitive part of my brain, and I would turn to my other hobbies when in need of non-goal-driven activities (aka reading). Over the past decade, the boom of wholesome games has brought me more variety of titles than I could have ever dreamt of. Of course some days I will want to just beat Hades for the 1,500th time because sometimes my brain does want to compete against something. For other times, there is Henry Halfhead.
Outside of this specific vertical, other highlights over the past week included Neoludic Games' Tiny Bookshop, showcased during the Wholesome Direct and depicting my dream life, and Moonloop's Hauntii, which is giving me Hollow Knight meets Death's Door meets Kirby and the Forgotten Land meets Spiritfarer meets Gris, but as a twin stick shooter.
Finally, Unpacking coming to mobile is worth a little happy dance, so is A Little to the Left DLC, and footage of my awaited GOTY contender, Snufkin: Melody of Moominvalley, because that's my one chance to finally pair my two main obsessions: video games and Moomins.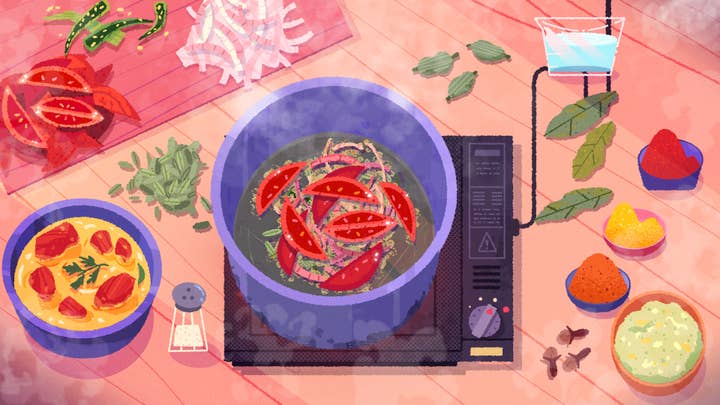 Brendan Sinclair, managing editor

There was a lot to like in the past week's assorted showcases. Mars First Logistics looks like my favorite parts of Zelda: Tears of the Kingdom – constructing doo-hickeys and helping Addison hold his signs upright with impractically cobbled together solutions – distilled down into a more focused experience.
Fall of Porcupine made me yearn for an alternate timeline where gaming magazines breathlessly hype upcoming games as "Night in the Woods killers."
Breeze in the Clouds' cute cartoon side-scrolling brawling was positively Viewtiful (Joe), and Baby Steps looks to have some wonderful ludonarrative synergy with its mid-30s avatar of arrested development who must explore the world (in his onesie pajamas) with QWOP-style awkward walking physics.
But as much as those games all look great, I have to lean toward Venba, which was announced years ago but is finally set for release next month. It's not because developer Visai is based here in Toronto (though that certainly doesn't hurt). It's because it's promising something more novel. Novel to me, at least.
Described by the developers as "a narrative cooking game," Venba tells the story of an Indian family that immigrates to Canada in the 1980s. It promises a new perspective on something I have lots of experience with (Canada in the 1980s), and a better understanding of some things I don't (the immigrant experience in my country and South Indian food beyond dosas).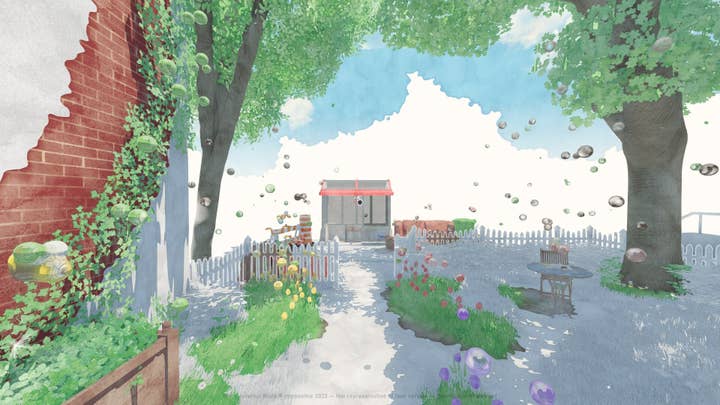 James Batchelor, editor-in-chief

There's an inexplicable satisfaction in bringing colour to a blank page. It's why we all go through thousands of crayons as children, why there's a solid market for therapeutic colouring books aimed at adults, and why I can't stop replaying De Blob and its sequel, knowing we'll almost certainly never see De Blob 3.
Été by Impossible is set to scratch that itch. You explore a quiet Canadian town in first-person, splashing paint on its colourless surfaces to bring objects, people and buildings to life. It reminds me of The Unfinished Swan, but it's the Eastshade-style painting quests rather than an elusive bird that will keep you exploring.
Players take on commissions from people around the town, and must find the right objects before they can be applied to canvas. You're then given a robust tool set to move 3D items around the page to set up your scene, and you can even just create paintings for fun (which honestly could have been a game in itself).
Beyond that, there were several indie titles that have piqued my interest.
Lysfanga: The Time Shift Warrior's clever mechanics where you fight alongside your past selves already has me thinking fourth dimensionally about the possibilities for battle.
Cocoon's fascinating use of worlds within worlds (a la Men In Black's galaxy marbles) looks like a unique puzzle game.
And Quest Master is shaping up to be the Zelda Maker I've been yearning for since Nintendo first teased us with that 2D Breath of the Wild prototype six years ago (maybe they'll make it a Switch 2 title).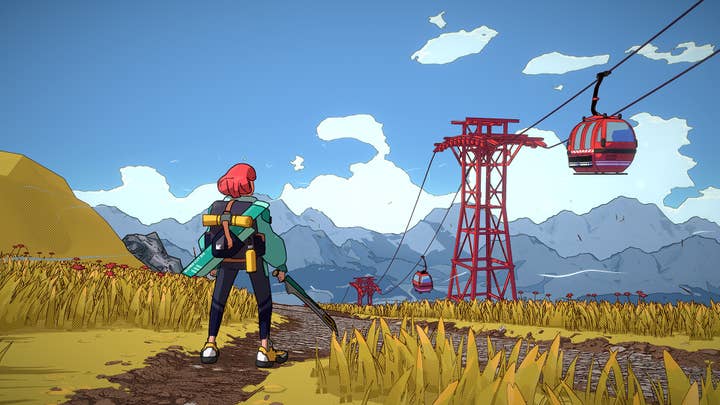 Christopher Dring, head of GamesIndustry.biz

Morning. What? Afternoon! Sorry. What day is it? The jet-lag is always worse flying back from LA.
What did I see? Lots of things. Outside of the obvious ones (Alan Wake 2 can't come soon enough)… maybe Oxenfree 2? I got 30 minutes with that one. All spooky, slightly ominous… but in a chilled kind-of way. Oxenfree, basically. Can't wait for that one. Disney Illusion Island, does that count as indie? Answers on a postcard.
I also played Stampede: Racing Royale from Sumo Leamington. It's basically a battle royale Mario Kart. I only had one quick race, because I snuck in after hours to play it. But it seemed promising.
Oh actually, I know. Dungeons of Hinterberg. You don't get much stranger than that. ID@Xbox showcased it during its event. Developed by Microbird, and published by Curve, it's all set in the Austrian Alps, with this bright comic book visuals that are a little beyond your typical cel-shaded look.
In Hinterberg, a bunch of dungeons have cropped up and adventurers from all around the world visit to complete in the challenges. You play as one such adventurer. Part of the game sees you wander around the town, meeting people, asking questions, building relationships, levelling up and so on. And then you can go and find a dungeon. There are all sorts of monsters to fight inspired by European mythology, and puzzles to solve. Or you can just hang out in the town.
For reasons I can't quite explain, it reminded me of the lost 3DS eshop game Attack of the Friday Monsters.
It looked lovely, with cool vehicles to ride and lots of variety. That's my pick.
Sign up for the GI Daily here to get the biggest news straight to your inbox