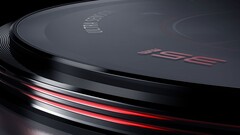 Nubia asserts that its "custom" 35mm lenses for its flagship smartphone rear cameras outdo the 1-inch sensors of some competitors in terms of image quality. Now, the brand has also hinted that the latest iteration of this technology just might rival the Xiaomi 13 Ultra in other ways as well. The putative Z50S Ultra is now tipped to come with its series' biggest and most elaborate camera hump yet.
Nubia CEO Ni Fei's new Weibo post hyping a new device to launch in July 2023 invites speculation that the brand will refresh its current flagship smartphone soon. If so, this Z40S Pro successor might launch with the overclocked Snapdragon 8+ Gen 2 8 Gen 2 Leading Edition within the month.
Its possible immediate successor the Z50 Ultra stands out with red accents for its huge raised rear camera rings, not to mention the 35mm "custom optics" that are, apparently, the most viable alternative to fancy 1-inch sensors.
Its S-variant, however, is now depicted as going even further down these lines in its own new official trailers, in that those accents split into separate tiers, forming just one layer of what might be an even taller camera hump that is ostensibly styled to resemble a professional lens to Nubia's best effect yet.
Furthermore, there are hints that the camera hump has indeed become a single solid circle this time, thereby challenging the Xiaomi 13 Ultra even more directly this time around. Should that be the case, it will be interesting to see if the "Nubia Z50S Ultra" also debuts with a Starry Night colorway this time.
Buy a Z50 Ultra in Europe from TradingShenzhen.com.
Related Articles
Deirdre O Donnell – Senior Tech Writer – 6470 articles published on Notebookcheck since 2018
I became a professional writer and editor shortly after graduation. My degrees are in biomedical sciences; however, they led to some experience in the biotech area, which convinced me of its potential to revolutionize our health, environment and lives in general. This developed into an all-consuming interest in more aspects of tech over time: I can never write enough on the latest electronics, gadgets and innovations. My other interests include imaging, astronomy, and streaming all the things. Oh, and coffee.
Deirdre O'Donnell, 2023-07- 1 (Update: 2023-07- 1)