Gary Neville believes Harry Kane must leave Tottenham this summer if he wants to win silverware and feels the striker's only realistic option among English clubs is Manchester United.
Kane has been in outstanding form for his boyhood club this season, scoring 18 times in 25 Premier League appearances and surpassing Jimmy Greaves as the club's all-time leading goalscorer, but at 29 he is still waiting to lift silverware.
Tottenham are fighting for a top-four finish in the Premier League and face AC Milan in the second leg of their Champions League last-16 tie next week, but their FA Cup hopes ended against Sheffield United on Wednesday night, their limp 1-0 defeat putting the spotlight on their 15-year trophy drought.
Kane was rested at Bramall Lane, only appearing as a substitute midway through the second half, and Sky Sports pundit Neville feels this summer may be the right time for him to seek an exit.
"Harry Kane is going to want to win trophies, I think," Neville told Sky Sports News. "It's whether he sees it as being a case whereby he commits to Tottenham for his last five years and he does what some players have done.
"Matt Le Tissier did it at Southampton. Other players have done it in the past who have played for England, where they've committed to a club because they love the club and they look after them.
"But if Harry is going to leave, I think now is the moment."
Kane has previously been a target for Manchester City, but the Eithad Stadium outfit signed Erling Haaland instead last summer and Neville feels their Old Trafford rivals are a more realistic option.
"He is a wonderful player, he's a great professional, and I think if Harry Kane could leave now, and you could get him an exit out of there to a club in Manchester probably, United or City, I think he would take that opportunity," he added.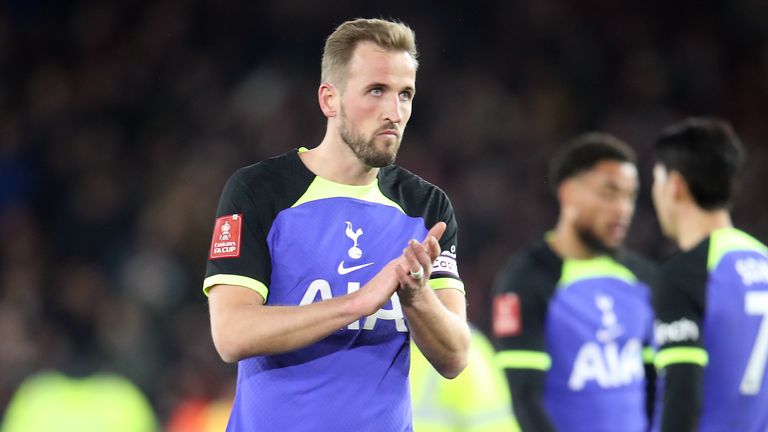 "It's more than likely not going to be City because of their [Erling] Haaland expenditure and what they've done with him, but Manchester United are desperate for a centre-forward.
"Tottenham fans will be furious with me, they'll say it's me coming on television trying to get their player to Manchester United. It's not. It just looks to me at this moment in time the most likely move.
"Chelsea, I can't see him going there. He's quite loyal to Tottenham and there's a big rivalry with Chelsea, so I don't see that happening, even though they do need a centre-forward.
"He's not going to go to Arsenal, because of the rivalry, so Manchester United is the only option in England for Harry Kane this summer.

Sunday 5th March 4: 00pm


Kick off 4: 30pm

"Bayern Munich have been mentioned. That could happen and I think Daniel Levy would be happier if he was to go internationally, so we could see that.
"But I think Harry, if he wants to win trophies, is going to have to leave Tottenham, because Tottenham do struggle with that aspect."
Neville agrees with Keane on Rice
Neville also backed comments made by fellow Sky Sports pundit Roy Keane about Declan Rice after Manchester United's 3-1 win over West Ham in the FA Cup, in which he said the midfielder "needs to do a lot more" in order to be considered a top talent.
Please use Chrome browser for a more accessible video player
Gary Neville has agreed with former team-mate Roy Keane's criticism of Declan Rice and believes he needs a move to progress in his career

Rice, like his England team-mate Kane, is yet to win silverware having spent his entire senior career with one club up until now, and has been linked with a move to one of the Premier League's 'big six' this summer for a fee which could be in excess of £100m.
"I heard what Roy said last night and I do agree with him," Neville added to Sky Sports News.
"I love Declan Rice, but I've said this for a long time about him, and Jamie Carragher will tell you so. When we do Monday Night Football and West Ham play, we always have the tactical cam, which is the high camera.
"Obviously, Declan knows the position, but when I look at world-class holding midfielders, and players of that type, because Rice doesn't score or assist enough goals, so you're putting him into that category of more of a destroyer, you've then got to be someone who I think is highly competent on the ball and linking play, and having that knowledge of the subtleties of getting on the ball from the back four.
"I personally feel, at this moment in time, that Declan needs to go and work under a different set-up, he needs to drive forward in his career, he needs to go and play at a different club.
"That's nothing against West Ham or David Moyes. I think he's done a brilliant job with Declan Rice and he's had a great few years.
"But for me, I wouldn't be spending £110m or £120m on Rice if I was Manchester United this summer. I would spend £50m-60m on Declan Rice, but I wouldn't spend the figures being reported because I feel in that position, I still feel like he's got a lot of growth."
Neville also feels an expenditure of that level would be better made on an offensive player who contributes more in terms of goals and assists.
"I know Chelsea have spent [£107m] on that position [for Enzo Fernandez], but I think the holding midfield player, the player who connects the back to the front and links play, to me that feels like a cap of £50m-£60m, maybe £65m," added Neville.
"It doesn't feel like a £100m position. If you're spending £100m, you've got to have somebody who's scoring 25 goals and getting 10 or 15 assists. That's where £100m sit for me, even though the market gets destroyed and goes up every year in each position.
"I just feel like, if Declan Rice can go to another club and play a couple of years somewhere, that would be great.
"I want him to have a great career and I think he's a brilliant lad, but I agree with some of Roy's points that I think there's a lot of growth, and a lot for Declan to do to get up to the levels of Casemiro, Rodri, and players at the top of the game in those positions."