Juicy mince. Flaky pastry. Tuckshop nostalgia. What's not to love about a sausage roll?
Let the good times roll with Good Food's guide to 10 of the best in Melbourne – from $4.50 vegan versions to Japanese-inspired riffs and others worth crossing town for.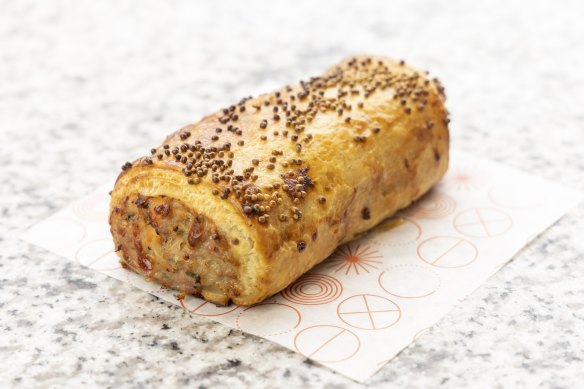 Drom Bakery
Drom-roll, please. About 45 minutes from the CBD – in the eastern suburb of Bayswater – crowds are burgeoning at this new bakery. Moon-shaped, custard-filled croissants might be the most Instagrammable drawcard, but no less delicious is the humble sausage roll ($10), which sells out daily despite the team baking more than 300 a week. It's a classic combo of peppery pork and fennel, laced with cheese and encased in house-made puff pastry.
To sweeten the deal: Add on a decadent choc-hazelnut croissant ($10).
Shop 1, 19 Scoresby Road, Bayswater, drom.melbourne
All Are Welcome
Sizeable enough to warrant being the most expensive entrant on this list, All Are Welcome's $12 sauso roll – in the warmer at all three of the bakery's locations – is one worth seizing. While the seasoning changes with the, ahem, seasons (currently it's an Italian-style herb blend), coarsely ground mince from local butcher The Melbourne Pantry ensures it stays as juicy as possible, and a smoky sauce adds a chipotle kick.
To broaden your horizons: Try khachapuri ($9), a cheesy Georgian delicacy.
190 High Street, Northcote; 887 High Street, Thornbury, and 255 Lower Heidelberg Road, Ivanhoe East; all-are-welcome.com
Wild Life Bakery
Gloriously golden, fennel-seed crowned and one of the fiercest contenders for Melbourne's No.1 sausage roll, the Wild Life version ($10) uses a two-day puff pastry made with Spitfire-wheat flour – an organic, wholegrain, stone-ground variety from Victoria's Woodstock Flour. It's a near-perfect vessel for the trusty trio of pork, fennel and apple, rounded out with a heap of herbs and a splash of red-wine vinegar.
Feeling something fresher? The roast-chicken baguette ($17) is A-plus.
90 Albert Street, Brunswick East, wildlifebakery.com
Pie Thief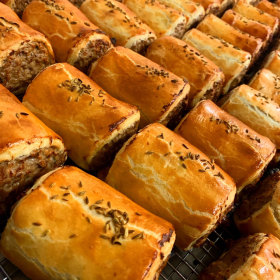 In a sea of fun, fusion-forward and full-to-the-brim pies (think decadent lasagne, Thai red chicken curry and vegan-friendly barbecue jackfruit), Pie Thief's sausage roll ($8.50) stands out for its simplicity. One of the few non-pie items on the menu since day one, this hulking pork-and-fennel creation – or "big meaty boi" as owner Aaron Donato puts it – doesn't reinvent the wheel, but it's a flaky, flavourful ride or die.
Want something wackier? That lasagne pie has your name written all over it.
297 Barkly Street, Footscray (daily); and 300 Napier Street, Fitzroy (weekends only), piethief.com.au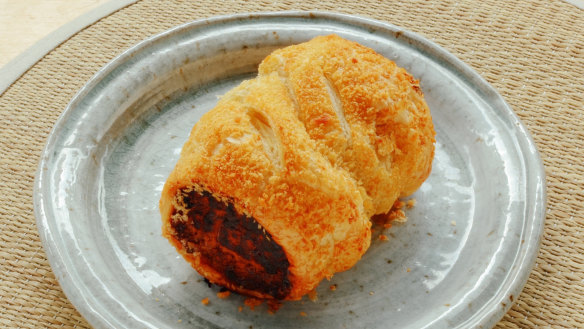 Tokyo Lamington
The name of the game at this Sydney-import bakery is, well, lamingtons. But it's safe to stray from the sweet stuff. Tokyo Lamington's pork katsu sausage roll ($8) is a more handheld, less deep-fried riff on the classic Japanese dish. Buttery puff pastry is filled with an interesting mix of ginger-spiked ground pork and koshihikari rice, sprinkled with panko breadcrumbs and served alongside a healthy dollop of tonkatsu sauce.
And for dessert? The yuzu-meringue lamington ($9) is just as good as it looks.
258 Elgin Street, Carlton, tokyolamington.com
Falco
If you spy a snag roll ($9) in the pie warmer at either of Falco's Collingwood locations, you know the baked-good gods are looking out for you. They're regularly a sellout, but here's a hot tip: you can also buy them frozen to take home. This just-right-sized number keeps it traditional but top quality, using pork mince from local meat and game specialist Gamekeepers and a heady hit of fennel.
If you're a pie person: It's got to be the cheeseburger-esque Rockwell pie ($10).
288 Smith Street and 156-158 Langridge Street, Collingwood, falcobakery.com
Green Refectory
Lunchtime at this Sydney Road staple draws almost as many punters as there are menu items. Which is to say: a hell of a lot. A queue snakes through the place most days, mainly because this is daytime dining at its most affordable. Case in point: the $5 beef sausage roll, with tuckshop vibes, visible shreds of veg and crunchy seeds on top.
Prefer plant-based? The vegan sausage roll ($4.50) is a solid alternative.
115 Sydney Road, Brunswick, greenrefectory.net
Tivoli Road Bakery
For more than a decade, Tivoli Road Bakery has been a beacon for Melburnians (southsiders, especially) in search of reliable bread and baked goods. A few different owners have brought in new recipes over the years, but it's remained locally loved. Not least because of its sausage roll ($9), still one of the most popular items. The current iteration uses pork and sage, with everything from the pastry to the filling made in-house.
On a budget? The bacon-and-egg brioche is a very pocket-friendly $6.
3 Tivoli Road, South Yarra, tivoliroad.com.au
Meatsmith
Of course there are some fancy flourishes to the sausage roll at Meatsmith, Andrew McConnell and Troy Wheeler's string of suave Melbourne butcher shops. Rare-breed pork mince is seasoned with house-made Dijon mustard, celery seed, capers and thyme, then enveloped in puff pastry and sprinkled with nigella seeds. They're available hot from the pie warmer in Fitzroy ($8) on weekdays, or chilled at all Meatsmith locations.
Or make like a miner: Order a Cornish pasty ($12).
273 Smith Street, Fitzroy; 227a Barkly Street, St Kilda; 612 Hampton Street, Brighton; and 431 Whitehorse Road, Balwyn; meatsmith.com.au
Smith & Deli
Usually, sausage roll success hinges on meaty mince and buttery pastry. But – as usual – that didn't stop Shannon Martinez harnessing her plant-based powers to create a convincing vegan version ($8.50) at Smith & Deli, which adjoins her hatted restaurant Smith & Daughters in Collingwood. It's got the looks of one you'd find at a country-town bakery, but none of the meat, instead filled with spiced-up V2 soy-based mince.
Need a full meal? There's a (vegan) full English breakfast ($20) on weekends.
107 Cambridge Street, Collingwood, smithanddeli.com