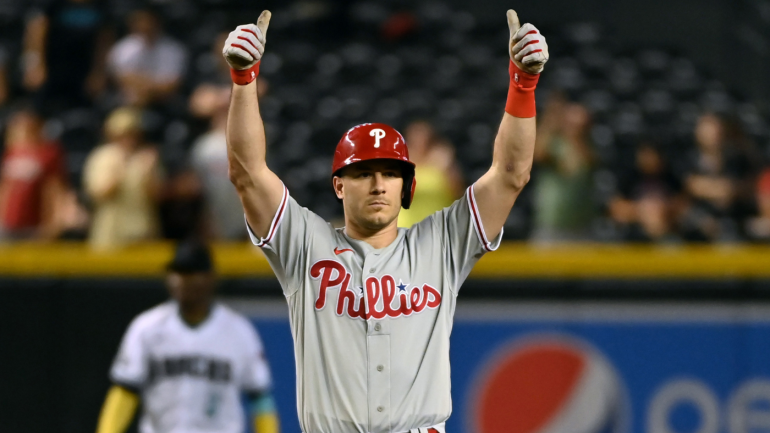 Getty Images
Philadelphia Phillies catcher J.T. Realmuto hit for the cycle on Monday night against the Arizona Diamondbacks, becoming the third player to do it this season. Previously Luis Arraez of the Miami Marlins (April 11) and Cedric Mullins of the Baltimore Orioles (May 12) had accomplished the feat. (One can only guess, based on the established pattern, that the next cycle will be achieved on July 14.)
Realmuto went 4 for 4 with a home run, a walk, and three runs batted in during the contest. He homered in the second inning, a solo shot, and tripled in the third. With the more difficult half of the cycle out of the way early, Realmuto singled in the fifth inning and doubled in the ninth to cap his night. Here's a look at Realmuto's double:
Realmuto is the first Phillies player to hit for the cycle since former third baseman (and current Cincinnati Reds manager) David Bell did it in 2004. He's also the first catcher to hit for the cycle since George Kottaras back in 2011. He's the 17th catcher ever to do it, according to MLB's research. 
Realmuto, 32, entered Monday's game hitting .242/.289/.420 with five home runs and 21 runs batted in over his first 58 games. Those marks resulted in a 93 OPS+, or what would be the worst of his career since his first full season. Obviously Realmuto's numbers will look a lot better come Tuesday morning.
Realmuto's big night did not prevent the Phillies from losing by a 9-8 final. Philadelphia is now 32-34 on the year, good for third place in the National League East.