Sam Long made it two wins in the space of a week as he followed up his 70.3 St George success with victory at Panama City Beach IRONMAN 70.3 Gulf Coast.
The 'Big Unit', who revealed earlier in the week he was coaching himself after parting company with Dr Dan Plews, put together another well-executed race.
In trademark fashion he powered into the lead on the bike and showed few signs of tiredness on the run as he claimed another clear-cut win.
Great rival Lionel Sanders took second just under four minutes back, with Jackson Laundry in third at +6:23.
Swim – Quenet makes his mark
The 1-2-3-4 from St George – Long, Trevor Foley, Laundry and Sanders, were all back in action and they were joined by recent 70.3 Peru winner Tim O'Donnell.
But the big names were upstaged early on by relative unknown Nicholas Quenet (RSA).
After a choppy swim he was out of the water first, 17 seconds ahead of Braxton Bokos (USA) – with much bigger gaps back to the rest.
O'Donnell was at +1:08, Laundry was nearly three minutes adrift while it was closer to four minutes to Long and Sanders, with Foley at +4:48.
Bike – Long paces it perfectly
On the bike anyone expecting Quenet to see his advantage quickly erased were in for a shock.
The big guns – with the exception of an isolated Foley – were lining up behind, with Long, Sanders, Laundry and O'Donnell all at +1:45 after 50km.
That continued to come down but it wasn't until the closing stages that Long moved to the front and coming out of T2 he had a 22 seconds lead from Quenet, with the other trio around a minute-and-a-half back.
Foley was enduring a tough day and having ridden mostly by himself he had over three minutes to make up.
Run – 'Yo Yo Yo' out on his own
Early on the run things were still looking good for Quenet – at least in terms of the podium – but his day would end in unfortunate fashion.
Struggling after his exertions in the heat he was apparently disqualified after going off course and was removed from the rankings late on.
But moving serenely on at the front of the race was Long and he never looked under any sort of threat as he stopped the clock in 3:36:00.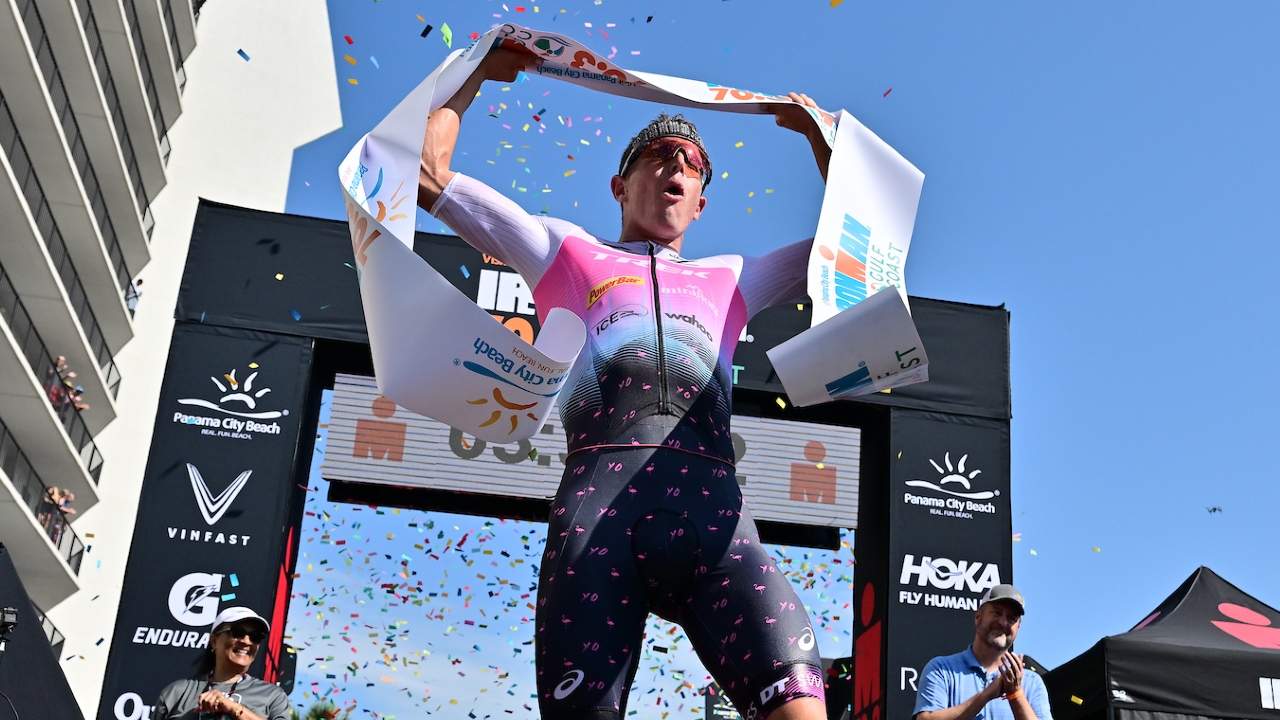 IRONMAN 70.3 Gulf Coast Results 2023
Saturday 13 May 2023 – 1.9km / 90km / 21.1km
Panama City Beach, Florida (Pro Men only race)
1. Sam Long (USA) – 3:36:00
2. Lionel Sanders (CAN) – 3:39:56
3. Jackson Laundry (CAN) – 3:42:24
4. Tim O'Donnell (USA) – 3:45:07
5. Trevor Foley (USA) – 3:46:06
6. Jan Stepinski (USA) – 3:46:19
7. Miguel Mattox (USA) – 3:46:27
8. Luis Ortiz (USA) – 3:48:07
9. Nicholas Chase (USA) – 3:49:17
10. Hunter Lussi (USA) – 3:59:00