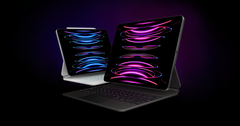 The emerging screen manufacturer BOE will reportedly miss out on a chance to contribute the OLED with which next-gen iPad Pros are said to launch. The latest word is that Apple has gone with long-time partners Samsung and LG as suppliers for these upcoming flagship tablets' potentially upgraded displays instead.
BOE has done what may have once been seen as the impossible by snatching even a small proportion of iPhone OLED orders away from major players like LG and Samsung. However, its efforts to augment its new status as an Apple display provider with an 'iPad-maker' badge have reportedly met with failure, with the Cupertino giant shutting the company out in favor of better-known suppliers instead.
According to Business Korea, BOE has been "excluded" from contracts involving the next round of "10.9-inch and 12.9-inch panels for the iPad". These orders have apparently gone to the display divisions of Samsung and LG instead.
Therefore, based on the panel sizes quoted, BOE may (or may not) have missed out on a role in the making of at least 1 future iPad Pro SKU. Should this be the case, Apple's top-end tablet spec race may break down to exactly how shiny and new their putative screens are going to be.
LG is said to stick with what is currently its latest, 6th-gen form of OLED to complete its latest order from Apple. Samsung, on the other hand, has announced its intention to move on to a newer, 8th-gen iteration "for laptops and tablets" – however, whether they go to next-gen iPads or remain exclusive to the in-house Galaxy Tab line remains to be seen.
Buy a Galaxy Tab S8+ on Amazon
Deirdre O'Donnell – Senior Tech Writer – 6049 articles published on Notebookcheck since 2018
I became a professional writer and editor shortly after graduation. My degrees are in biomedical sciences; however, they led to some experience in the biotech area, which convinced me of its potential to revolutionize our health, environment and lives in general. This developed into an all-consuming interest in more aspects of tech over time: I can never write enough on the latest electronics, gadgets and innovations. My other interests include imaging, astronomy, and streaming all the things. Oh, and coffee.
Deirdre O'Donnell, 2023-02-25 (Update: 2023-02-25)