People acted like they were at Top Gun.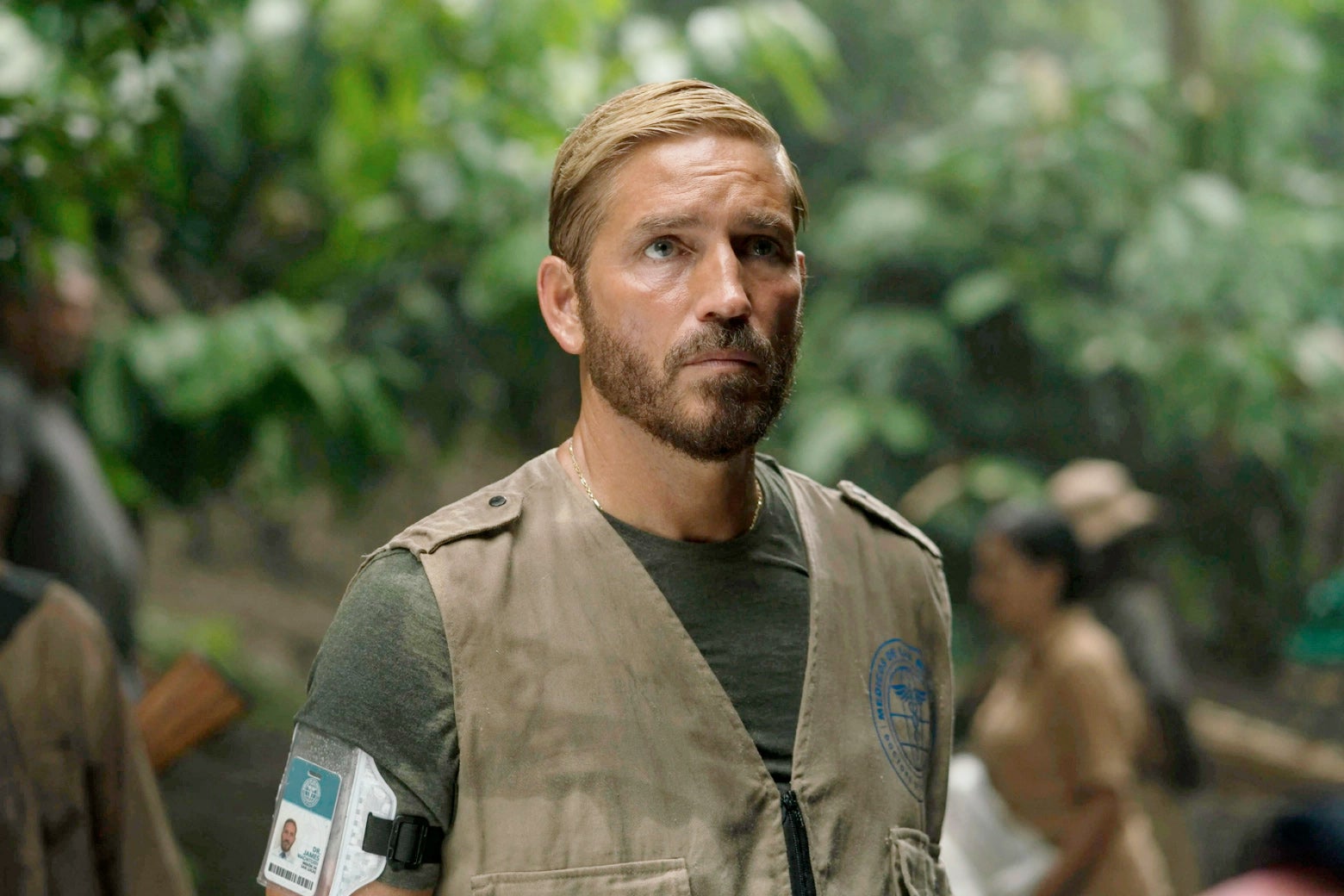 "We come to this place for magic," Nicole Kidman purred as she ascended some steps on a suburban Philadelphia AMC screen in sparkly pinstripes last Friday night. The audience toted jumbo buckets of popcorn and trash can–sized sodas as if they were sitting down for the latest franchise blockbuster. But they'd come for something else. Despite pulling in a much-hyped $40 million in its first seven days, Sound of Freedom isn't one of Hollywood's summer smashes. In fact, it's been marketed, to the people in that theater and elsewhere, as the antithesis of movie-industry escapism—not just counterprogramming, but a comeuppance.
Sound of Freedom, which stars Jim Caviezel as the controversy-plagued anti–child trafficking crusader Tim Ballard, was completed in 2018 and set up for release by Fox the following year, until Disney bought the studio and shelved the movie. It certainly wasn't the only casualty of the acquisition, but the movie's supporters have been encouraged to see something more insidious in its sidelining than a shift in corporate priorities. On its surface, the movie, directed by Alejandro Gómez Monteverde, is a straightforward search-and-rescue thriller, in which Ballard, a special agent at the Department of Homeland Security, goes rogue to free a young girl from the clutches of a Colombian sex-trafficking ring. But it arrived in theaters surrounded by a cloud of innuendo put forth by its star and its noisiest right-wing supporters—conspiratorial insinuations about who doesn't want this story to be told and what real-world traffickers are really up to.
The pedophiles and child traffickers in Sound of Freedom are sweaty, sharp-toothed deviants, as they've been depicted in movies as far back as Fritz Lang's M nearly a century ago. But the movie darkly hints that there are more well-connected and outwardly respectable variants out there, willing to pay six figures and up for what Caviezel's character, who poses as a businessman trying to set up a high-end members-only club for child rapists, calls "a little pedo action." Although the movie makes no reference to QAnon or its associated conspiracy theories, which only began to leak into the mainstream the year before it was completed, Caviezel has been enthusiastically using his press tour to profess his belief in an international black market where a barrel of children's body parts goes for a thousand times the price of oil. Ballard himself has circulated wild and unsupported figures about the extent of the sex-trafficking industry, including the claim that 10,000 children are smuggled into the U.S. for sex every year, which was picked up and used as a campaign talking point by Donald Trump. (Trump also made Ballard the co-chair of a State Department advisory council on human trafficking.)
Since leaving DHS, Ballard and his "Operation Underground Railroad" have conducted raids and sting operations like the ones shown in Sound of Freedom, often captured on video for use as promotional material. But his gung-ho methods are frowned upon by longtime anti-trafficking activists, who see them as ineffectual and even counterproductive. According to Foreign Policy, a group of Dominican girls OUR rescued in 2014 were released without rehabilitation or support a few weeks later. Meg Conley, who accompanied Ballard on that raid, wrote for Slate in 2021 about her experience and reported that "anti-trafficking work, the kind that really works, doesn't have an immediate satisfaction. It's slow and steady. There are no starring turns." In 2020, Vice concluded from an extensive investigation of Ballard and OUR that the specific stories the group told of liberating children from sex traffickers were "intensely cinematic: bold, heroic, and extremely difficult to fact-check."
Effective anti-trafficking work may not have starring roles, but OUR's stories do, and so does Sound of Freedom. In a "special message" that ran over the movie's closing credits, Caviezel addressed the audience directly, on his way to pitching the "Pay It Forward" program that, by allowing moviegoers to buy advance tickets for others while they were still in the theater, allowed Sound of Freedom to leap to the top of the box office on its opening day, surpassing Indiana Jones and the Dial of Destiny. ("WE BEAT DISNEY," crowed Pizzagate promulgator Jack Posobiec.) "Sound of Freedom is a hero's tale," Caviezel said, "but I'm not talking about the character I play. It's the heroic brother and sister in this film who work to save each other. They are the true heroes."
That's a noble sentiment, but the movie doesn't come close to bearing it out. It's overwhelmingly focused on Ballard, at one point filling the screen with a massive close-up of his eye while studying a pedophile's hard drive brings him to the brink of tears. It's he who gets to utter the movie's catchphrase, as a chorus of Amens rang out in the theater: "God's children are not for sale." (You can, if you like, get it on a T-shirt.) Even in the movie, most of the children Tim Ballard rescues are an afterthought, an anonymous gaggle of the saved. After one Colombian raid, he's told that 54 children have been freed, but his concern turns immediately to the one missing: a young girl, Rocio, whose brother Miguel he has already rescued after the boy was trafficked into the U.S.
The irony is that as much as Caviezel and Sound of Freedom's distributor, Angel Studios, set themselves up in opposition to the mainstream entertainment industry, they're telling stories entirely according to its dictates. Angel Studios' website may bill the company as "the leading alternative to Hollywood," but if you released Sound of Freedom under the Cannon Films logo and sold it as an undiscovered vigilante classic of the mid-1980s, no one would be the wiser. (The only thing it's missing is a scene where the hero lustily disembowels a pedophile, but this is a family movie.) The movie is a little nondescript, but that only makes it a better vehicle for other people's messages. And if you're against the anti–child trafficking movie, what does that make you?
Since excerpts from articles critical of Sound of Freedom have been widely distributed on Twitter and elsewhere, let me state for screenshotting purposes that I am opposed to child sex trafficking—and I can prove it. After all, I bought a ticket to Sound of Freedom, which Jim Caviezel said could be "the Uncle Tom's Cabin of the 21st century." "We believe this movie has the power to be a huge step forward towards ending child trafficking," he went on, "but it will only have that effect if millions of people see it."
And not just see it anywhere, but in movie theaters specifically. "When you come to a theater, you experience movies differently," Caviezel explained, just like Nicole Kidman. "There is no pause button. There are no distractions. We all have an experience as we watch the film together, as a community." For all the overheated talk of how the movie beat Hollywood, Sound of Freedom is strangely committed to success on Hollywood's terms.