"Top Chef: World All-Stars" has come to a close after 14 weeks of rousing competition, pitting Buddha, Sara and Gabri against each other for a tense, dramatic final meal. 
To set the stage: Gabri's dishes pay homage to Mexico, with huitlacoche, chocolate tamale and even grasshoppers, while Buddha combines his Hong Kong, Malaysian, Australian and American roots into a stunning menu. Sara concentrates her elevated Southern flavors into an elite, upscale menu. As always, familiar faces return to help out: Gabri's sous chef is Tom, Buddha's is Ali, and Sara's is Amar, reuniting pairs yet again that had worked together numerous times in the past.
After a lovely dinner with Padma, Tom, Gail at guest judge Hélène Darroze's restaurant, our final three prep the most important meal of their life, serving it to an incredibly esteemed table with the likes of Hunter Lewis, Marcus Samuelsson, May Chow, Daniela Soto-Innes, Clare Smyth, Simon Rogan, Ángel León, and even Michelin Guides' International Director Gwendal Poullennec. 
Sara's stunning raw opener, her technically complicated yet homey burgoo with rabbit loin, boudin blanc, crepinette and a beautiful cornbread madeline crumbled over the top (which she deems "Kentucky cassoulet") and an exceptional dessert incorporating lemon curd and buttermilk sorbet and her mother's pea cake almost snag her her first "Top Chef" trophy. Alas, she is toppled by an improperly cooked liver on her second dish, which she serves with onion puree, cookie butter and figs. As Padma put it, "It was blue."
Gabri's dishes are similarly excellent with his unique flavors winning over the judges, including sweet corn esquites, the aforementioned grasshopper tostada, a sweet potato empanada with black beans and cheese foam and a super-unique take on chile en nogada. Darroze even notes that in a few years, he will really become something noteworthy, but Tom Colicchio adds that certain aspects (like the overcooked tostada in the first course) just need a bit of work. 
Therefore, Buddha does it yet again, taking home the trophy for a masterful, progressive meal that encompasses his background, his passions, his childhood and more. It spans the globe and incorporates everything from a New England clam chowder-inspired rainbow trout with potato, veloute and caviar, a red curry bisque with blue lobster, his version of a ngau lam with lamb, eggplant and master stock sauce (or lo shui), all capped off with his amazing take on Australian dessert lamington, with raspberries and coconut bavarois. Buddha's consistent, technical prowess and deep knowledge of food help to clinch him yet another win, catapulting him to a very elite circle of reality show contestants with multiple wins.
With his monumental, back-to-back, history-making wins on both seasons 19 and 20, Chef Buddha Lo may have confirmed once and for all that he is, indeed, the single most accomplished and formidable competitor even to step food into the realm of "Top Chef."
With 14 (!) individual wins in both Quick Fires and eliminations over his tenure, plus, of course, 2 "Top Chef" winner's trophies (including one for a "World All Stars" season), Buddha's dominance on the show is truly unparalleled.
Salon spoke with the newly minted, two-time winner about his path to "Top Chef," the importance of his family, his proudest moments and what he plans to accomplish next. 
The following interview has been lightly edited for clarity and length.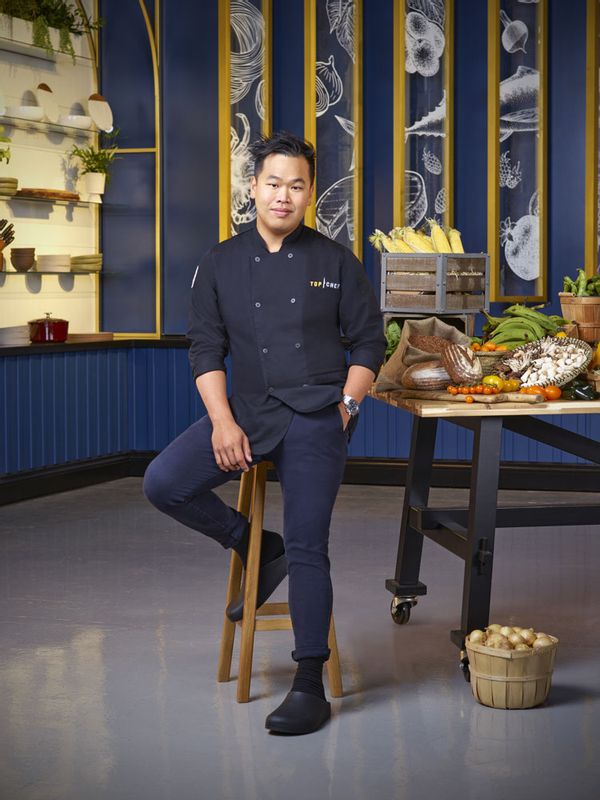 Chef Buddha Lo ( Stephanie Diani/Bravo Media)
Hi Buddha, congrats!
Thank you so much!
I know we just chatted the other day so I'm excited to talk again and properly congratulate you. I'm sure you've been inundated thus far today and last night, but yeah, congratulations again. I love that you're drinking Saratoga water.
My wife actually threw a party; we had a party at the cinema and she did all this food from previous challenges, like the Ritz crackers and she bought a s**tload of Saratoga water. It was just like a "Top Chef" party! It was a lot of fun. 
Obviously such a monumental moment, what a time for you. You experienced something similar last year, but this is a whole new ballgame as the first two-time "Top Chef" winner and winner of "World All-Stars," so I wanted to how you're feeling right now that you an openly celebrate and acknowledge this enormous win
I feel absolutely relieved. I put it on my post that I felt like my dad wanted me to do a little bit more of something and I feel like that could be it. I feel like there's a weight off my shoulder and what a way to end my "Top Chef" journey like this. Everyone dreams to be on it, everyone dreams to win, and I did something that was just so — the chances of that ever happening again, it's just very slim — 20 seasons, the first time you ever win a winner back, "World All-Stars." It's just an incredible feeling to do something kind of iconic, not only just for Bravo "Top Chef," but I would say for reality competitions. I would say that's really hard for someone to come back to back. If you're in different shows, if you win "Survivor" once, they're going to get you out the first episode, but here on "Top Chef," you have to keep cooking your a** off, and I think that I'm reaping the rewards of all the hard work I've done throughout my life. 
100%
I've done 50-plus dishes in two seasons within in a year and to be able to still be standing there and be told that I'm "Top Chef World All-Stars" – you not only just did Houston but you also did "World All-Stars" — it's crazy for me, I would believe this story if I had maybe five years between winning to find another level of how I cook. But I'm literally the same person from Houston walking into the doors of "World All-Stars."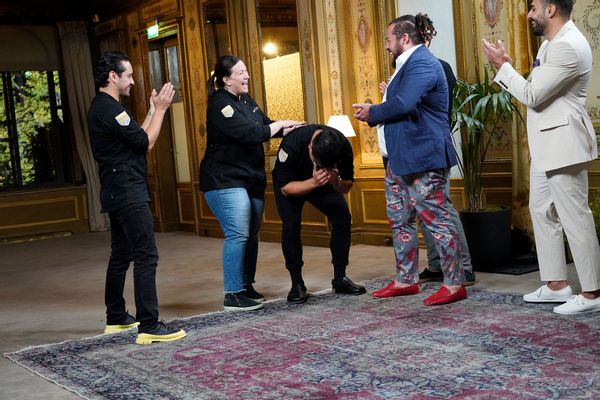 Gabriel Rodriguez, Sara Bradley, Amar Santana and Ali Al Ghzawi in "Top Chef" (Fred Jagueneau/Bravo)
That's amazing. I think it was said in the package at the beginning of the episode last night that you'd be the "GOAT" if you did indeed win. Really, within the Padma era of "Top Chef," if you will, Seasons 2 through 20, you're the only person who's accomplished this. Pretty incredible!
There are so many great chefs who've been on there and it's very hard to compare but in that sense, you just have to look at who has two "Top Chef" wins.
Just you!
Yeah — to win one is extremely hard, to win twice is even harder, especially give the caliber of the season as well. To win in Season 1, with a sommelier and a person still in CIA cooking school, compared to someone in the Top 50 best chefs of the Middle East restaurants . . . it's a completely different ball game. So if you put all those things on paper and look at it, then yeah, seems like the GOAT to me.
"There are so many great chefs who've been on there and it's very hard to compare but in that sense, you just have to look at who has two "Top Chef" wins."
You had mentioned earlier about your dad and you had had that wonderful confessional after your win about that dream you had had. I always was struck by your arc or edit that there's always such a family focus. Obviously, you had spoken to your wife after you had won and you had mentioned earlier in the season about paying for your dog's eye surgery with the winnings from your first season win. How do you feel those connections and motivations shape you as a competitor?
It was just really weird . . . like, two days after my dad passed away, I got the phone call to go to Houston. Then later, I had that weird dream — it's the only dream I've had since. I got the call to go to — I don't have dreams about him every night — and this very vivid dream in the middle of the morning and my wife saw that I was in a puddle of tears and she wondered what's happening. I told her I saw my dad and I don't know why or what's happened, but he had a smile that's kind of, like, there's something coming up.
It's so weird because throughout this whole journey, going through Season 20 feels like I'm getting directed somewhere and it wasn't only just to participate, but to win. It's crazy, surreal, maybe it's coincidence, I have no idea, but it definitely gave me the spark to do it.
At the same time, I just loved being on it. They're not going to ask me to come on [Season] 21 or come back for a normal season in ["Top Chef"] 22. That's not going to happen. This was the one and only season where they'll bring a winner back because it's "World All-Stars," and there are only finalists and winners. It's a known thing that the U.S. competitors, finalists and winners – first of all, the winners aren't interested, and second of all, if you were a finalist, you've probably been in "All-Stars" before. Someone like Richard Blais, Melissa King, Gregory Gourdet — they've already [competed.] How many times do you want to do it? Two times is already a lot . . . let's ask Bryan Voltaggio for the fourth time? It's a lot to ask, so to have that opportunity, I knew was never going to come again and I knew that they were going to bring in some heavy-hitting chefs to come judge. So to meet them, cook for them and try to make my own stamp on the culinary world and say, "Hey, I'm here," I wanted to try to impress them.
"Throughout this whole journey, going through Season 20 feels like I'm getting directed somewhere and it wasn't only just to participate, but to win."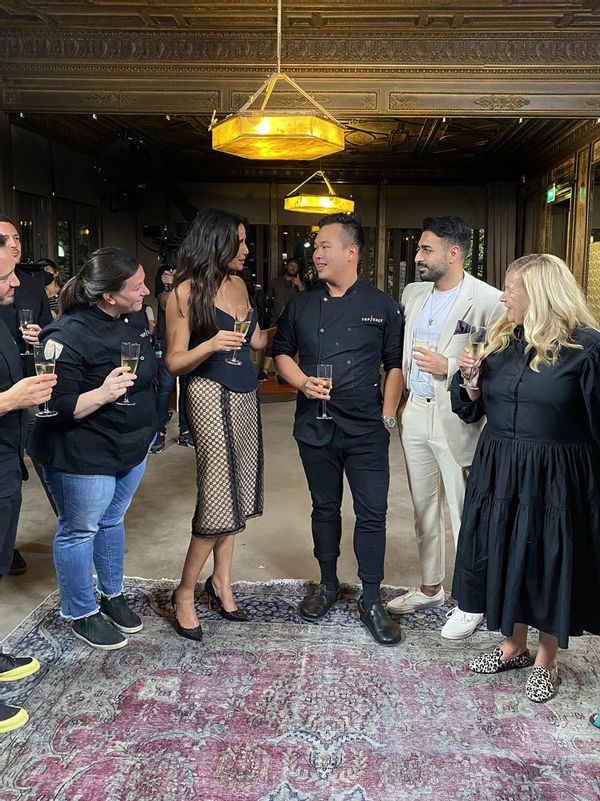 Gabriel Rodriguez, Tom Goetter, Sara Bradley, Padma Lakshmi, Ali Al Ghzawi and Hélène Darroze in "Top Chef" (Nick Foye/Bravo)
I was wondering also about the finale panel of guest judges. I'm sure that table was super intimidating. What was it like serving that incredible, important menu to that accomplished table of judges, chefs and professionals? 
It's crazy when you get put in a position like this where you have no chance but to do a full course meal, meal of your life. You have this kitchen you've never worked in before, and the guest judges are people — individually, you'd be scared of having them in your place. It'd be such an honor and privilege, but I think that's what the best part of being on the show is that it gets you so out of your comfort zone that you don't even have to think about it.
In any other circumstance, I would've been shaking in my kitchen, but here, it brought out of me, like, "You have no choice" — you have the president of Michelin at your table and this person, if he likes your food tonight, he'll get people to come really thoroughly check out your place. That's a goal of mine, to get a Michelin star, and here you've got the president. He frequently dines at a lot of Michelin places and he knows exactly what he's talking about. Then you have Clare Smyth, my mentor, who you already know I'm shaking about.
It's all these people — even the people who aren't guest judges, like someone like Simon Rogan, I look up to him so much: He's an English chef, three Michelin stars, No.1 in UK, incredible chef. So [it's] an outstanding table of people, and it feels so lucky but you put all those nerves away and you go, "I have to remember that I'm trying the best that I can today and hopefully it comes out with a win."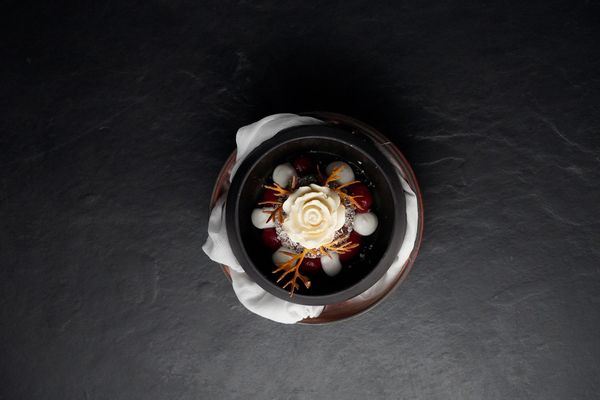 Buddha's finale fourth course (Fred Jagueneau/Bravo)
I'd love to hear about the finale menu. I loved how you had mentioned and intentionally touched on Malaysian and Hong Kong roots, Australian and American classics — putting that all in one comprehensive meal. How did that come to be?
I think the way that I am and the way I represent myself . . . I felt like, coming into the season is like, "Who do I represent?" Yes, I'm doing the "Top Chef" U.S. franchise and I live in New York right now, but I'm Australian. I don't really consider myself — it's hard because generations ago, if we look about 200 to 300 years, it was only indigenous people and I'm not indigenous, so I feel like those are the true Australians, if we want to be technical. Everyone came from different parts of Europe, so it's kind of like what is technically your roots and mine are that my parents are Hong Kong and Malaysian, I've lived in Australia and but also live in America.
These are the sort of things that are really important to represent if you're doing a final menu. Make sure you show who you are and what you represent — it's like, if you're in the FIFA World Cup and you're trying to represent the country, I'm trying to represent all of them! So it was very important that I got all of that in together in a way that feels cohesive.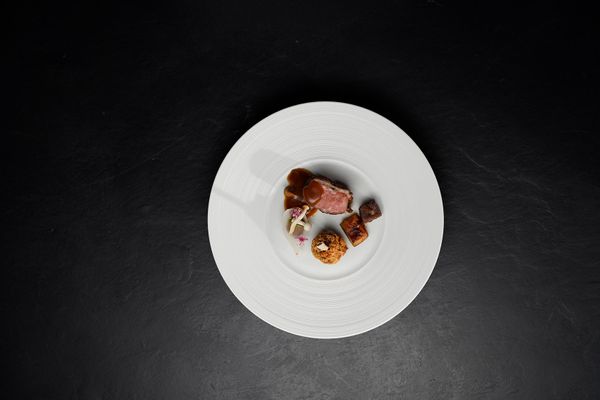 Buddha's finale third course (Fred Jagueneau/Bravo)
---
Want a daily wrap-up of all the news and commentary Salon has to offer? Subscribe to our morning newsletter, Crash Course.
---
Was there one particular course, dish or component in that menu that you felt most proud of? 
I'd say probably the lamington. I don't do many Australian dishes, just because they're more snack-y style. Like a meat pie is very hard to elevate, nor would I want to elevate it anyway because it's so good . . . a sausage roll, as well. All of those sorts of things are very hard to elevate, but being able to represent lamington in that form and way and do that final bang and say, "This is my last dish on 'Top Chef" . . . It was one of my favorite things growing up as a kid, and I was happy to be able to represent that little bit of my childhood.
We can go through it all, that master stock that I talked about that my brother needs to take out if the place is on fire is very, very important and it's going to be a family heirloom that we hand down — it's not going to be any jewelry that I hand down to my kids, it'll be a master stock.
" . . . being able to represent lamington in that form and way and do that final bang and say, "This is my last dish on 'Top Chef' . . . it was one of my favorite things growing up as a kid, and I was happy to be able to represent that little bit of my childhood."
That was on the third course, right?
Yeah, that was on the third course with the lamb.
I really like something you've done a few times on the show, which is title your dishes. In the trompe l'oeil challenge, you had titled it "What's for Dinner," I think? It adds some pomp and circumstance and elevates things. It doesn't seem to happen much on "Top Chef," so I was wondering where that comes from and what inspires that for you? 
I feel like there are so many different avenues in which you can try to wow the judges, and the more that you try to reach those avenues, the more chances you have in winning. Obviously, taste always comes first, then you have presentation, creativity and, hey, if you can slam on a title on top of your dish and make them really think, it's going to even wow them even more, the more depth of thinking and knowledge.
Most of the inspiration — especially for that challenge — I look at the crew around me, the producers, the camera people, and they're sweating and working tirelessly to get this thing done. They said goodbye to their families, moved abroad, living in London and just, I get inspiration form them and how hard they work and I go, you know what, I need to deliver, because I need to ensure I produce something spectacular. They're working their a**es off, and I need to work just as hard.
So that dish, I just didn't stop thinking about all the different avenues and the things I was talking about. So when it come to it, I thought I'd do something like a charcuterie board and I realized when I came to it that this looks like a bunch of ingredients on a table. I would love to try and take [the judges] not only to be visually challenged about what's happening on their plate, but also challenge them in a way, like: I'm now in a setting, I've got my favorite artist playing on my computer or whatever, my speaker or record. You're having a glass of red wine, you just came back from the market and bought mushrooms and cherries, fresh black truffle in season. I'm going to make a mushroom risotto with black truffle, I'm going to snack on some olives and I'm going to make a dessert with cherries and drink my red wine.
That's the whole idea, and Jeremy Chan was able to really embrace it and go, "Yes, I really do feel like I'm sitting here wondering," . . .  like I said, you have all these ingredients in front of you and you just kind of snack: You have an olive, a cherry and think "OK, maybe I'll have this." What I said was that it's a very special time, and we spend all this time cooking for other people and sometimes, it's really really nice just to be able to cook for yourself.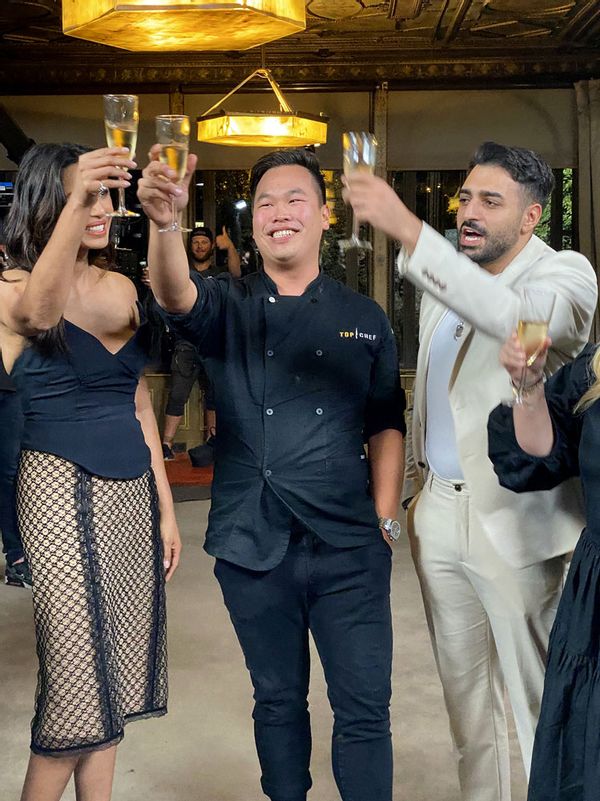 Padma Lakshmi, Buddha Lo and Ali Al Ghzawi in "Top Chef" (Nick Foye/Bravo)
"Most of the inspiration — especially for that challenge — I look at the crew around me, the producers, the camera people, and they're sweating and working tirelessly to get this thing done."
Totally — it was a stunning dish all around. Lastly, I wanted to get in the quintessential question here, which is what's next? What's coming up?
My next steps — I've always got goals ahead of me — personally, I'd love to have a family and second of all, I'd like to have my first Michelin star. I think that's my ultimate goal . . . and my own restaurant. I just have those constant goals and that's what really great about these accomplishments — when you accomplish one thing, you're going to accomplish another.
I feel like there's so many bucket list things in my life that I want to try and get done: be on a reality cooking competition. There's none in Australia, but I was lucky to be apart of one in America. So, now I can tick that one off.
Every chef has a timeline that you need to follow because otherwise, I can't go back [when I'm] in my 60s and think that I want to open up a Michelin star restaurant. I'm not going to  have the legs for that — but if I wanted to open something a little bit more casual in my 60s, maybe a Chinese brassierie, I can do that . . . cool.
It just all takes a lot of energy to get a Michelin star, so I want to get it now.
"Top Chef: World All Stars" airs Thursdays at 9 p.m. on Bravo and streams next day on Peacock.