After a string of second place finishes, stretching back to IRONMAN 70.3 Jesolo in October 2022, Frenchman Mathis Margirier took his first professional win in style at The Championship.
The PTO World #41, second at IRONMAN 70.3 Lanzarote and Challenge Gran Canaria so far this season after sprint finishes for the win, kicked for home from a long way out at The Championship to secure a commanding victory.
Beating a world class field which included PTO World #9 Aaron Royle, German rising star Frederic Funk and Challenge Family World Bonus leader Tom Bishop, Margirier firmly established himself as a future contender in the biggest races.
"It is always easier when you win"
After taking the victory, Margirier shared that despite a tough day across all three disciplines, the hard parts of the race fade into distant memory when you come home with the win.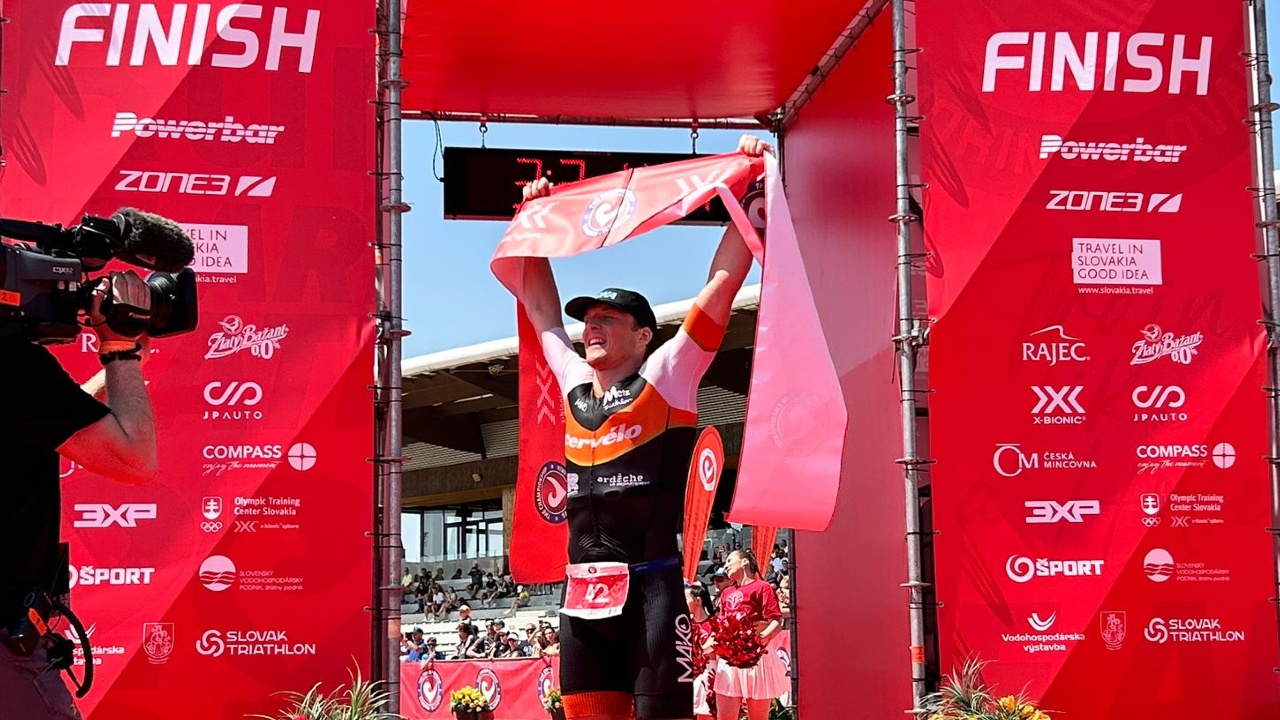 "Amazing race, that was fun, with the cold water, fast bike and then hot run, so it was very hard but I won, and it is always easier when you win."
Coming off the bike, Margirier had established himself as a firm contender for the podium, coming off with Bishop, Funk and Royle with over three minutes to the chase pack, but it wasn't until the second half of the run that he played his cards.
"I didn't know the gap to be honest off the bike, I just saw it was four of us, so I thought okay, I will go for it on the run and then lap after lap saw that I was putting time into everyone.
"The first lap of the run was strange, I was a little bit tight and was breathing hard, but then I started to feel much better lap after lap.
"For the body, the grass made it easier than on the asphalt. It was hard to run on so many different surfaces but I think it helped me too." 
Domestic races to gear up for the big battles ahead
After a strong start to the season, with three podiums in races across Europe, Margirier will head back home to his native France to pull on his club colours, with a race for Metz at the French Grand Prix next on the agenda.
"Next up, I will help my club, Metz, in the French Grand Prix, then I will go and race at the French long distance championships." 
After two races back home, the Frenchman will turn his attention to the PTO Tour US Open and the IRONMAN 70.3 World Championships, with a big block of training planned to help him achieve his ambitions of a Top 10 at worlds.
"After racing in France, I will maybe race at the PTO US Open, then go to the IRONMAN 70.3 World Championship in Finland.
"At worlds, I don't really have too many expectations, I will put together another training block, but for sure I would like to finish Top 10 and maybe even better."