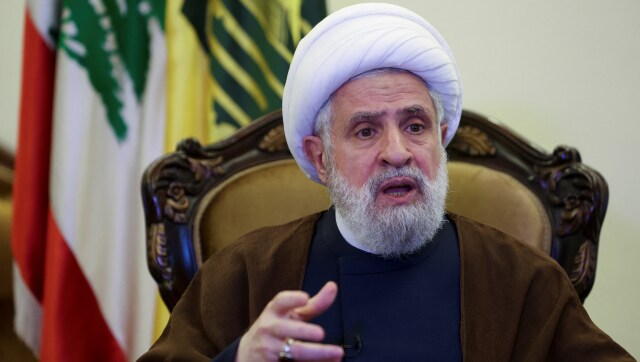 Sheikh Naim Qassem. File Picture
Hezbollah's top officer declared that his organization, which is based in Lebanon, is already "in the heart of the battle" and promises that Israel would pay a heavy price if it launches a land operation in the Gaza Strip.
Sheikh Naim Qassem, the deputy head of Hezbollah, made these remarks as Hezbollah was firing rockets and missiles at Israel and Israel was shelling and conducting drone strikes in southern Lebanon. Six fighters were slain today, according to Hezbollah, the biggest number of deaths in a single day since the hostilities started two weeks ago.
Hezbollah's goal in raising the temperature on the border between Lebanon and Israel is apparent, according to Qassem: "We are trying to weaken the Israeli enemy and let them know that we are ready." Hamas officials have said that if Israel starts a ground offensive in Gaza, Hezbollah will join the fighting.
Related Articles
Qassem says his Iran-backed group, which is allied with Hamas, already is affecting the course of the conflict by heating up the Lebanon-Israel border and keeping three Israeli army divisions tied up in the north instead of preparing to fight in Gaza.
"Do you believe that if you try to crush the Palestinian resistance, other resistance fighters in the region will not act?" Qassem says in a speech during the funeral of a Hezbollah fighter. "We are in the heart of the battle today. We are making achievements through this battle."
Qassem also comments on foreign dignitaries who visited Lebanon over the past two weeks asking Lebanese officials to convince the group not to take part in the latest Hamas-Israel battle. He says Hezbollah's response to Lebanese officials is, "We are part of the battle."
"We tell those who are contacting us, 'Stop the (Israeli) aggression so that its (conflict) repercussions and possibility of expansion stops,'" Qassem says, referring to the officials who recently visited Beirut, including the foreign ministers of France and Germany.
Speaking about an expected Israeli ground invasion of Gaza, Qassem, says: "Our information are that the preparedness in Gaza by Hamas and resistance fighters will make (the) Israeli ground invasion their graveyard."
(with inputs from agencies)