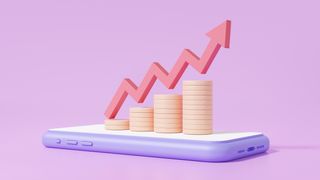 (Image credit: Shutterstock / N ON NE ON)

Despite recent rumors suggesting that Apple's iPhone 16 line will bring more meaningful upgrades to the table than its upcoming iPhone 15 line, the latter could still prove a windfall release for the company, owing to the number of soon-to-be-outdated iPhones currently out in the wild.
According to analyst Dan Ives (via CNBC), "roughly 250 million iPhones have not been upgraded in over four years, [which] sets Apple up for a major installed base upgrade cycle heading into this anniversary 15 year release."
The launch of the iPhone 15 and its siblings could prove a "trophy case moment" for Apple, Ives explained to CNBC, adding that a boost in revenue from Apple Services will put the company in a "massive position of strength" going into 2024.
It's hard to verify Ives' claim regarding the number of un-upgraded iPhones without delving into official carrier records, but back in 2019, researcher Toni Saccanoghi conducted a study which found that the average iPhone upgrade time had increased from three years to four. And it's not hard to understand why.
Apple typically supports iPhones with major software updates for at least five years after their launch – the iPhone X (released in 2017) will be the youngest casualty of iOS 17 – meaning consumers can happily move through the world with a four or five-year-old iPhone without fear of being left behind when it comes to functionality and security.
What's more, as iPhones have gotten more advanced over the years, the technological gap between new model releases has narrowed – particularly in the last few years. To the untrained eye, there's little to differentiate between the iPhone 12 and iPhone 14, for instance, and consumers evidently haven't felt compelled to own the latest iPhone if their existing model remains in good working order.
After four years, though, iPhones can start to feel a little outdated. Apple's 2019 iPhone, the iPhone 11, is still a great phone that'll continue to be supported until 2025, but the iPhone 15 will be a markedly lighter, brighter and faster machine than its four-year-old sibling – and that's before taking into account the iPhone 15 Pro and much-rumored iPhone 15 Ultra.
In fact, even if you're tempted to upgrade your old iPhone to a soon-to-be-cheaper Pro model, like the iPhone 14 Pro, we'd suggest holding out for the base iPhone 15, which we suspect will arrive packing similar features and a smaller price tag.
For our thoughts on how Apple's next iPhones might stack up, check out our speculative comparisons between the iPhone 15 vs iPhone 15 Pro, iPhone 15 vs iPhone 14, iPhone 15 Pro vs iPhone 14 Pro and iPhone 15 Pro vs iPhone 15 Ultra.