Michael Phelps found love eight years ago and hasn't let go of her. Michael and Nicole Phelps recently celebrated their 8th engagement anniversary, and life has only gotten better since then. Nearly a decade of togetherness and three sons later, Nicole pointed out something interesting about their special day.
In an Instagram story, Nicole shared her husband's anniversary post – a photo of the couple in an embrace. She thought it would be interesting to share some facts about the day the swimming legend proposed and about a special number. Here's what she had to say.
What's so special about the number 8 for Michael Phelps?
ADVERTISEMENT
Article continues below this ad
Phelps posted two photos in a row, clicked during his proposal. One where Nicole and he were in an embrace, while another where the couple lay on the snow. The caption reminisced about the time his best friend said yes to him eight years ago. Nicole went on to share it in her stories and gave a hilarious behind-the-scenes perspective on the series of photos.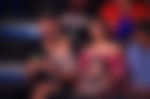 Depicting the spontaneity of the situation which can be seen in the Instagram story, Nicole revealed how her then-boyfriend asked her to be his wife, not at any fancy restaurant or a scenic place. For Michael, nothing could capture his true feelings better than parking near a stoplight crossing. Nicole mentioned, "he asked at a stop light in Colorado Springs".
DIVE DEEPER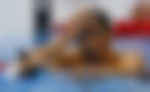 However, the mom of three pointed out another special occurrence. The couple celebrated eight years together, and Nicole mentioned how the number '8' was lucky for them. While she did not list any specific reasons, one could easily guess why. Phelps shone at the Beijing Olympics in 2008, with eight medals. He also broke Mark Spitz's 36-year record for most gold medals in the same Olympics. With the month of love going strong, the couple has more to celebrate than Valentine's Day.
ADVERTISEMENT
Article continues below this ad
So what did their Valentine's Day look like?
For a couple who said yes next to a stop light and whose love life saw many ups and downs, Michael and Nicole Phelps have learned to love both in celebration and in peace. This year, Valentine's Day looked more at ease and uneventful for the couple.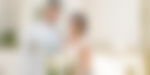 ADVERTISEMENT
Article continues below this ad
Nicole shared a comic strip on her Instagram story where a man and woman wished each other on Valentine's Day while lying on the couch. She pointed out the similarities between the comic and her real life since she and Michael wished each other in the same way. What are your thoughts on Nicole's latest Insta story? Let us know in the comments.
Watch This Story: Swimming GOAT Michael Phelps Still Unmatched in World Record Since 2008