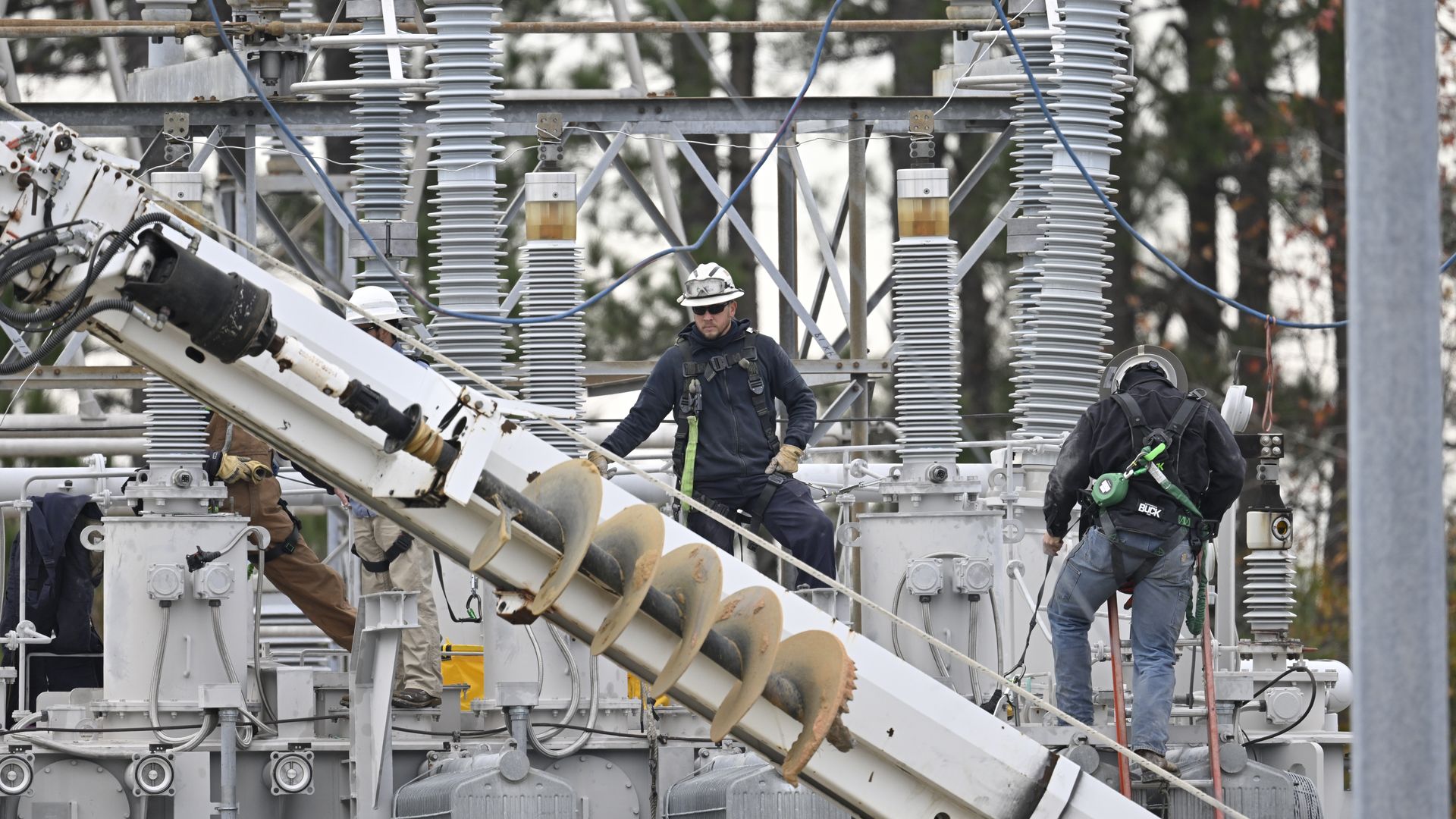 Utility workers in December 2022 attempt to restore power in North Carolina's Moore County after two electrical distribution substations owned by Duke Electric were attacked. Photo: Peter Zay/Anadolu Agency via Getty Images
Attackers and vandals are targeting America's electrical grid more than they have at any other point in the last decade, government documents show.
Why it matters: Recent assaults on power infrastructure across the country have led to mass outages and prompted calls from both state and federal lawmakers for new security measures.
Last year, there were 163 reported electrical incidents or disturbances caused by acts of vandalism, physical attacks, or "suspicious activity," according to an Axios analysis of data from the Department of Energy.
How prevalent are these attacks?
Late last year, attacks on more than a dozen electrical substations — key junctions in the electrical grid — left tens of thousands of homes without power. Some people went days without electricity as temperatures outside dipped.
By the numbers: In 2022, incidents listed as acts of vandalism (80), physical attacks (25), suspicious activity (57), and sabotage (1) were more frequent than those caused by cyber events, per the DOE data.
How substations work
Chances are you've passed by one of the more than 55,000 electric substations connecting the country's power grid. The fenced-in facilities can be large or small, and resemble a metal jungle of gray poles and wires.
What's the ongoing risk?
Though physical attacks are on the rise, severe weather, operational failures, and transmission interruptions were still the most common causes of electrical incidents or disturbances in 2022.
What's being done?
Lawmakers in multiple states have introduced legislation that would require public utilities to provide 24-hour security at substations or would increase penalties for trespassing into facilities or damaging equipment.
Go deeper: Justice Department charges 2 over alleged "racially motivated" plot to attack Maryland electrical stations