The Brazilian shines in the rain as Manfredi takes a first podium in second and Ferrari makes key gains with another podium.
It's been a tough month for Eric Granado (LCR E-Team) as the Brazilian was forced onto the sidelines due to injury, but his return at Mugello has put him right back in play for the 2023 FIM Enel MotoE™ World Championship. Some solid points in Race 1 started Saturday off well, but as torrential conditions hit just ahead of the second electric showdown of the day, it was a whole new challenge. Still, the Brazilian sliced through through after a tougher start to take the lead late on and then really put the hammer down, making a gap before the Red Flag came out on the very last lap.
Behind him, there was an absolute charge from home hero Kevin Manfredi (Ongetta SIC58 Squadra Corse) as he fought at the front and came home second, with Matteo Ferrari (Felo Gresini MotoE™) completing the podium and with that, moving to within just two points of leader Jordi Torres (Openbank Aspar Team) in the standings.
There was drama even before lights out as Prettl Pramac riders Tito Rabat and Luca Salvadori both didn't make it round to pitlane in time to head back through for a second sighting lap, forcing them to start from pitlane. When the lights went out on the grid though it was spray down into Turn 1 but no drama at all, with everyone finding their braking points and setting off around Mugello for a shortened six-lap dash.
Mattia Casadei (HP Pons Los40) got the holeshot, with Ferrari into second and Randy Krummenacher (Dynavolt Intact GP MotoE™) into third, but Manfredi was soon on the move up, as was Granado too. Ferrari then struck at the front to lead and pulled out quite a gap out of the final corner, with Casadei fighting with Granado and Manfredi.
And so, Ferrari led Granado led Manfredi, with the trio pulling clear to make it a private fight for the win as Casadei tried to regroup. As Manfredi battled Granado for second though, Casadei was able to regroup and start to pull then back in.
Alas, it wasn't to be for the number 40. Granado took the lead at Turn 1 on the penultimate lap, and the Brazilian was pulling clear as Casadei then crashed out of that chasing group. Rider ok, but bike very much not, beached in the gravel near the air fence and bringing the Red Flag out.
With that, Granado's gap at the front was more than enough to secure the win, and a move Manfredi had just made on Ferrari ensured the number 34 took that second place. Ferrari, forced to settle for third, still made it a positive day at the office, now within a two points of the top.
Nicholas Spinelli (HP Pons Los40) took fourth after a late charge, with Torres completing the top five just ahead of Dynavolt Intact GP MotoE™ duo Hector Garzo and Krummenacher. Race 1 winner Andrea Mantovani (RNF MotoE™ Team) crashed out, as did Miquel Pons (LCR E-Team).
Mika Perez (RNF MotoE™ Team), Alessandro Zaccone (Tech 3 E-Racing) and Kevin Zannoni (Ongetta SIC58 Squadra Corse) completed the top ten.
That's a wrap on Mugello! Torres is now top by two points from Ferrari, with Garzo back into third by another two points. And Granado? He's now seventh, with 35 points to Torres' 63. Bring on Germany!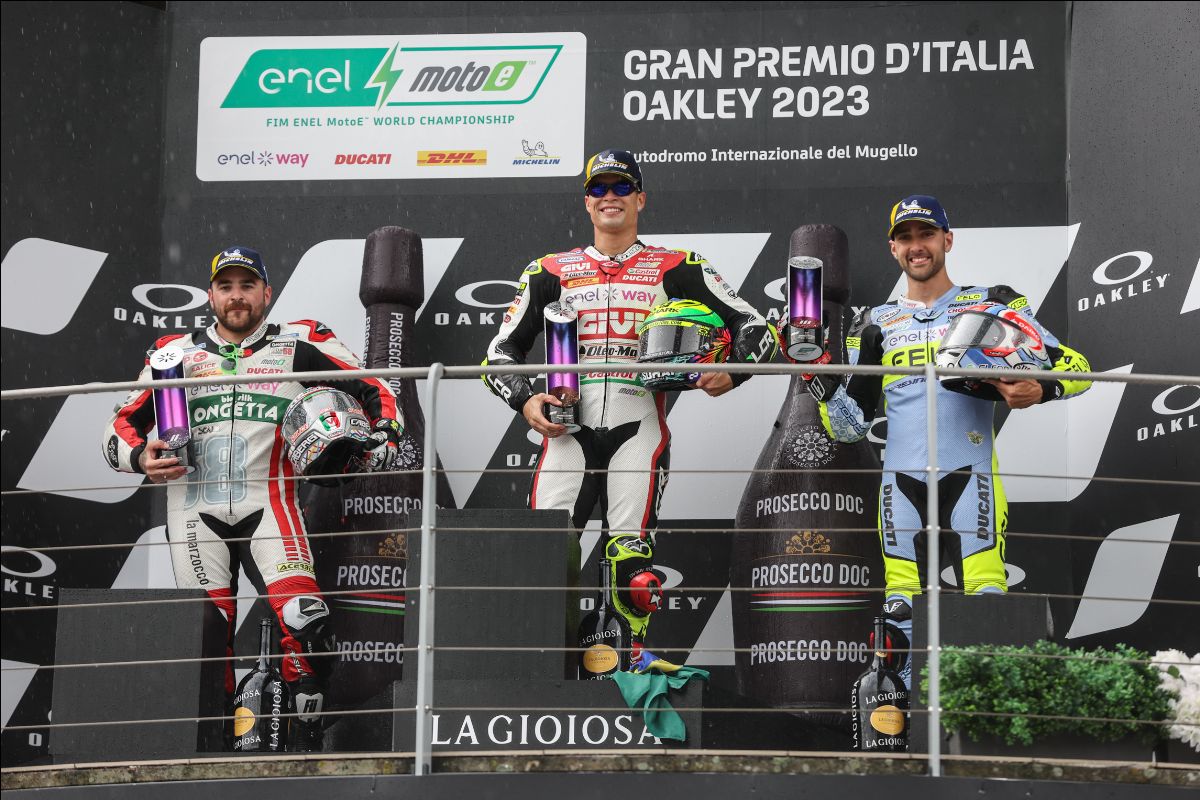 MotoE Top 4 – Race Result 2 – Italian GP
1. Eric GRANADO – BRA – LCR E-Team – 11'25.573
2. Kevin MANFREDI – ITA – Ongetta SIC58 Squadracorse – +1.301
3. Matteo FERRARI – ITA – Felo Gresini MotoE – +1.666
4. Nicolas SPINELLI – ITA – HP Pons Los40 – +2.513
MotoE Top 4 – Championship Points after Race 2 – Italian GP
1. Jordi TORRES – SPA – Openbank Aspar Team – 63pts
2. Matteo FERRARI – ITA – Felo Gresini MotoE – 61pts
3. Hector GARZO – SPA – Dynavolt Intact GP MotoE – 59pts
4. Randy KRUMMENACHER – SWI – Dynavolt Intact GP MotoE – 45pts