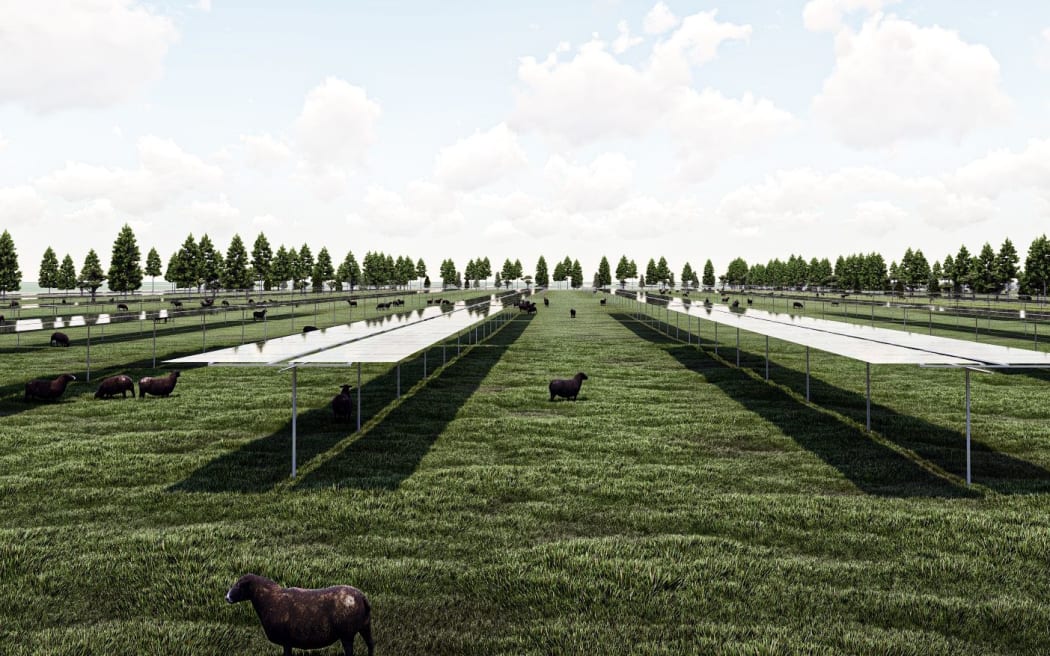 A concept drawing of one of Lodestone Energy's planned solar power stations
Photo:
Green Investment Finance (NZGIF) is lending $15 million to solar power company Lodestone Energy to speed up development of its five planned solar farms.
The agreement also included a letter of credit, required by Transpower and to be used only if needed, to ensure Lodestone's eastern Bay of Plenty farm near Ōpōtiki is connected to the national grid.
The state-owned investment bank fund has a mandate to invest in carbon reducing projects, start up companies and new technology.
"New Zealand is facing increasing demand for clean, renewable electricity as the economy continues to grow and we take steps to replace fossil fuel use. NZGIF and Lodestone have developed a flexible finance structure which will support deployment for Lodestone," NZGIF chief investment officer Jason Patrick said.
Lodestone was the largest single solar power company in the country, with other solar farms currently being built near Kaitaia and Whakatāne, and planned for near Dargaville and Whitianga on the Coromandel Peninsula.
The five farms would provide enough power for 50,000 homes.
The NZGIF has announced 17 projects so far, including $50m for electric buses for transport company Kinetic, and Patrick said it would soon unveil a range of other deals involving energy, process heat, agriculture, and national grid investments.
Patrick said the rate of return on its investments varied and he not did have an overall figure, but said the NZGIF was cash flow positive.
"We are generating returns on investments, in fact we are cash flow positive now and would expect to continue to be so in the future, we are recycling capital now and will continue to do so on an increasing basis."
The NZGIF was established by the government in 2019 and given a $300m capital injection in this year's national Budget.
Patrick said it was too early to say whether the fund would look for a further cash injection from the Crown, but it also had flexibility to look at raising money through other avenues, including raising debt.