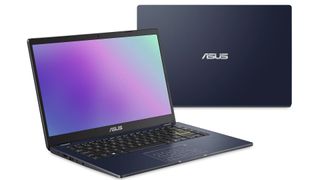 (Image credit: ASUS)

Grab an affordable laptop with a 1080p display for less than $200 with this huge Walmart deal.
When looking for the best laptops for students there's always the chance of a deal that's just great value whatever your circumstance. This ASUS laptop deal from Walmart certainly fits the bill, with an impressive setup to get you started with Windows 11.
Walmart is offering the laptop at just $179 (opens in new tab), a steep discount from its usual price of $324, meaning you can get a solid machine for a lot less than you may be expecting.
This is one the best student laptop deals we've seen, eschewing the 720p displays we often see in super cheap laptops with a 1080p panel that's ideal for watching movies, flicking through social media, and more.
It's not all about the 14-inch display, but it's certainly a big differentiator from other laptop deals we've seen. With a resolution of 1920×1080, it's Full HD, and buyers have noted the brightness as well as the display's crispness.
Inside, the Intel N4020 won't drive the latest games or powerful creative apps, but combined with 4GB of RAM and fast storage, it's ideal for working in Microsoft Office or Google apps.
We would have liked more storage than the 128GB of included SSD space, though, but at this price at least there's the option to connect an additional drive. Speaking of ports, there's USB-A options included, as well as a HDMI connection for sharing to a bigger display, too.
Reviews are positive, with 4.5 out of 5 stars (opens in new tab) as the average rating on Walmart's rating system.
Reviewers have praised the display (as we have), and the ease with which the machine can be set up, including file transfer. Some noted the speed, although as we've noted you'll want to avoid running particularly demanding apps and games on it.