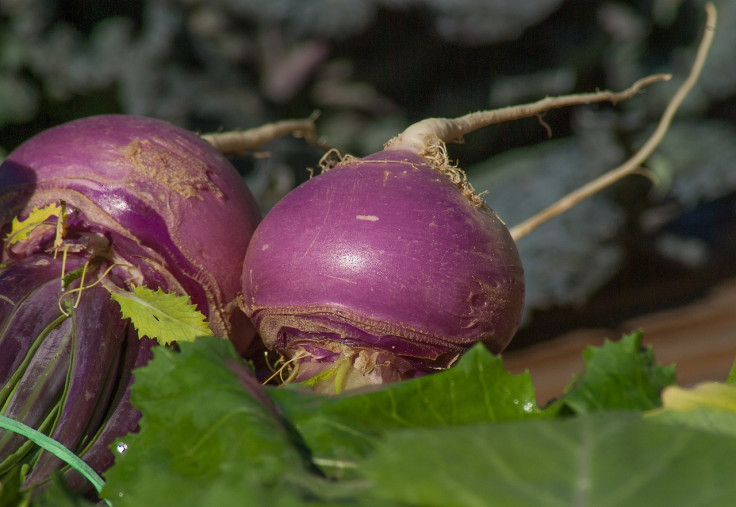 KEY POINTS
Environment Secretary Therese Coffey had urged the public to 'cherish' seasonal vegetables like turnips
The shortage of vegetables is caused by bad weather in Spain and North Africa
Currently, turnips are unavailable at Co-op and Tesco
Customers hoping to turn to turnips amid the nationwide food shortage may be disappointed as the vegetable is not available at many supermarkets.
This comes after Environment Secretary Thérèse Coffey had urged the public to 'cherish' seasonal vegetables like turnips as the country faces shortage of fresh produce which could last for another month.
The Tory minister Coffey sparked controversy with her remarks while addressing the House of Commons regarding the shortage of vegetables in supermarkets, which was caused by bad weather in Spain and North Africa.
However, it turns out that turnips have fallen out of favour with the general public as some of the biggest supermarkets in the country revealed that they no longer sell them, and have started encouraging shoppers to purchase swedes instead.
The growers disagreed and said salad products like tomatoes, cucumbers, and lettuce could potentially be in short supply until June, rather than two to four weeks as indicated by Coffey.
The Government has blamed the cold and frosty weather in Spain and North Africa for the shortage of imports, while U.K. growers blamed the high energy prices, causing them to grow less plants in greenhouses during the winter.
Currently, the Co-op and Tesco stated that they no longer sold turnips in their stores. Another supermarket chain, Asda, listed turnips as unavailable on its website, but they were both being sold online by Waitrose and Sainsbury's. Morrisons said it sold turnips loose in its larger stores, without any issues with supply shortage.
According to Jack Ward, chief executive of the British Growers' Association, turnips are considered as a 'relatively minor crop', with many going to processors and animal feed. He disagreed with Coffey's prediction that the current shortages would last a maximum of two to four weeks, saying that it would likely persist considerably longer for some produce.
"I think we'll see a shortage of vegetables across the board including carrots and leeks right through to the beginning of June. With cucumbers, people have just not planted them because they are waiting for the weather to get better so they don't incur massive energy costs,"Ward said, as reported by Daily Mail.
He also mentioned that certain crops like carrots would have been growing, but due to the dry spells caused by summer, it did not yield the volumes they were expecting.
"They would be in the ground now and that will affect the carrot supply through to June, so we'll probably see carrots running thin, and there's an issue with leeks for exactly the same reason," Ward added.
Meanwhile, a Tesco store had put up a sign which restricted its customers to three products each next to empty boxes in the tomato and peppers aisle.