With record first quarter margins in both its agriculture and construction divisions, CNH Industrial, parent company of Case and New Holland Construction Equipment, reported a solid start to the year during a May 5 earnings call with investors.
The manufacturer's consolidated revenues for the first quarter of 2023 were up 15% over the same period last year, at $5.3 billion. Adjusted net income was $475 million. Net sales of Industrial Activities of $4.8 billion, up 14.3% due to favorable price realization and higher sales volumes, offsetting more than 2% adverse currency conversion impacts.
"I am incredibly proud of our team for again delivering record results as demand for large agriculture equipment remains robust and we are escalating production to meet customer needs. Our construction performance is progressing well, especially in North America where backlog supports continued growth," said CEO Scott Wine.
"We announced three key acquisitions this quarter, bolstering our strong precision agriculture and alternative fuel portfolios. Our lean enterprise and strategic sourcing programs are creating a simpler, more effective company. These and other investments are making us better for our customers, strengthening my conviction that our future is bright."
Acquisitions included machine vision and automation company Augmenta, satellite positioning provider Hemisphere and Bennamann, a methane capture technology company.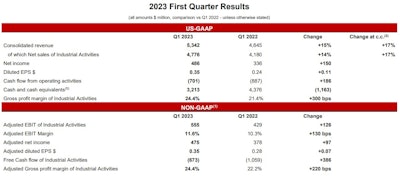 Construction
Construction net sales were up 6% despite a decrease in global industry volume for construction equipment in both CNH's heavy and light subsegments year-over-year in the first quarter, with heavy down 16% and light down 4%. 
Sales were driven by a positive volume and mix in North America and Europe and favorable price realization, partially offset by lower net revenue from South America and ceased activities in Russia and China.
CNH ended all construction sales in China on December 31, 2022, as part of its ongoing turnaround plan for its global construction business. On April 19, the company announced that it would divest its business in Russia, following the countries' invasion of Ukraine. CNH suspended all shipments to Russia in February 2022.
Overall, demand decreased 1% in EMEA, increased 2% in North America, decreased 24% in South America and decreased 19% for Asia Pacific (excluding China, Asia Pacific markets decreased 2%).
During the quarter, Case Construction Equipment and New Holland Construction showcased new and updated products at ConExpo, including new small articulated loaders, a new mini track loader, a new wheeled excavator, a new zero tail swing mini excavator, new electric mini excavators, new backhoes, updated compact wheel loaders, and updated small M Series dozers.

2023 Outlook
Due to continued strong demand and order backlog, CNH is updating its 2023 outlook for its Industrial Activities:
Net sales up between 8% and 11% year on year including currency translation effects
SG&A up, no more than 5% vs 2022
Free Cash Flow of Industrial Activities between $1.3 billion and $1.5 billion
R&D expenses and capital expenditures at around $1.6 billion