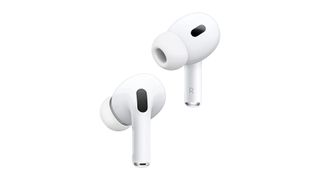 (Image credit: Apple)

Looking for some great noise-cancelling earphones to help you study? This Airpods Pro deal is worth a look.
Apple's AirPods Pro are in their second generation now, and while they're not one of our picks for the best running headphones, they are a great option for students since they offer great noise-cancellation, a very small in-ear design, and can connect to your iPad, iPhone, or Mac.
With the company revealing that the AirPods Pro 2nd Gen will get a new adaptive audio feature that automatically adjusts noise cancellation on the fly, and can even mute audio when you start a conversation, there's never been a better time to buy a pair.
Thankfully, Amazon is offering $50 off, with a 20% discount that brings them to just $199.
Key features: Active noise cancelling, 24-hour battery with charging case, iOS 17 features supported
Product launched: September 2022
Price history: Before today's deal, these AirPods Pro have only dropped lower by 99 cents – making this almost as good as it gets.
Price comparison: Amazon: $199.99 | Walmart: $279 | Best Buy: $199.99
Reviews consensus: Some of the most popular earbuds for a reason, the AirPods Pro 2nd Gen offer great sound quality along with plenty of handy features. Pinch the stem of one AirPod to enter transparency mode to help you navigate the world around you, or trigger noise cancellation mode so it's just you and your music. The included case factors in 24 hours of battery, and it's MagSafe compatible. And, if you lose any of it, you can use Find My on your iPhone to locate it.
TechRadar: ★★★★½ | Toms Guide: ★★★★½ | T3: ★★★★★
Buy it if: You want great noise canceling across all of your Apple devices. You need your earphones to be portable, and you want to keep them in your pocket. They're great for students who need to study in public spaces.
Don't buy it if: You have an Android device, or are looking for something to stay in your ears while working out – AirPods Pro aren't entirely sweatproof, and won't stay put on a run unless your ears naturally allow them to.