Hamlin will earn an additional approximately $652K for the 2022 season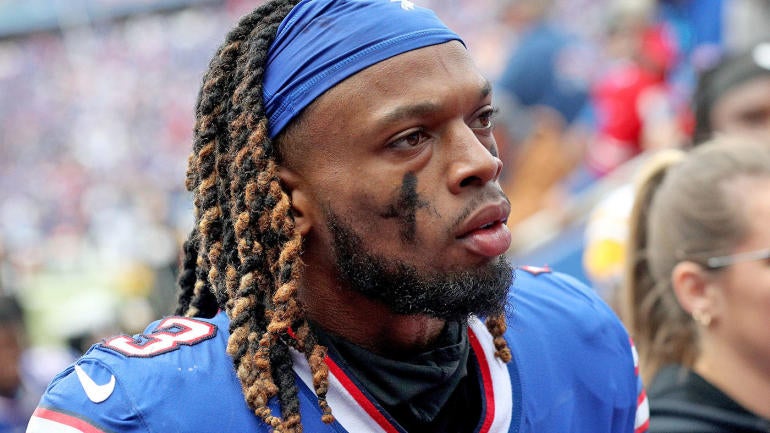 Getty Images
The NFL on Friday announced its performance-based pay distribution for the 2022 season, and Buffalo Bills safety Damar Hamlin was among the top earners, as he will receive an additional $652,470 for his performance last year. 
The performance-based pay program uses a fund "created and used as a supplemental form of player compensation based on a comparison of playing time to salary." It is computed by using a player index, which the NFL notes uses a player's "PBP Playtime" (defined as the player's regular season total plays played on offense, defense, and special teams, divided by the number of plays payed by the player with the most total combined plays on that team) divided by his "PBP Compensation" (defined as regular season full salary, prorated portion of signing bonus, earned incentives). 
As a former sixth-round pick in 2021 who was a regular starter during the 2022 season, Hamlin ended up playing significantly more snaps than you would expect a player with his salary to play, which in turn made him among the league's top additional-income earners via the performance-based pay program. Hamlin played in 15 games, starting 13 (846 defensive snaps and 76 special teams snaps) before suffering cardiac arrest during the Bills' Week 17 game against the Bengals. Hamlin, who received CPR and was taken to a local hospital before the game was eventually canceled, has made much improvement and has "every intention to play again."
Hamlin received the 21st-most performance-based pay. The top earner was former Philadelphia Eagles safety Marcus Epps, who will receive a distribution of $880,384. Epps also just signed a two-year, $12 million contract with the Raiders in free agency, so Epps is having himself a nice month.
The rest of the top 25 in performance-based pay is as follows: 
| Rank | Player | Team | Position | Rookie Year | Draft Round | Distribution |
| --- | --- | --- | --- | --- | --- | --- |
| 1 | Marcus Epps | Philadelphia | S | 2019 | 6 | $880,384 |
| 2 | Cordell Volson | Cincinnati | G | 2022 | 4 | $854,407 |
| 3 | Luke Fortner | Jacksonville | C | 2022 | 3 | $819,686 |
| 4 | Michael Onwenu | New England | G | 2020 | 6 | $813,083 |
| 5 | Jon Runyan | Green Bay | G | 2020 | 6 | $790,159 |
| 6 | Andre Cisco | Jacksonville | S | 2021 | 3 | $763,775 |
| 7 | Kevin Dotson | Pittsburgh | G | 2020 | 4 | $746,013 |
| 8 | Tariq Woolen | Seattle | CB | 2022 | 5 | $742,378 |
| 9 | Dan Moore | Pittsburgh | T | 2021 | 4 | $739,072 |
| 10 | Michael Jackson | Seattle | CB | 2019 | 5 | $734,602 |
| 11 | Donovan Peoples-Jones | Cleveland | WR | 2020 | 6 | $717,642 |
| 12 | Tashaun Gipson | San Francisco | S | 2012 | UDFA | $708,106 |
| 13 | Robert Hainsey | Tampa Bay | C | 2021 | 3 | $706,331 |
| 14 | Kader Kohou | Miami | CB | 2022 | UDFA | $705,584 |
| 15 | Myles Hartsfield | Carolina | S | 2020 | UDFA | $705,255 |
| 16 | Talanoa Hufanga | San Francisco | S | 2021 | 5 | $703,926 |
| 17 | Jamaree Salyer | L.A. Chargers | G | 2022 | 6 | $695,838 |
| 18 | Camryn Bynum | Minnesota | S | 2021 | 4 | $694,661 |
| 19 | Logan Wilson | Cincinnati | LB | 2020 | 3 | $669,729 |
| 20 | Trey Smith | Kansas City | G | 2021 | 6 | $663,756 |
| 21 | Damar Hamlin | Buffalo | S | 2021 | 6 | $652,470 |
| 22 | Nick Scott | L.A. Rams | S | 2019 | 7 | $649,016 |
| 23 | Jake Brendel | San Francisco | C | 2016 | UDFA | $643,691 |
| 24 | Josh Myers | Green Bay | C | 2021 | 2 | $638,041 |
| 25 | Duron Harmon | Las Vegas | S | 2013 | 3 | $636,623 |