National News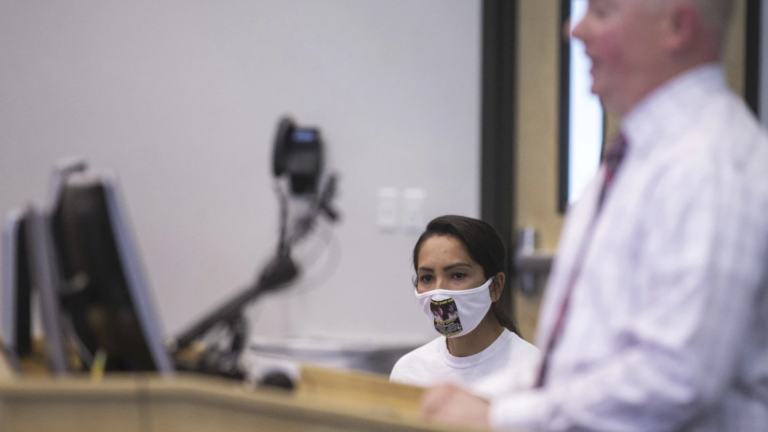 By Associated Press
updated on July 27, 2023
GLENDALE, Ariz. (AP) — An Arizona teenager who disappeared days before her 15th birthday nearly four years ago is safe after walking into a small-town police station in Montana this week, authorities announced Wednesday.
Alicia Navarro, now 18, showed up alone Sunday morning in Havre, Montana, a city of 9,200 people about 40 miles (64 kilometers) from the Canadian border and identified herself to authorities there as the missing teenager from Glendale, a suburb of Phoenix, according to authorities.
"Alicia appeared to be fine and in good health," the Havre Police Department said in a statement.
Her disappearance in 2019 sparked a massive search that included the FBI. Glendale police spokesperson Jose Santiago said over the years, police had received thousands of tips.
Her mother, Jessica Nunez, raised concerns that Navarro, who was diagnosed as high-functioning on the autism spectrum, may have been lured away by someone she met online.
The name of the town wasn't immediately disclosed, but Montana is more than 1,000 miles (1,600 kilometers) from Arizona.
"She is by all accounts safe, she is by all accounts healthy, and she is by all accounts happy," Santiago said at a news conference.
Investigators were trying to determine what happened to Navarro after her disappearance at age 14 on Sept. 15, 2019.
Police Lt. Scott Waite said they were investigating all the possible scenarios that could have led to Navarro's disappearance, including kidnapping.
"As much as we'd like to say this is the end," Waite said, "we know this is only the beginning of where this investigation will go."
Police said Navarro told them she hadn't been harmed, wasn't being held and could come and go as she pleased. She does not face any criminal charges, they added.
In a short video clip that police said was taken shortly after Navarro arrived at the Montana police station this week, she can be heard telling authorities, "No one hurt me." In another short video, Navarro thanked the police.
"Thank you for offering help to me," she said.
When she disappeared from her home, Navarro left a signed note that read: "I ran away. I will be back, I swear. I'm sorry."
Waite described Navarro's reunion this week with her mother as "emotionally overwhelming" and that Navarro said she was sorry for "what she has put her mother through."
Nunez confirmed that her daughter had been found but said she had no details.
"I want to give glory to God for answering prayers and for this miracle," she said in a Facebook post.
"For everyone who has missing loved ones, I want you to use this case as an example," she said. "Miracles do exist. Never lose hope and always fight."
Boston.com Tonight
Sign up to receive the latest headlines in your inbox, every night.