Zsanett Bragmayer fully justified her status as favourite with an emphatic win in the women's final of Super League Triathlon's Arena Games Sursee, powered by Zwift.
The Hungarian, winner of the Grand Final in Singapore last year and second overall to Beth Potter, led from the outset and never looked like being caught.
Olivia Mathias (GBR) was second while Fanni Szalai (HUN), who turned 15 only in January and is the youngest athlete to ever take part in the event, excelled in third.
Popular Stories Right now
Stage 1: Bragmayer takes control
(Format – 200m swim / 4km bike / 1km run)
Bragmayer put down a marker straight away, quickest in the opening swim just ahead of Olivia Mathias, with the 25-metre pool leading to some rapid times thanks to double the amount of tumble turns.
The Hungarian extended her lead on the bike and then on the run Szalai started to make an impact as she moved up to third, with the front three even at this early stage putting a gap between themselves and the rest.
Stage 2: Szalai stands out
(Format – 1km run / 4km bike / 200m swim)
It was reverse order on Stage 2 and Szalai continued the good work as she was quickest again on the run.
Herself and Bragmayer swapped the lead on the bike and by now they were a clear one-two as Mathias started to lose ground. In contrast local favourite Cathia Schar rode herself right back into contention.
But on the swim things started to unravel a little for Szalai – she lost significant time in T2 before diving in but back in the water she limited the damage and it all meant that by the end of it she was up to second, albeit 31 seconds behind Bragmayer.
"I don't like losing so I'll bring it home," said Bragmayer when interviewed by Annie Emmerson ahead of the final stage, adding that compatriot Szalai was "incredible" and "the next generation".
Stage 3: Thrilling finale as Szalai nets third
(Format – 200m swim / 4km bike / 1km run – Pursuit start based on aggregate Stage 1 plus Stage 2)
With a lead of over half a minute, Bragmayer was out on her own starting the swim.
It was more about the battle for second – could Szalai hold on to crown an incredible debut?
Out of the water she'd dropped a couple of seconds behind Mathias and by the end of the bike she was down to fourth and had over 10 seconds to make up.
She wasted no time on the curved treadmill, moving up to third again and then eating into the deficit on Mathias – and when the line came she was less than a second short after a remarkable breakthrough performance.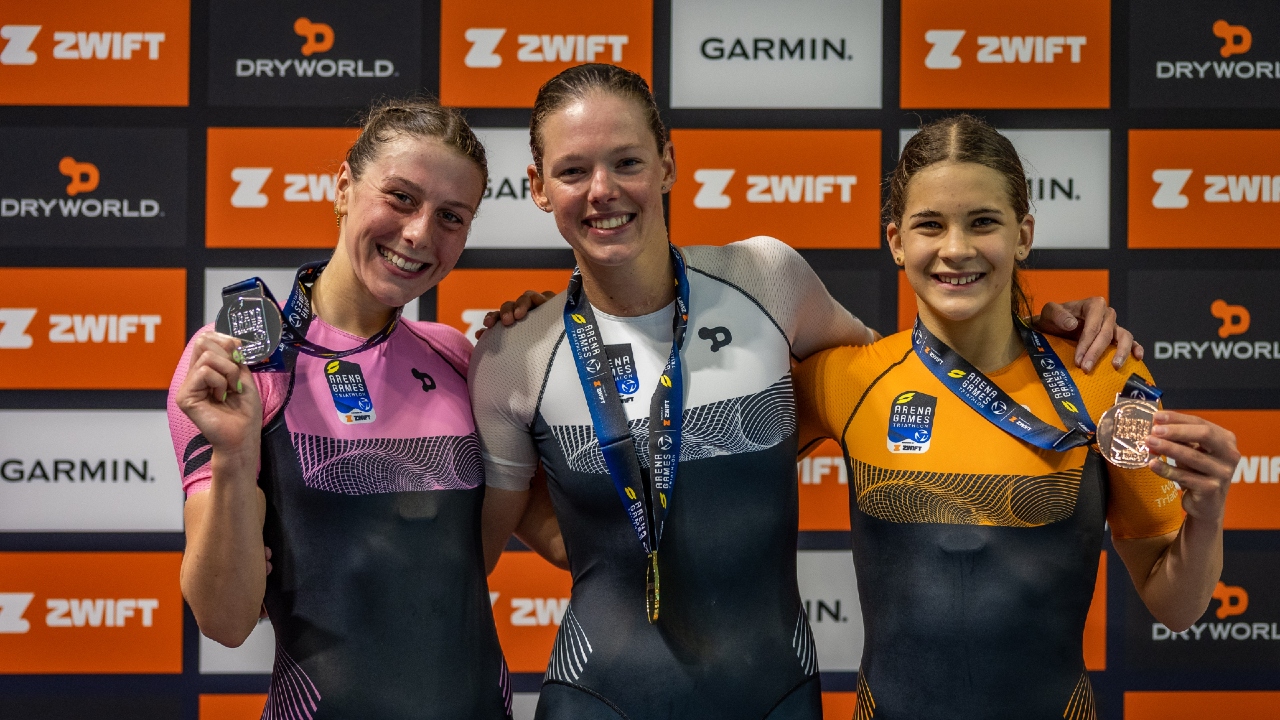 Afterwards the first three athletes spoke to Annie Emmerson, with Bragmayer telling her: "I'm so happy, I felt really good in the weeks before so I knew I was in good shape and I wanted to prove that because last week in Abu Dhabi was not my race."
When asked how she found racing in the virtual world, Mathias admitted: "It's not for me really! I don't how I scraped that – I thought I was a goner in Stage 2, that was so hard. I was just thinking, 'try and hang on'. I've never done anything like this, it's the hardest thing ever. I know it's only March so it was always going to be a shock to the system but I didn't expect it to be that much of a shock!"
And after announcing herself in style, Szalai said: "It was hard but I really enjoyed it," adding "maybe" when asked if we'll see her in London for the Grand Finale.
Arena Games Triathlon Sursee 2023 Results
Final – Elite Women: Sunday March 12, 2023
1. Zsanett Bragmayer (HUN) – 37: 40
2. Olivia Mathias (GBR) – 38: 02
3. Fanni Szalai (HUN) – 38: 02
4. Emma Jackson (AUS) – 38: 22
5. Rani Skrabanja (NED) – 38: 29
6. Cathia Schar (SUI) – 38: 43
7. Julia Brocker (GER) – 38: 55
8. Petra Kurikova (CZE) – 38: 55
9. Nora Gmur (SUI) – 39: 17
10. Alissa Konig (SUI) – 39: 34